When Bob Sefrit of Fairfax, Mo., decided to plant 10 acres of corn as part of a Foods Resource Bank "growing project" with his church's United Methodist Men, he insisted on a dedication service.
"As soon as we did that, God immediately took over," Sefrit recalled.
That was evident four years ago when a strong wind blew down thousands of acres of corn in the area. As fields surrounding the Foods Resource Bank acres were flattened, "those 10 acres were standing - there wasn't a stalk down," Sefrit said, and in one spot, "my FRB corn was actually holding my downed corn up. This is a project that God is in."
The Fairfax United Methodist Church growing project is one of more than 200 nationwide that collaborate with Foods Resource Bank, a Christian non-profit agency that helps farmers dedicate a share of their harvest to funding sustainable agriculture programs around the world.
Growing projects typically offer aid in this way: Farmers - supported by their churches - commit a small portion of their crop or livestock to Foods Resource Bank. The non-profit channels funds from the harvest sale to some 62 overseas programs run by partner agencies - such as the United Methodist Committee on Relief - that teach farmers better farming techniques to gain food security. In East Africa, for instance, programs help people save water during the rainy season for vegetable gardens that produce food and income to pay for school fees, better housing and other necessities.
For a church or community to make a difference, said Kelsey Day, communications coordinator at Foods Resource Bank, "it only takes one person to stand up and say, 'I can spare five acres' or 'I can donate $100.'"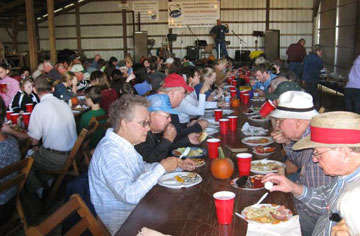 More than a hundred people dine together after a service at Fairfax United Methodist Church. A web-only photo courtesy Don Johnson.
A seed of hope
Often, that one person who volunteers seed or acres inspires the community.
While most growing projects raise corn, wheat or soybeans, others use whatever resources are available. Youth at an Iowa church maintain a vegetable garden and sell the produce to the congregation. A growing project can even forgo agriculture altogether. An Iowa nursing home held a rock-a-thon, where seniors raised funds for hours of rocking.
"Growing projects are different sizes, and they kind of build themselves," said Marv Baldwin, president and CEO of Foods Resource Bank.
The project in Fairfax, Mo., grows mainly corn and soybeans. However, a few years ago, a 6-year-old boy began raising pumpkins, which have added $6,000 to the growing project's five-year total of $80,000 for sustainable agriculture programs in developing countries.
Two Indiana churches - rural Oxford United Methodist Church and the more urban First Christian Church in Lafayette - have sustained a 20-acre growing project for eight years.
In addition to building a missions project that raises some $20,000 annually in recent years, the growing project has built a relationship between two denominations, reported Larry Winger of Oxford, who raises the project's corn on his family farm.
"Part of our getting into this was a real desire to do something that would really have an impact," said Tim Ritchey Martin, pastor of Grossnickle Church of the Brethren in Myersville, Md. His congregation collaborates with six other churches of various denominations in a growing project that includes a Blessing of the Seed service and a harvest festival.
Donnie Grossnickle farms the project's 55 donated acres - typically a harvest of corn, wheat or soybeans. "I feel like I'm really doing something," said Grossnickle, who runs a dairy farm. Families sponsor an acre for $250, the estimated growing input; a half-dozen community business sponsors support at the $500 level. Over the past six years, the growing project has raised some $125,000.
Each spring, Ritchey Martin announces the overseas program; this year, it is a cattle project in Mozambique.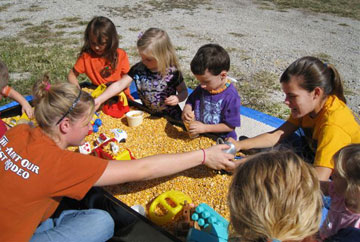 Children play in a corn box at the Harvest Celebration of Oxford United Methodist Church and First Christian Church of Lafayette, Ind. A web-only photo courtesy of Don Johnson.
Go and grow
If you are thinking of starting your own growing project, just get started, advised Baldwin. "People think you have to do something big, but if you start with something small - gathering a leadership team - it can lead to big things," he said. Then, see who can spare acres, time, resources and talents.
Growing projects use many talents beyond farming. Those with a gift for organization, for instance, can plan the harvest celebration or bakers can bake pies to auction.
As the project moves forward, share the story of how the effort will offer food security to others around the globe. You will attract people who want to fight global hunger.
"I would encourage people not to be bashful about asking others for support," advised Ritchey Martin.
Anyone interested - but not ready to start a growing project - could join an overseas trip to learn about sustainable agriculture projects in developing countries or do advocacy work with Foods Resource Bank in Washington. "There are other ways you can dip your toe in," Day said.
Finally, keep God at the center of your project. "When you dedicate something to the Lord," Sefrit said, "he takes care of it."
*Madren is a Washington-based freelance writer who specializes in environmental and sustainability issues.
News media contact: Maggie Hillery, Nashville, Tenn. (615) 472-5470 or [email protected].
---
Like what you're reading? Support the ministry of UM News! Your support ensures the latest denominational news, dynamic stories and informative articles will continue to connect our global community. Make a tax-deductible donation at ResourceUMC.org/GiveUMCom.