The Rev. Sam Dixon greeted everyone with a smile.
That is what many people remember about the top executive of the United Methodist Committee on Relief, who died in Haiti following the Jan. 12 earthquake.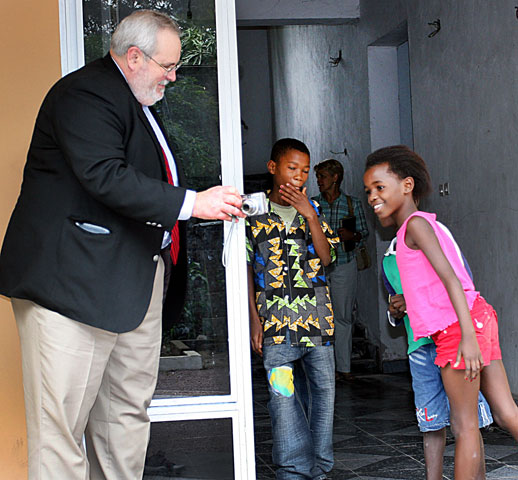 "He could make you laugh in the worst of circumstances," recalled the Rev. Tom Hazelwood, a close colleague who leads UMCOR's domestic disaster response. "If you were mad or upset, he could make you forget it."
The consolation for family, friends and colleagues is that the 60-year-old North Carolina native perished while pursuing both his vocation and his passion: working for the welfare of the poor and marginalized in the name of Christ.
But the unanticipated loss of the man who was able to make connections for mission across the church and around the world continues to reverberate through the circles in which Dixon worked, traveled, lived and loved.
"Not a day goes by I don't miss him," said the Rev. William Simpson of Burlington, N.C., a retired pastor and longtime friend who considered him a "brother."
From joy to concern
As the day dawned on Tuesday, Jan. 12, Thomas Kemper had a reason himself to smile. His election as top executive of the United Methodist Board of Global Ministries, UMCOR's parent agency, was to be announced.
He had received a congratulatory e-mail from Dixon, who pointed to some "tough days ahead" as the mission agency continued to reorganize but assured Kemper that others would be there with him on the journey. When he learned later that Dixon and other humanitarian workers were missing after the quake, Kemper sadly realized that those tough days had come much faster than anticipated.
Over the years, the church's mission became Sam Dixon's mission. A graduate of the University of North Carolina at Chapel Hill and a Tar Heels fan, he received a doctoral degree in ministry from the Chicago Theological Seminary and began his ministry with the United Methodist North Carolina Annual (regional) Conference in 1975.
He served as pastor of a variety of congregations before joining the conference staff in 1990, focusing on evangelism, mission and outreach.
Simpson was Dixon's pastor and performed his wedding to Cindy. The men's careers intertwined: Simpson would serve as Dixon's district superintendent at one point, and Dixon helped Simpson get appointed to fill in as country director of Cambodia for the Board of Global Ministries.
Love in action
He saw Dixon's caring nature in action on mission trips to different parts of the world, including a memorable journey to Armenia in 1992. The Soviet Union had collapsed, the economy was in disarray and people were hungry. "It was a rough, rough time," Simpson recalled.
The men were supervising the transport of about 135,000 bundled coats from Church World Service, along with 16 footlockers filled with medical supplies gathered in North Carolina. They encountered "all kinds of headaches," Simpson remembered, and the pair had to negotiate with the Armenian army to unload the cargo in return for 10,000 of the coats.
The trip also had a "very hush-hush" goal, he added. Dixon and Simpson carried hidden bundles of "$30,000 in cold hard cash" for a North Carolina missionary, leaving it in a safe at the U.S. embassy where the missionary could access it.
Throughout the trip, Dixon did all the talking with officials, and he had a gift for establishing instant trust, Simpson recalled. "I'd just stand back and watch him. It was amazing."
One night, they found lodging in an apartment building owned by a widow. The two "pretty sizable guys" shared warmth in the 28-degree room by lying next to each other on the double bed, Simpson said. They cut a funny sight-Dixon with his fisherman's cap and ear flaps, Simpson wearing an old Russian army officer's fur hat-and at one point, they started laughing.
"Sam Dixon, I don't know what you got me into, but if I ever get out of here alive, I'm going to kill you," Simpson told him.
It was a light moment on a trip of somber scenes. When they visited a man and his 8-year-old granddaughter, a hollow-eyed girl who hadn't eaten in three days, Dixon passed along the sandwiches that he and Simpson had packed for themselves.
Dixon had a fondness for Diet Cokes and chocolate, and when Simpson asked him about those items, his friend replied: "I gave them away too."
"He reached out in the name of Christ to everyone," Simpson said. "It didn't matter who they were in the world; if they were people in need, he wanted to reach out to people in need, even if he had to deprive himself-and me."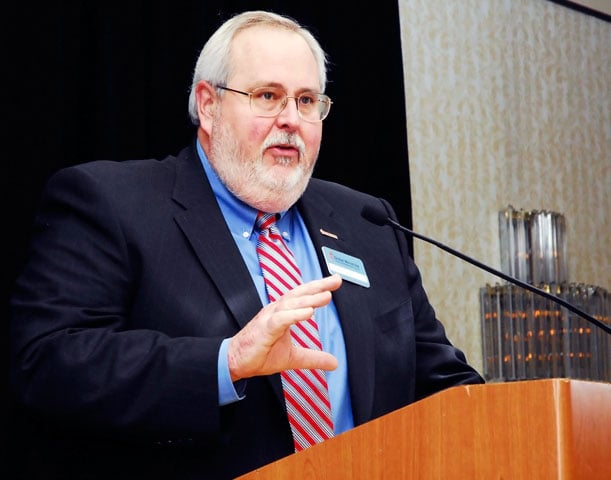 On the world stage
When Dixon moved to New York, he was able to reach out to others on a wider scale. He became an executive with UMCOR's non-governmental organization in 1998 and joined the Board of Global Ministries staff three years later as executive director of the United Methodist Development Fund.
In 2003, he became the agency's leader on evangelization and church growth and later took on added responsibilities supervising programs in mission education and relations with mission partners. He assumed the leadership of UMCOR in 2007.
Dixon's leadership at the Board of Global Ministries, especially during a time of transition, made his sudden absence seem even more of a loss. UMCOR, responding to that loss and the crisis in Haiti, formed a management team that "proved to be very, very successful," Kemper said.
Hazelwood has found the transition to a world without Dixon difficult, both personally and professionally. "Sam took care of his staff," he recalled. "He knew each of us individually; he knew our strengths and our weaknesses. He defended us and shielded us in many ways."
Hazelwood's work routine often included placing a call to Dixon between 7 to 7:30 a.m. as he drove from home to his Washington area office. "I usually talked to Sam at least three times a week," he explained. "We would discuss issues or shoot the bull. But most of the time, that's when business got done. I really, really miss that."
What made Dixon effective, he said, were his connections across the church and his understanding of how the denominational agencies could help local churches in ministry. "Every time you talked to Sam, he always had another idea that he was working on, but his ideas were always practical," he added.
Others will have to carry on with the work he was planning for Haiti. On Jan. 23, Simpson performed his final pastoral act for his friend by organizing his funeral. In addition to wife Cindy, Dixon is survived by four grown children -- Christy, Amy, Josh and Molly as well as his mother, three sisters and two grandchildren.
It was easy to remember Dixon's smile as Simpson told the mourners, "People everywhere were touched by the life of Sam Dixon."
*Bloom is a United Methodist News Service news writer based in New York. Tanton directs UMNS for United Methodist Communications in Nashville, Tenn.
News media contact: Linda Bloom, New York, (646) 369-3759 or [email protected].
Slideshow
Slideshow: Death & Resurrection in Haiti
Videos
Heartbreak in Haiti: Dixon remembered
Related Articles
Mission Leaders who Died in Haiti Remembered
Room To Be Named in Honor of Sam Dixon
UMCOR's Sam Dixon remembered for life of service
Resources
---
Like what you're reading? Support the ministry of UM News! Your support ensures the latest denominational news, dynamic stories and informative articles will continue to connect our global community. Make a tax-deductible donation at ResourceUMC.org/GiveUMCom.