In the village of Nkhafi, in the Dowa District of Malawi, a small, empty hut sits in a place of honor.
The women of the village built the hut for their "sister," Mercy Chikhosi, because she has changed their lives. It is only occupied when she visits.
The four chiefs from the Dowa District come to greet her and sing her praises for her work with the village.
"Every time I come they greet me in this hut," she said, pointing out the traditional thatch roof supported by poles.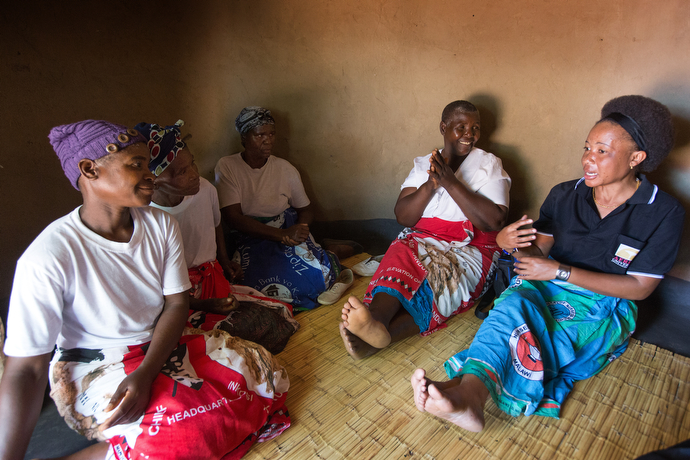 "The mud plastering was all done by hand," she said, rubbing her hand along the interior's smooth surface. "You can feel the warmth of the village through this house."
Chikhosi has made these women and others in the Dowa District her personal mission, arranging for United Methodist donations to provide the women with small business loans.
Chikhosi believes in empowering, not charity.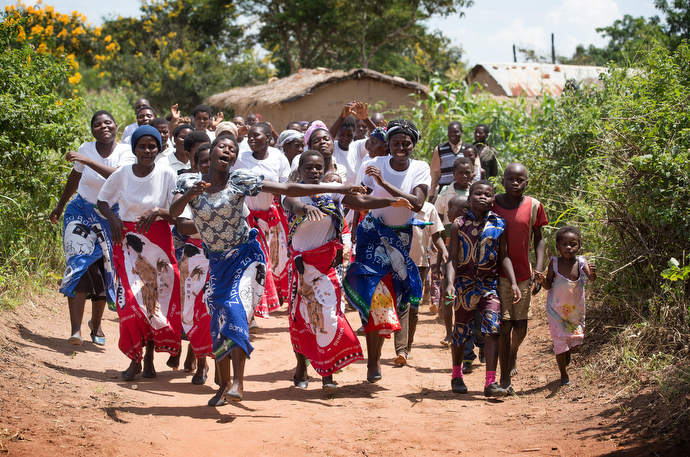 She graduated from United Methodist Africa University in Zimbabwe with a degree in nursing. She first came to this district in 2011 as a community health coordinator with Malawi United Methodist Church.
The women pull her into their circle and insist she dance with them. Her smile gets broader and she laughs while dancing.
She loves these women and they love her.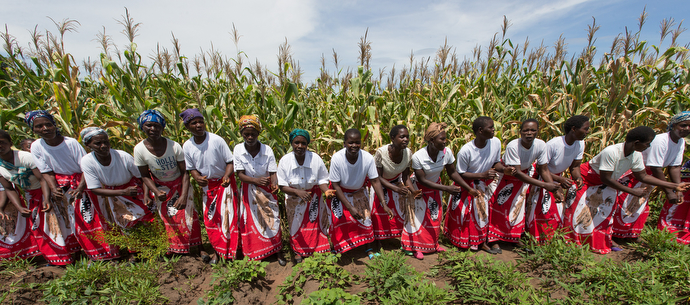 "I developed a strong bond and a relationship so I continue visiting, influencing and motivating them to identify their needs and find solutions with local resources," she said.
She works full time at ZOE Malawi. ZOE started as mission of the North Carolina Conference in 2004. ZOE's mission is "to help children never need charity again." ZOE operates in Malawi, Kenya, Rwanda, Zimbabwe, Liberia, Guatemala and India.
The United Methodist Church of the Resurrection in Leawood, Kansas, supports ZOE projects in Malawi.
How you can help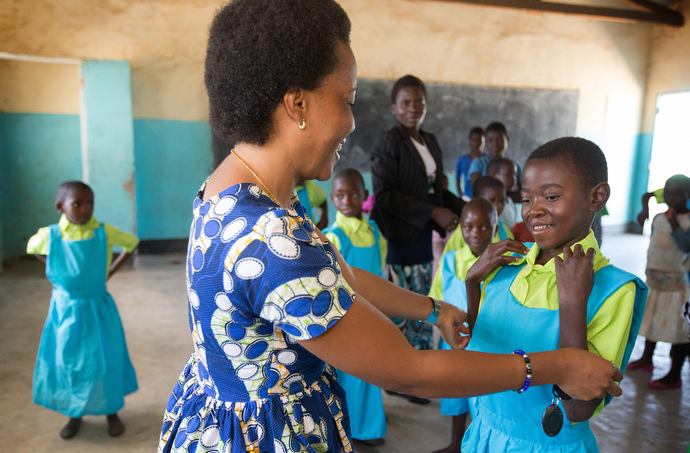 Mercy Chikhosi helps Beth Jesara try on her new school uniform at Liuto Primary School near Madisi, Malawi. The uniforms were bought with donations from several United Methodist churches in Middle Tennessee.
ZOE
helps ensure children know their rights, are free from abuse and exploitation and can find a safe place to live. Children learn skills such as farming and animal husbandry and are provided the tools and resources to grow and raise their own food.
Find out how you can
get involved or make a donation
.
Mercy Chikhosi's organization,
Wandikweza
, supports best practices in health care, developing sustainable communities and empowering girls and women.
To learn more and make a donation,
click here
.
Chikhosi founded her own organization, Wandikweza, to support best practices in health care and develop sustainable communities with a strong emphasis on empowering girls and women.
"I work with these communities in my free time, like weekends and holidays," she added.
Wandikweza received a $5,000 grant from United Methodist Women at Church of the Resurrection to empower the women of Nkhafi. Each of the 45 women got a $50 loan which they are paying back to use as a revolving fund for the women, Chikhosi explained.
The women bought fertilizer and maize seeds for their cornfield and soya seeds for their soya field and work as a team in the fields.
The women of Nkhafi who are waiting for Chikhosi all wear brightly colored wrappers, the traditional garments women wear tucked around their waists or under their breasts over their skirts or dresses.
When she arrives, they lead Chikhosi across the road to see the one-hectare field of maize and soya. One hectare is about 2.5 acres.
"We are very powerful women," said Virginia Biliat. "We had nothing before she (Chikhosi) came but now we have different businesses."
In the field the women sing, "We are farmers, we are not tired, we are farmers."
Biliat said they grow enough food in the field to last during the dry season. They have started a food bank, they have a store in the village and people can come by and buy food.
"Since we started this project we have never run out of food," Biliat said. "This is the work of our hands. As you can see, our field is one of the best. You can compare it to other fields, ours is the best," she said to cheers from the other women.
"We are strong women, we do things on our own. We are strong together."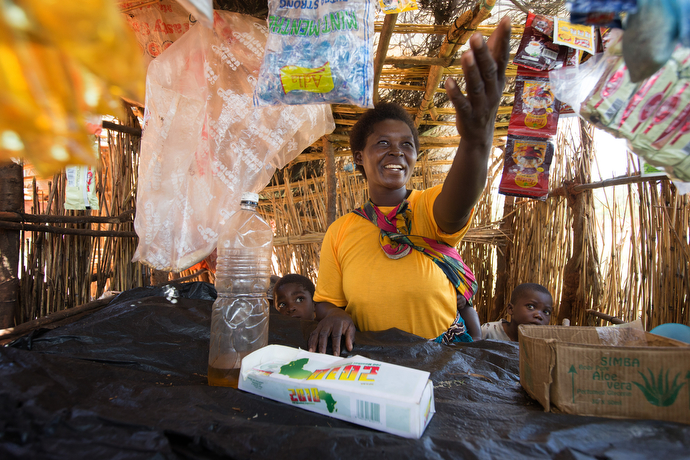 Kilinesi John started a grocery store. She sells relish mix, cooking oil, soap and other seasonal items.
"My life has changed," John said. "My vision is to have a very big shop."
She has seven children and the youngest, a 4-month-old, is perched on her hip. The other children range from 7 to 21. Women with seven children or more are common here. Many have their first child by the time they are 15 and continue having children until age 49, Chikhosi said.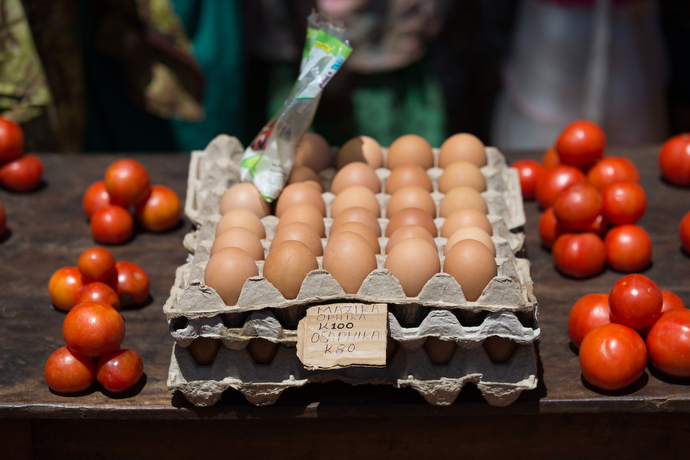 Grace Alex is the most successful businesswoman in the village. She used her small loan to buy a couple of pigs. Those pigs have produced 10 piglets. She also bought some baking stones and bakes scones to sell and to feed her family.
"I am able to send my children to school and provide breakfast before they go," she said. She has five children, including one disabled child.
"Before I started this business, my disabled child was malnourished. As you can see, now he is strong because he gets enough food. Before, I was not able to provide nutritious food for my kids. Now my life has changed."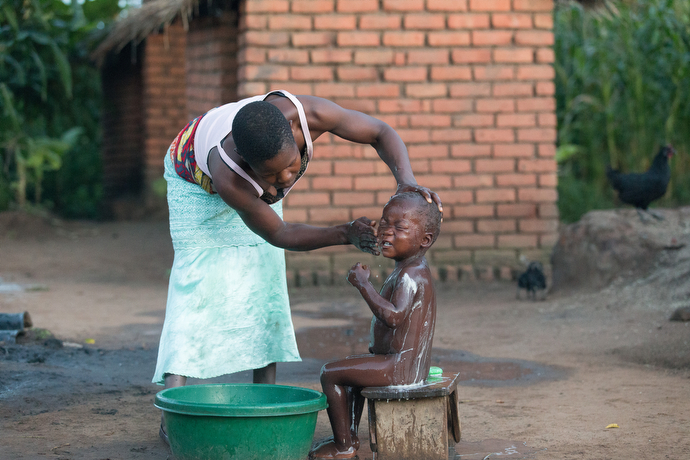 Other women in the village sell tomatoes and eggs, bake doughnuts and brew tea. All those efforts require water and most women start their day getting the precious liquid.
In Mzira, little Demphero Muaza does not like the early morning bath his mother Violet Chandawira is forcing on him. She pours water over his head as he sits in a tin pan, his little body covered in white, soapy foam. She smiles and goes about her chore of washing him before he gets dressed and sent off to school.
Chandawira was up at 3 a.m., walking in the dark to get water for her family.
View photos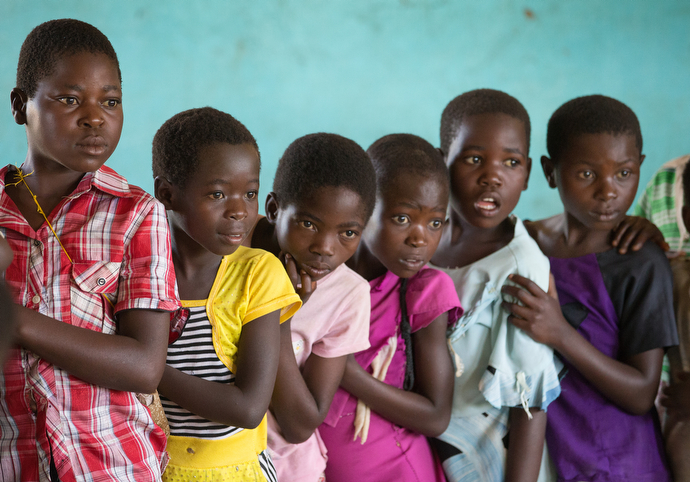 Anxious students wait to see if they will be chosen to receive a donated school uniform at Liuto Primary School near Madisi, Malawi.
View more photos from United Methodist News' trip to Malawi on
our Flickr page
.
In Khosi, another village in the Dowd District, the women have started a village savings and loan bank that they named Tilimbike, which means "work hard."
The banking business is conducted on a bamboo mat under a large shade tree. Meetings are at 2 p.m. on Fridays; each starts and ends with prayer. Bank members sit in a circle around a woman with a rusty blue tin box containing their savings.
Each woman contributes as often as possible. Contributions are recorded and bank books are stamped. Participants are identified by a number.
"In oneness we are strong," they recite at the beginning of their meeting. They have rules: If someone dies, the money will go to their relatives. If someone in the group gets sick, the bank helps.
On this banking day, number "9" has come to the bank for a loan to start a business selling tomatoes. All the members of the bank agree that this is a good business venture and he has a good plan, so he gets the loan.
The Rev. Francis Chimseu is pastor of Madisi United Methodist Church. There are five churches in his circuit, but the churches are far apart and, at the moment, his motorbike is not working.
He is also a graduate of Africa University.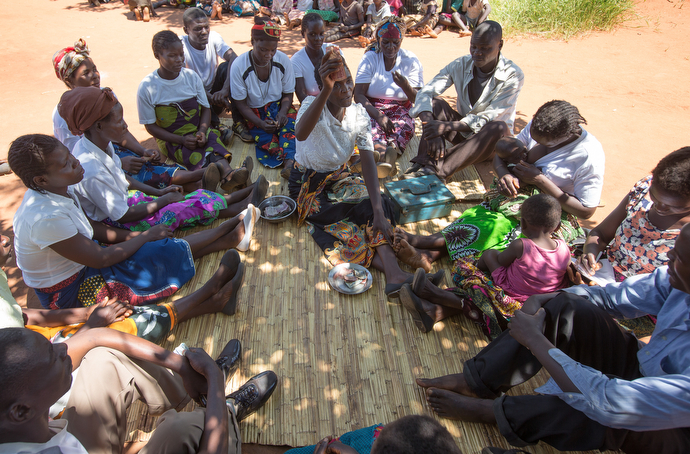 Madisi is a busy church, with a nutrition program for children under five and HIV/AIDS patients. Chimwemwe Harawa manages a clinic and nutrition program.
Chimseu said the women of the church have a knitting machine they use to make sweaters, baby clothes and blankets during the winter.
There is also a preschool and a "teaching farm."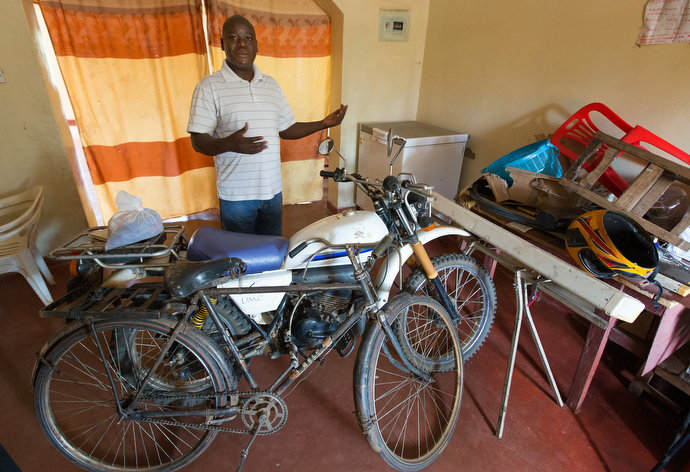 Joseph Kaipa, manager of the farm, is serious about teaching the community to grow nutritious food.
"Plant vegetables around the house instead of flowers which may be dangerous if eaten," he said. He points to the lemongrass, Amarantha and tomatoes growing around the small farmhouse.
"We plant with a purpose," he said.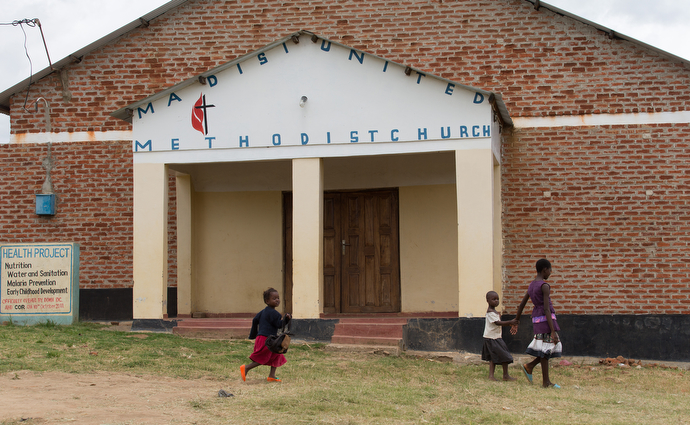 The Church of the Resurrection has a large hand in supporting this community. Twice a year, mission teams come and stay in the parsonage at Madisi, which doubles as a guesthouse.
In the Dowa District, the classroom pupil ratio stands at 1:111, much higher than the government standard of 1:60.
Liuto is bursting at the seams with children. The sign in front of the school reads, "Welcome to Liuto. Established Sept. 9, 2013."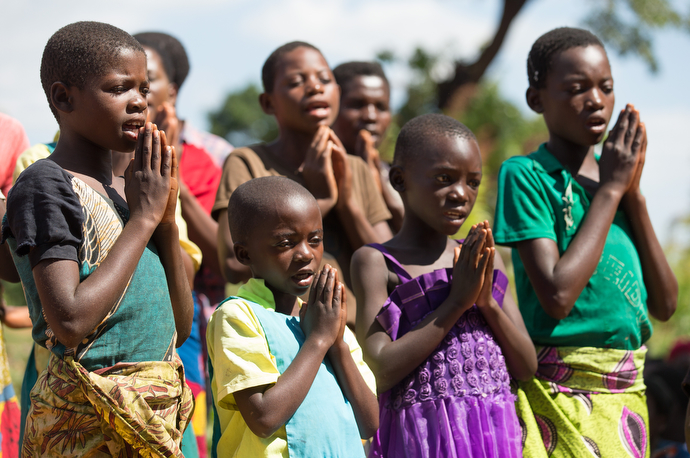 In a large green field, children are sitting in the grass waiting to show off their skills. Teachers are arranged in a semi-circle behind school desks. The children's guardians—aunts, uncles and other family members – are sitting on the ground.
Many of the children are orphans who have lost one or both of their parents. Some have bright blue and yellow school uniforms, but many are dressed in clothes that have been handed down more than a few times.
Chikhosi is bringing in 38 uniforms today from another United Methodist donation. The donation was enough to buy uniforms for 50 girls but the tailor was unable to complete the full order. Chikhosi explains the tailor's shop was without electricity for several days.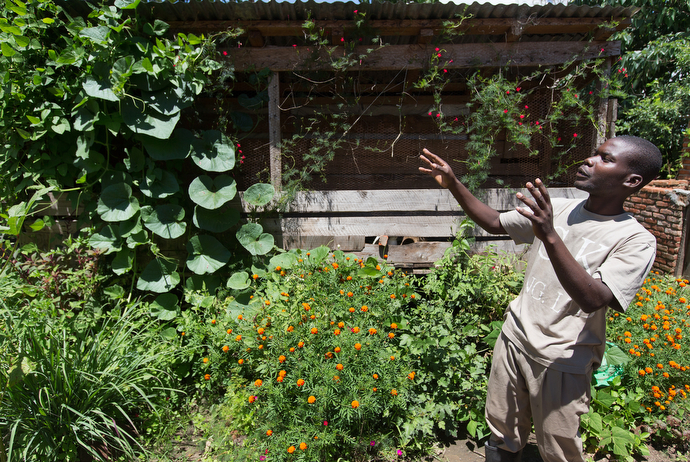 The 50 girls, ages 6 to 13-years-old, are chosen based on need. When their names are called out by the school principal, they run excitedly to stand in a line waiting to get their new uniforms. The uniforms are handed out according to size. The ones who did not receive a uniform today help the other girls get dressed.
Many children end up dropping out of school because they don't have uniforms, Chikhosi said.
None of these children will have to drop out this year because Chikhosi was able to get donations for all the children in need. The tailor is busy sewing yards and yards of bright blue and yellow fabric.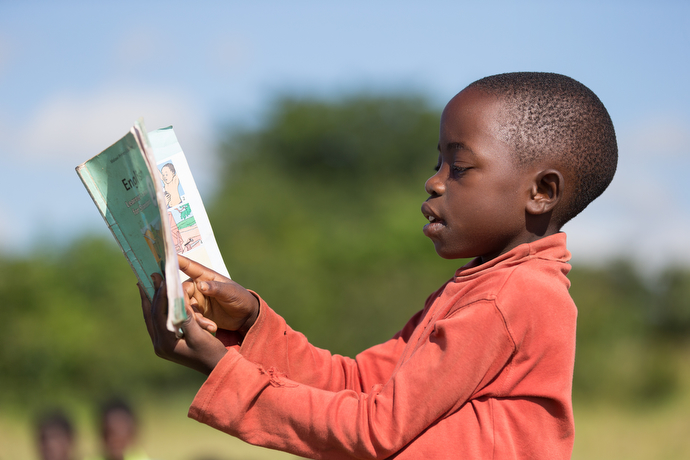 Chikhosi refuses to let any obstacle stop her. She says anything can be done with the help of the Lord.
She credits The United Methodist Church for the work she has been able to accomplish.
"I graduated from Africa University and my life dream to be a nurse came true," she said. "The United Methodist Church has invested a lot in me."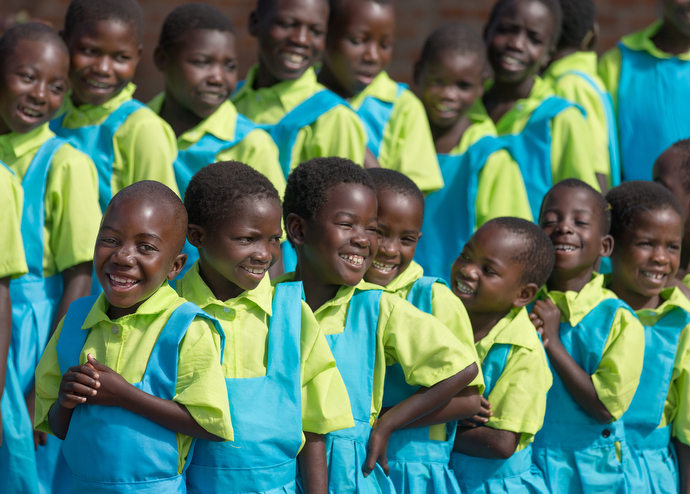 Gilbert is a multimedia reporter for United Methodist News Service and Mike DuBose is staff photographer. Contact Gilbert and DuBose at 615-742-5470 or [email protected]. To read more United Methodist news, subscribe to the free Daily or Weekly Digests.
---
Like what you're reading? Support the ministry of UM News! Your support ensures the latest denominational news, dynamic stories and informative articles will continue to connect our global community. Make a tax-deductible donation at ResourceUMC.org/GiveUMCom.