The United Methodist Church's Sierra Leone Annual Conference Health Board is taking the fight against malaria to schools in the country.
In the coming months, school health clubs will train students about environmental sanitation, first aid, treatment, education and a positive attitude toward the use of mosquito nets, which are estimated to minimize the malaria infection rate by 50 percent.
Teachers will supervise the education to the pupil-centered school health clubs. The program, funded by Imagine No Malaria, trained 60 teachers drawn from United Methodist schools across the country Oct. 19 in Freetown.
"We hope to reach parents and guardians, homes and communities with lifesaving and behavioral change messages on malaria through the children we train in the school health clubs," said Henrietta Emmanuel, the head of the malaria unit for the Sierra Leone Annual (regional) Conference.
The plan will train teachers who will train student health club members. Those students in turn will spearhead the campaign to regularly disseminate malaria-related messages to their peer groups in the schools during play and social gatherings and as topics during school drama and debates. The program expects students to have an impact on their communities and homes through their knowledge about malaria.
Health clubs carefully selected the students. "They must be pupils who are influential and respected among their peers - those who can motivate others and are an exemplum of the qualities of decency and know how to use authority," Emmanuel emphasized.
Students likely to accept information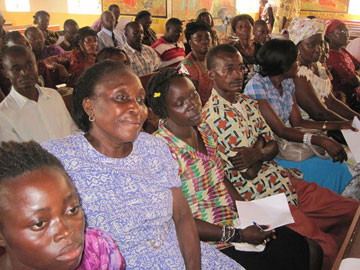 Teachers at the training listen attentively.
Students in the West African country see their teachers as a repository of knowledge. They are more likely to accept information from their teachers than from any other source - including parents.
"School health clubs are not new in our drive to reach out to communities with health information in Sierra Leone," explained Ernest Jusu, United Methodist HIV/AIDS contact person.
"United Methodist school health clubs were strategic in our approach to rapidly disseminate information on HIV/AIDS to communities from 2002 to 2006 when HIV infection rate in the country was increasing at an astronomical speed. The approach put us far ahead of our contemporary health organizations in the country at a time when the disease was becoming a leading cause of death in Sierra Leone."
Traditional birth attendants - elderly women who attend to women in labor in the remote parts of Sierra Leone where there are no doctors, health centers or trained paramedics - were also part of the Freetown training.
The birth attendants wield a lot of influence in their communities. They are mostly illiterate and work from experience. Most of the deliveries take place in remote parts of the country where the traditional birth attendants have a lot of respect and authority.
"We are training them to know their limitations. They need to know and accept what they can do and what they cannot do. In situations where pregnant women face complications or illnesses like malaria, TBAs are being trained to make referrals to the nearest health centers," said Beatrice Gbanga, the conference's medical coordinator.
Focus on empowering attendants
Join the fight
Imagine No Malaria: A world of people unified in the fight against a needless killer.
The conference medical board trained the traditional birth attendants in safe delivery practices in midwifery in the wake of the war in Sierra Leone to make them more effective in their communities and to help minimize maternal and child mortality rate, which at the time was among the world's highest.
Traditional birth attendants were responsible for more than 60 percent of delivery services to women in the country at the time. Recently, the board has focused on empowering the attendants to do limited deliveries at home and refer pregnant women who report early labor symptoms to the nearest health center.
The board also is training teachers to administer first aid during emergencies, but the focus is on knowing their limitations, Gbanga said.
"You are teachers. This training is not going to transform you into doctors and nurses," Gbanga said. "Rather, we are empowering you to reach out with lifesaving and behavioral change information and education to the children who are our key ambassadors for the fight against malaria."
Gbanga encouraged teachers to urge students to seek trained medical help when ill, adding that some traditional beliefs and practices can work against disease control and treatment practices.
*Jusu is the communicator for the Sierra Leone Annual Conference.
News media contact: Tafadzwa Mudambanuki, (615) 742-5470 or [email protected]
---
Like what you're reading? Support the ministry of UM News! Your support ensures the latest denominational news, dynamic stories and informative articles will continue to connect our global community. Make a tax-deductible donation at ResourceUMC.org/GiveUMCom.