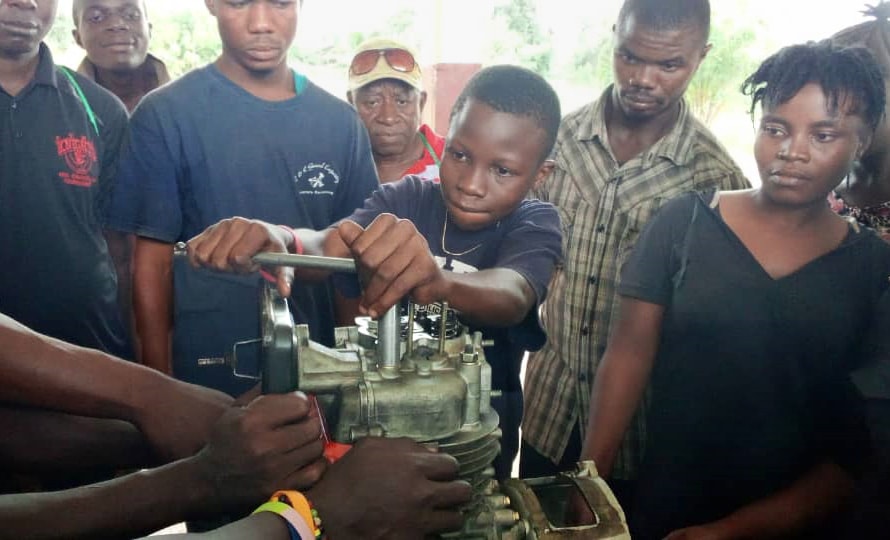 The Taiama Enterprise Academy, a hybrid of hands-on vocational and entrepreneurship training, has opened in southern Sierra Leone.

The academy is the realization of a dream by Sierra Leone Conference Bishop John K. Yambasu and Operation Classroom, a United Methodist organization supported by churches in Indiana.

At the inauguration and dedication program on Oct. 11, Bob Coolman, Operation Classroom's Taiama Enterprise Academy coordinator, shared his vocational training success story.

"I don't qualify as an academic. I never got a college degree. I became an entrepreneur by accident," said Coolman, former president and CEO of Operation Classroom and a successful real estate developer.

For more than 30 years, Operation Classroom has partnered with Sierra Leone and Liberia to improve secondary education. Four years ago, the organization shifted its approach to address the root causes of unemployment and poverty in the countries and came up with the "enterprise academy" concept.

Maria Brewer, U.S. Ambassador to Sierra Leone and the guest of honor at the event, is from Indiana where Operation Classroom is based. She touted the organization's three decades of work in West Africa.

"They have improved the lives of many Sierra Leoneans by providing scholarships for young people. Today, they will embark on a new and ambitious solution for the problems of poverty and unemployment in Sierra Leone," she said.

Brewer emphasized that the academy has an innovative approach to education because it will focus on STEM subjects (science, technology, engineering and math), while also supporting entrepreneurial training and technical instruction in agriculture and engine mechanics.

"(The academy) encourages teaching methods to spark creative, critical and proactive thinking," she said.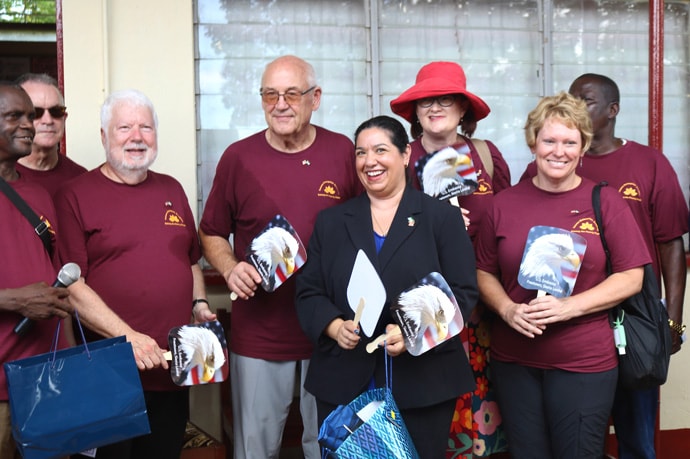 Under the Sierra Leone educational system (six years of primary, three years of junior secondary, three years of senior secondary and four years of university education), the students graduating from junior high with lower grades go to the vocational institutions. However, at Taiama Enterprise Academy, the higher-performing students are the ones targeted to develop their entrepreneurial skills after graduating from junior high.

Students take the five core subjects of senior secondary school curriculum, but also receive technical and vocational training. At graduation, students can opt to take the university entrance examinations, continue technical/vocational training or look for employment.

The project involves a partnership with Njala University, Sierra Leone's primary undergraduate school for agriculture, agronomy, environmental science, education and health sciences to develop "farmers and fixers." The goal is equipping students to become entrepreneurs in a variety of fields.

There are 60 students currently enrolled at Taiama Enterprise Academy, which sits on land and facilities owned by The United Methodist Church and Taiama Junior and Senior Secondary School. All are on scholarship and stay on campus, with the cost of boarding, food and tuition mostly provided by Operation Classroom. Parents are asked to contribute $100 USD per year.

As part of the pilot program, 54 students are expected to enroll next year, with another 48 entering the following year.

Victor Massaquoi, technical and vocational education training director for Sierra Leone's education ministry, said the country's new president, Julius Maada Bio, has put a premium on technical and vocational training across the country. A 2016 ministry of education World Bank survey revealed a 70% market-driven skills gap in the country's educational system.

The government announced plans Oct. 14 to open 10 vocational institutions across the country and work already has begun.

Massaquoi said a new government policy will empower technical/vocational institutions to start awarding bachelor's and master's degrees. Previously in Sierra Leone, the highest qualification one could get through such schools was a diploma.

He also said Taiama Enterprise Academy will qualify by next academic year for the government's Grants in Aid program to offer scholarships to students.

The Rev. Francis Charley, who spoke at the dedication on behalf of the bishop, called Taiama Enterprise Academy a great and laudable venture that would empower youth and future leaders in the fields of vocational and technical education.

He said the country's educational institutions over the years woefully failed to stress on the quality of education that affects society.

"Unfortunately, this has created bankruptcy of achievement by our education. However, in the recent past, government and religious bodies … have realized the fact that relevant technical and vocational institutes are of great necessity in our country and therefore the need to have acceptable and credible vocational institutions of learning," he said.

Speaking about recent examination malpractices in the country, Charley said it can only facilitate the degradation of education in the country. He said there was a growing mismatch between the skilled manpower required and the skilled manpower available.

There is a need, he said, to focus on courses and disciplines that are relevant and appropriate to the needs of society. The academy "must change the socio-economic lives of those who come to acquire skills and knowledge. Let them be a changed set of people as they move out of here to face the wider community," he said.

The Sierra Leone Conference and Operation Classroom hope to expand the program throughout Sierra Leone and replicate it in Liberia if the model is a success.

"Education is the base on which the economic development of a country rests," said Brewer. "We hope this approach will be successful and reproducible in communities around Sierra Leone. These students will also be the future leaders and entrepreneurs of Sierra Leone."

Jusu is director of communications for The United Methodist Church in Sierra Leone.

News media contact: Vicki Brown at (615) 742-5470 or [email protected] To read more United Methodist news, subscribe to the free Daily or Weekly Digests.