June 19 was not a holiday in Sierra Leone but many United Methodists defied normal work schedules in their respective offices to attend the services for the Rev. Isaac Momoh Ndanema, the oldest evangelist and church builder in the conference.
Ndanema passed away June 1. He was 107.
"Pa" Ndanema, as he was fondly called, spent a good deal of his life building schools and developing congregations for the denomination. He also was a broadcaster with the Sierra Leone Broadcasting Service in the 1970s, producing programs in the Mende ethnic language.
His work was honored by the annual conference in 2010 when he was given the title of Conference Evangelist - the first in the annual conference to have been awarded such a title.
Ndanema was born in Bonthe in southern Sierra Leone. He grew up in a large family community. His father, Pessima Ndanema, had 10 wives with several children. His mother, Sitta Ndanema, was one of the senior wives.
From 1930 to 1936, he attended the Evangelical United Brethren Primary School in Bonthe. He gained admission into the Albert Academy in the capital, Freetown, in 1937. He studied secondary school education, graduating in 1940 with a teacher training and general education certificate that qualified him to teach at the Albert Academy.
He was a boarding home master at the academy from 1940 to 1944. During the same period, he studied theology at Fourah Bay College, the country's only university at the time, and was ordained an elder in 1945. Between 1945 and 1946, he acted as assistant pastor at King Memorial United Methodist Church in Freetown.
In 1973, Bishop Benjamin A. Carew, the first indigenous bishop of the Sierra Leone Area, called for every pastor and church to engage in massive evangelistic ministry. In 1974, Ndanema formed the Musselman Evangelistic Outreach.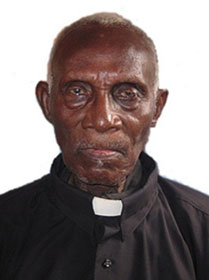 The Rev. Issac Momoh Ndanema
Service with or without assistance
The team used Ndanema's private old Peugeot car until it was beyond repairs. He paid the repair cost over the years and did not receive any reimbursement from conference, recalled the Rev. Moses Massaquoi, his assistant at the time. Ndanema served faithfully, whether or not he was supported by the annual conference, Massaquoi observed.
The team had four main objectives:
To organize churches in the east end of Freetown
To train local leadership for the established congregations
To construct new churches for the new congregations
To open new schools in the eastern part of the city
Their work resulted in 14 churches and 10 schools in eastern Freetown and the hinterland.
"He lived a life of self-denial. He loved a simple and humble home. With the support of his children, he would have lived a better life in the United States &ellipsis; or a far better home elsewhere in Freetown. But he preferred to live a simple lifestyle in the Ginger Hall Community in eastern Freetown," said Massaquoi at the funeral service June 19.
Funeral services and death announcements in Sierra Leone usually carry a mournful language or sympathetic expressions. This was not the case for Ndanema, whose home calling was considered a celebration of a life well spent. On radio and television, expressions of joy and happiness could be heard in the announcements about the death and funeral arrangements.
United Methodists stop to pay tribute
After the news of Ndanema's death, congregations from several parts of the country poured into Freetown for meetings among family, local church and conference officials to organize arrangements to give him a befitting funeral.
Work at United Methodist Church House, the conference's headquarters in downtown Freetown, stopped as everybody trudged to the hillside Ginger Hall Community. The 200-capacity Musselman United Methodist Church held twice that capacity by 11 a.m. for a service scheduled for 1 p.m. A huge projector screen in the church brought Ndanema to life in video interviews, pictures and services throughout his life.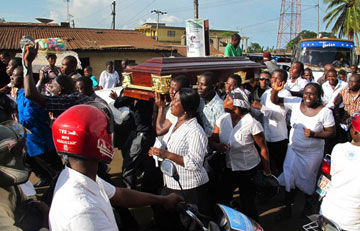 The youth of the Ginger Hall Community "hi-jack" dance around the coffin in the accepted tradition of the Freetown Area of Sierra Leone for people who die at a very old age.
For eight years, Ndanema was pastor at Musselman and, despite being offered a better home to stay by his children after his retirement in 1991, he chose to stay in a two-bedroom apartment on the premises of the church until his death. Celebrations continued in the Ginger Hall Community in addition to a candlelight vigil in the church on the eve of his burial.
Colleagues of Ndanema were hard to find by the time of his death - most of his true peers in service had passed away before Ndanema. Most of the people who gave testimonies about the life and ministry of the evangelist were converts he brought into the denomination or retired pastors he groomed into ministry.
"He was a family supporter. Part of his ministry was settling disputes among disintegrating families. I had made up my mind to quit the relationship with my husband because he did not seem interested to marry me after we'd had our third child," recalled Mary Kallon, a member of the Musselman congregation. "Word got to Pastor Ndanema that I was moving out of the home. He called me and my husband, resolved the matter and we wed the following Saturday."
Alfred Josiah, who met Ndanema in his youth, said part of Ndanema's method of evangelism was taking care of people's social needs. "He helped me secure a job which became my career up to my retirement," he said.
Tommy Lansana said Pa Ndanema encouraged him to begin learning to read and write at age 21.
Isaac Ndanema United Methodist Church
The old boys association of his alma mater - the Albert Academy, the denomination's oldest boys' school in Sierra Leone - laid wreaths and an emblem of the school signifying honor. The school principal said Ndanema was a true academician "who served his God and man well."
A statement from resident Bishop John Yambasu described Ndanema as a great evangelist and a man with a great sense of simplicity. "To him the highest place of honor was among the people and not at the high table," Yambasu wrote in a tribute that was read on his behalf because the bishop could not attend.
In June 2010, in recognition of Ndanema's service, a church in eastern Freetown was renamed the Isaac Ndanema United Methodist Church.
Ndanema was full of joy and praise for the resident bishop and the annual conference.
"Your idea of recognizing the work of evangelism is noted today here on Earth and is also noted in your favor in the presence of Almighty God. Bishop John Yambasu has made us to know that you can use Isaac Ndanema as a symbol of the house of God," Ndanema told those gathered. "The house of God is today called Isaac Ndanema and the people of God will go on to be called Ndanema people in the name of God - Father, Son and Spirit. "
Bishop Yambasu said he was "told that in doing ministry, Pastor Ndanema went through many challenges and trials. I am told that because he worked so very hard, he became a target for jealousy and hatred by his own very colleague ministers. By the time Pa Ndanema was going through those crucibles, he would have called it quits, but no. He knew he had a mission to accomplish. He was an extraordinary evangelist who did what no other pastor after him has ever done."
Ndanema encouraged congregations to sing in their local languages rather than in English. The Rev. S.M. Williams, a journalist and pastor who interviewed Ndanema on his 100th birthday, said Ndanema loved to hear African congregations praising God in their indigenous languages.
At the 2010 renaming ceremony, Ndanema said, "Wherever the incarnate God seen in Jesus of Nazareth is proclaimed, there should be indigenous congregations true to the soil, true to the community, true to the people."
*Jusu is a United Methodist communicator based in Sierra Leone.
News media contact: Tim Tanton, Nashville, Tenn. (615) 742-5470 or email [email protected]
---
Like what you're reading? Support the ministry of UM News! Your support ensures the latest denominational news, dynamic stories and informative articles will continue to connect our global community. Make a tax-deductible donation at ResourceUMC.org/GiveUMCom.