The recent 20th Anniversary Shalom Summit in Los Angeles was a celebration of origins that marked a turning point in the life of the movement itself.
The Shalom Initiative of The United Methodist Church traces its beginnings to Los Angeles and to a pivotal point in the life of one man, Rodney King, whose beating by police officers caught on videotape, set the stage for a brutal chapter in U.S. history.
When three of the officers were acquitted of charges and no verdict was reached in the case of the fourth, rioting broke out and claimed more than 50 lives, injured more than 2,000, and cost the city an estimated $1 billion. During the riots, King - who died in June - appeared on television and issued the famously haunting plea, "Can we all get along?"
Twenty years later, that question seemed to be met with a positive response as 168 people gathered at the Biltmore Hotel to trade shalom success stories. While no one claimed that racial inequality and economic injustice have been vanquished, their narratives - and the diversity in the room itself - testified to the possibility that people can work in harmony to achieve a common purpose.
A spirit of cooperation is at the heart of the shalom movement. The program focuses on organizing the stakeholders in a given geographic area, or "shalom zone," and identifying and building upon the positives, or assets, of the area to effect systemic and sustainable change that results in a healthy community. Multicultural, multifaith collaboration is an essential part of the process and is one of the six tenets, called "threads of shalom."
The Rev. Michael Christensen, international director of Communities of Shalom, says the multifaith aspect is "probably the hardest thread, and the hardest training to do" because Christians are accustomed to thinking in terms of evangelism, helping people come to Christ and growing their congregations.
The shalom approach, by contrast, begins with outlining a geographic area, taking stock of its occupants and asking the occupants to look beyond the confines of religious identity and work together for the good of the community.
"If there's a Jewish synagogue around the corner from the United Methodist church, the Methodists may host the table, but everyone's invited &ellipsis; because we have a common concern and interest about what goes on in our neighborhood," Christensen said.
"If there's a mosque, then you invite the Muslims, and say, 'shalom, salaam, peace!' because we have common interest to transform our community. We're not saying to the Muslims, 'Come over to our side, come to our church, and worship as Christians'; we want to affirm them in their own faith tradition &ellipsis; but we can do things together to transform our community."
Teaming up in Memphis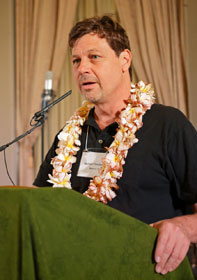 The Rev. Michael Christensen, director of Communities of Shalom, speaks during a cultural celebration for Shalom Summit in Los Angeles. UMNS photo by Greg Keating.
It is one of the tenets most sacred to Amy Moritz, director of the Center for Transforming Communities in Memphis, a regional shalom resource center affiliated with the national resource center now at United Methodist-affiliated Drew University.
"I really look for congregations who are willing to be sort of a catalyst or sort of a steward of a more neighborhood vision that involves, ideally, multiple congregations," she explained.
"The very first thing that I want that congregation to do, if they want to enter into the Communities of Shalom facilitation, is to go out and find other congregations who will go with them, journey with them, be a team - they would all come together to create something new."
What that "something new" turns out to be can be a delightful surprise, as is evident in Binghampton, one of eight shalom zones in Memphis. Within Binghampton, which encompasses about 15 city blocks, is a repurposed church building, now known as the Commons on Martin, which houses 15 different nonprofits, ministries and congregations, all connected to the neighborhood.
The building had belonged to Everett Memorial United Methodist Church, and a part of the congregation re-emerged as the Binghampton United Methodist Church and worships within the repurposed building.
'Primed' for shalom
The Rev. William Williams, a recent graduate of Drew Theological School in Madison, N.J., came to the summit to learn the concept and what it means to be a shalom trainer. Appointed to his first charge, Asbury United Methodist Church in Atlantic City, N.J., in July, Williams was told the congregation had a shalom connection at one time.
Williams said he believes that Asbury, with a fairly diverse congregation of some 70 people in the heart of the Atlantic City casino district, is "primed" to be a shalom zone.
"Mission Home for the homeless and for those who are hungry isn't too far away from Asbury - and the drug rehabilitation home is a block, two blocks away," Williams said. "Prostitution occurs right outside our doors at times; prostitution and drug dealing. Homes are boarded up right across the street from Asbury. But at the same time, we sit in the tourism district of Atlantic City, a district that the State of New Jersey has carved out and said, 'we want this district to be tourism-friendly.'"
The Rev. Baamu Moses is a Pentecostal pastor and shalom practitioner in Uganda.
"Right now, we have three sites of shalom zones. One, we are doing farming - we grow coffee. Two, another one, the second one, we are dealing with HIV/AIDS within the community. And &ellipsis; we are empowering the ladies - the widows and the younger ladies - we are doing jewelry, so that they can be skilled."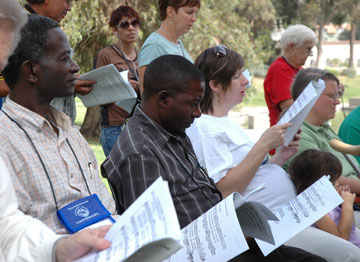 The Rev. Baamu Moses of Uganda, left, and the Rev. Copeland Nkhata from Malawi join others at the closing Shalom Summit worship service and lunch in L.A.'s MacArthur Park. A UMNS photo by Cate Monaghan.
He brought examples of necklaces and beaded purses made by the women in Uganda and said he hopes to find a market to sell the goods in the United States. The money will be used to buy schoolbooks.
Moses was introduced to shalom when he met Christensen in Mzuzu, Malawi, and learned what the Rev. Copeland Nkhata, a United Methodist pastor, is doing there.
Nkhata, who also came to Los Angeles for the summit, said the initiatives he is part of include nutritional care for young children, educational care for boys and girls 13 to 20, and a women's empowerment program, which provides skills to generate income to help vulnerable women sustain themselves and their families.
Some 40 boys and girls have been placed in high school or college course work in four years, Nkhata says. Eight boys have graduated from the business management class and others from the accounting classes. They have found jobs.
"We have more than eight who are active participants in church leadership roles," he said. "But we are also proud of many children, who were helpless and we give them nutrition for a few years, and others have moved from kindergarten to primary school - but what is very outstanding is that three of those children have moved from primary school; they are now in high school - and they are very outstanding students. One of them is HIV-positive. She was very unwell when we started to take care of her, but now she's very healthy &ellipsis; and we're very expectant that next year she might even be admitted to university because her school performance is outstanding."
Changes in program
Shalom's international work
International shalom work began in 1998when Bishop Felton E. May encouraged a group of Washington area leaders to hold Shalom Zone training in Zimbabwe as part of the missional partnership forged between the Baltimore-Washington Annual (regional) Conference and The United Methodist Church in Zimbabwe.
After the training at Hilltop United Methodist Church in Sakubva, church volunteers began the Isheanesu Shalom Zone as an after-school project for a handful of children in the poverty-stricken area. Today, the Isheanesu program continues to promote academic success and empowers women and men to become self-sufficient through a variety of operations.
The connection in Zimbabwe was just one way that May, the first chairman of the National Shalom Committee and an organizing force for Communities of Shalom, modeled the ministry.
"Bishop Felton May's shalom ministry in D.C., organizing tent revivals for social justice, and recovery from addiction through personal transformation and community development, is right on the mark," the Rev. Michael Christensen, then the new shalom national director, observed in his blog in 2008.
The Communities of Shalom program is itself undergoing several changes even as it continues to train others.
For 20 years, Communities of Shalom has offered free training subsidized by The United Methodist Church. For the last five years, that training has been at Drew University.
However, Christensen said, the business plan and business model are changing from one of giving the product away to one of selling the product at a price to cover costs.
Drew used an $85,000 curricular-development grant "to step up to state of the art in how to train people." Christensen said the product would be available through the program's website for about $100 a person.
Christensen said the program also would have one or two train-the-trainer events a year to produce Drew-certified local facilitators who then will train others in local or regional settings. Christensen estimated that more than 360 shalom teams have been trained in the last dozen years by paid national trainers.
Christensen, an elder in the California-Nevada Annual (regional) Conference, was named in September to a yoked appointment in which he will serve equally Communities of Shalom and as senior pastor to Epworth United Methodist Church in Berkeley, Calif. The appointment is effective Nov. 1 and means Christensen will move from the East Coast to the West Coast.
"And we'll have in the Western Jurisdiction, and in the Cal-Nevada Conference, a regional center for Shalom Zone training. &ellipsis;We'll have a West Coast headquarters for shalom, just like we have an East Coast headquarters," he said. The location for that West Coast headquarters has not yet been determined.
Christensen expects a regional center to open in Mississippi, in addition to current regional centers in Memphis and in Dayton, Ohio, at United Theological Seminary
*Monaghan is communications director of the California-Nevada Annual (regional) Conference.
News media contact: Tim Tanton, Nashville, Tenn. (615) 742-5470 or [email protected].
---
Like what you're reading? Support the ministry of UM News! Your support ensures the latest denominational news, dynamic stories and informative articles will continue to connect our global community. Make a tax-deductible donation at ResourceUMC.org/GiveUMCom.