Stand in the middle of Main Street in Bowbells at the end of the day, and one can look out in either direction to a vista of amber fields whose colors are amplified by the brilliance of the setting sun against an unspoiled background of clouds and sky.
Yet the downtown where Redmer's clan and other farm families would bring in eggs and cream to sell, and spend hours visiting with their neighbors, is empty of pedestrians.
What remains open amid the shuttered storefronts and cracked sidewalk concrete are a couple of banks, a senior center, a gas station, a bar — and the churches: an old stone Catholic Church a block from downtown, and a Lutheran church and United Methodist church near one another on Main Street.
As other parts of the community fabric unravel, and depression, alcoholism and divorce rise among a population facing the brutal North Dakota winter in increasing isolation, the church is more important than ever, the faithful say.
Bowbells United Methodist Church, like the other two churches in town, keeps its doors unlocked 24 hours a day. Kids playing in the city park know they have a place to use a bathroom. Travelers stranded in the winter will not freeze to death outside the doors of a house of worship.
In a town like Donnybrook, which long ago lost its schools and restaurants and grocery and where just two months ago the post office closed, the United Methodist Church and the Catholic Church stand as more than testaments to faith.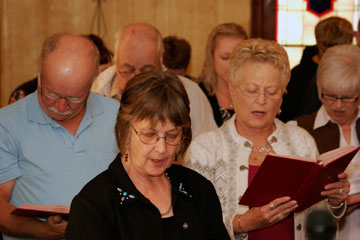 They "hold the community together," says Marilyn Bott. Adds her husband, Russell: "Right now, they are the community."
Images of Christ
Worshippers enter Donnybrook United Methodist Church from the side into a sanctuary with an unadorned wooden cross in back. Candles are lit on either side of an open Bible. The message above the cross is from John 3:16: "For God so loved the world, he gave his only begotten son that whoever believeth in him, should not perish, but have everlasting life."
On a recent Sunday, about 25 people, all dressed informally, many with jeans, are gathered. Seven people, including a young man, come forward to form the choir. Those in and out of the choir, many burly farmers, sing loudly.
When Hammond announces "it's Ryan's birthday," the volunteer organist-choir director strikes up a happy birthday tune, and the congregation gives a rousing serenade to the young farmer, substituting the words of the traditional song with, "God's blessings on you."
As much as rural churches represent God's presence to the community, so much more do the church members represent the body of Christ to one another.
At the Pizza Hub in Kenmare, where older people in need of companionship sometimes stop in twice a day or more for coffee, church members gathered for lunch say they look after one another day and night.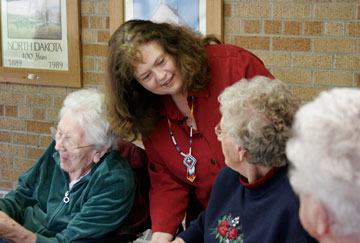 Cori Stroklund, 59, says congregants can sense just by being around each other when someone is down.
When her mom was sick and her dad was dying, she felt surrounded by prayer and comfort. Pointing to the church members on either side of her, she says, "They're there when you need them. They're there, just like God."
For young men like Brett Rockeman, the church community he was raised in is a major reason he wants to stay in Donnybrook. The United Methodist congregation is "kind of like a family outside my own family."
"It's just nice to know everybody in church, to sing happy birthday," Rockeman, 19, says at a potluck supper after church one Sunday. "The church is supposed to be a family. You're supposed to know everyone in your family."
Parable of the rural church
Sundays for the pastor, following in a tradition of circuit riders serving these three churches, are a ballet of pastoral care and time management.
Hammond arrives early for the 8:30 a.m. service at Bowbells, rushes down back country roads for the 9:45 service at Kenmare and, if the weather is good, arrives in time for the 11 a.m. service in Donnybrook.
But she makes sure to greet everyone, and to give the older women a hug. Sunday morning can be the only time some receive a caring human touch that week.
Her sermon in all three places on a recent week is on Luke 15:1-10, the parable of the lost sheep.
She incorporates different local landmarks at each church, but the message of the sermon is the same: "We are all God's creation, and he doesn't want to lose any of us."
It is a message at the heart of the mission of The United Methodist Church, which grew into the most geographically diverse Protestant denomination in the United States by taking the Gospel to "every small crossroads there could possibly be," says Robert Williams, top staff executive of the United Methodist Commission on Archives and History.
In a time when many of those communities are struggling, rural church leaders say, Methodism founder John Wesley's message to his clergy continues to ring true: "Don't go where you're needed. Go where you're needed the most."
---
Like what you're reading? Support the ministry of UM News! Your support ensures the latest denominational news, dynamic stories and informative articles will continue to connect our global community. Make a tax-deductible donation at ResourceUMC.org/GiveUMCom.