The fields of wheat and flax stand higher than they normally would on this mid-September day. Anxious farmers who sweated through an arid summer now pray for two solid days of sun to dry out their crops so they can be harvested.
John Redmer, still able at age 90 to do a full day's work on the combine, barely notices the raw wind laced with rain coming across the prairies and through a graveyard on the outskirts of town.
"Gee whiz, I know almost everyone here," he remarks.
He points to the stone markers of his grandparents, all four part of the original homesteaders who built the town near the Canadian border. With a sweep of his hand, he identifies friends and family members, some who died of drowning or disease at an early age and others who lived to make Main Street a community beacon on Saturday night and fill the churches on Sunday morning.
But Main Street, along with the churches built around it, is dying in towns like Bowbells and thousands of similar rural communities across the United States. While the harvests grow ever greater due to technological advances, the laborers are fewer as machines do more of the work and small family farms give way to corporate farms.
And The United Methodist Church, which developed on the backs and souls of these Christians and still has an estimated 20,000 rural churches today — representing more than six in 10 of the denomination's congregations — faces the challenge of how it will continue to minister to some of its most faithful members.
Many rural church leaders fear the denomination has decided to forsake them in favor of larger churches in growing suburbs. A survey of more than 1,000 rural congregations reveals concerns that national agencies ignore smaller churches, that district superintendents often assign them their least experienced clergy and that their churches will be the first to be sacrificed in a time of declining resources.
But to understand the rural church, vitality must be measured by more than numbers, rural church members say. Vitality also is written in the stories of people who endured lifetimes of hardship to build and maintain the faith. And it is proclaimed by their ancestors and their neighbors who need the church more than ever in a time when it has become one of the last vestiges of hope in many communities.
Reviving the kingdom in the rural church means being able to honor both the living and the dead.
Steadfast faith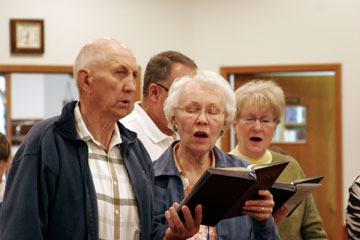 Leaving the small ranch home that belonged to his grandfather, Russell Bott drives his pickup truck several miles to cover the 1,000 acres he farms.
Traveling over the rolling hills of grass and grain, Bott says he encounters God each day: "This is all what the good Lord made, just as it is."
What has changed is the economics of farming. As he drives along, Bott points out clumps of cottonwood and oak and elm trees, wind breaks that are all that remains of what used to be small family farms.
Decades ago, a farmer could make a living on 320 acres. Today, it takes at least 1,000 acres, and some farms are 10,000 acres or more. Small farms where large families once worked and took up a whole pew on Sunday have been replaced by corporate farms where itinerant laborers are hired.
The farm crisis and the steady exodus of businesses and jobs and young people to the cities and suburbs are taking an increasing toll. While the U.S. population steadily grows, half of the nation's 2,050 non-metropolitan counties lost population from 1998 to 2008, the government reports.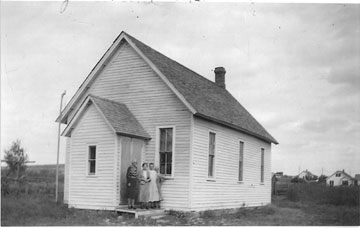 Once, United Methodist circuit riders and lay leaders followed homesteaders into nearly every small village in the United States. Today, that same energy is devoted to standing alongside their communities in a struggle for both survival and revival.
In a United Methodist Rural Fellowship Survey earlier this year, only 21 percent of ministry leaders spoke positively about the health of their community. And less than four in 10 had positive comments about the health of their congregation. The national survey of 946 rural ministry leaders was administered by United Methodist Communications.
"People in small towns have lost so much. They've lost the things that made them burgeoning communities. ... Their children in many cases have gone away. There's so much loss," says the Rev. Kathy Hammond, pastor of the United Methodist churches in Bowbells, Kenmare and Donnybrook. "And yet they hang on to that faith."
---
Like what you're reading? Support the ministry of UM News! Your support ensures the latest denominational news, dynamic stories and informative articles will continue to connect our global community. Make a tax-deductible donation at ResourceUMC.org/GiveUMCom.