Richard Bolman finally collapsed at his daughter's house in Sebastopol, California, after a day of cutting trees away from power and water lines at his farm in Sonoma County.
"I decided to move from the chair I was in to the floor with no help," said Bolman, 77, a member of Windsor Community United Methodist Church in Windsor, California. "Passed out."
The diagnosis was heatstroke caused by dehydration. He and his wife, Marilyn, decided to hire workers to do the rest of the work getting their home and property ready for when power is turned back on. The Bolmans, like many of their neighbors, are recovering from wildfires.
"My wife says, 'If it's going to cost us either way, we'll do it by saving your life and we'll pay somebody else to do it,'" he said.
That's just one tale from the 2019 California wildfires — now a fact of life during the dry season. The fires are fueled by the Santa Ana and Diablo winds that can drop a burning ember miles away that starts a fresh fire.
There have been three fatalities, 732 structures damaged or destroyed and 198,392 acres burned so far this season, according to the California Department of Forestry and Fire Protection. The still-burning Ranch Fire was 85 percent contained as of Nov. 12.
The Rev. Diana Bell-Kerr described herself as a "wounded healer."
Bell-Kerr, pastor of St. John's United Methodist Church in Rohnert Park, California, had to leave her home because of wildfires while continuing to care for her congregants.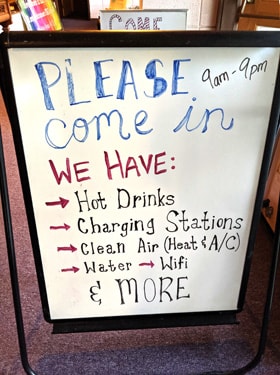 A welcome sign for the Sonoma United Methodist Church Hospitality Center. Photo by the Rev. Emily Pickens-Jones, courtesy of California-Nevada Conference.
"The emotional impact of that was far greater than I realized, as it all unfolded," she said. Her wife, the Rev. Lindsey Bell-Kerr, was in the same position. She is pastor of Christ Church United Methodist and associate pastor at First United Methodist Church, both in Santa Rosa.
"I'm checking in on folks and also need to tend to myself and I'm trying to find the spiritual in all of that. It's been challenging," the Rev. Diana Bell-Kerr said.
Judy Lewis, disaster response coordinator for the California-Pacific Conference, was on the front lines dealing with immediate needs. Her concerns included servants of wealthy Californians who are afraid of U.S. Immigration and Customs Enforcement; distributing gift cards to those in need; providing light sources for homes without electricity; and addressing the plight of some foster children.
Her team found a good solution on the lighting issue.
"Our task force bought solar lights and are giving them to elementary school children whose houses are gone, so that they can still do their homework in the dark," Lewis said.
The household servant issue is more difficult.
"The media shows all the movie stars (with homes at risk)," Lewis said. "What about people that are maids that live in the house and may be paid under the table? … They may have lived and worked here for 25 or more years, but they are still scared they are going to be deported. And they're right. Some of them are getting deported."
The California-Pacific Conference has Spanish-speaking church members available to help immigrants review their options.
The California-Nevada Conference has used some of its churches as hospitality centers, where wildfire victims can charge their cell phones and other electronic devices, grab a bite to eat and just relax for a moment.
"This fire is notably different in that there was such a large area of people that were evacuated," said Sonja Edd-Bennett, director of disaster response ministry at the California-Nevada Conference. "So we started to equip the churches as hospitality centers.
"We provided them power strips and USB chargers, charging stations and hygiene kits and then grocery cards as well."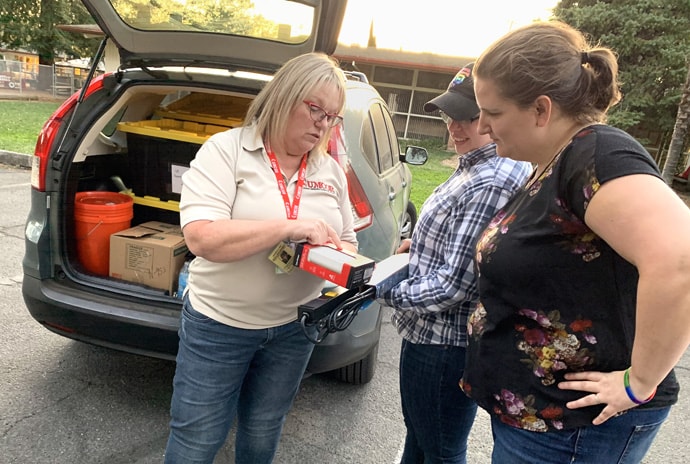 Gift cards from Wendy's or Panera Bread are available if fire survivors don't have food on hand or don't wish to cook. There are Walgreens gift cards as well, for prescriptions.
"We keep the coffee on, maybe provide some snacks and sandwiches," Edd-Bennett said.
The California-Nevada Conference conducts disaster preparedness training during non-crisis times, trying to get neighbors to be connected and able to help each other when the time comes.
"We do the UMCOR Connecting Neighbors training, which is about individual preparedness and congregant preparedness," Edd-Bennett said.
Subscribe to our
e-newsletter
Like what you're reading and want to see more? Sign up for our free daily and weekly digests of important news and events in the life of The United Methodist Church.
The Rev. Laurie Bayen, pastor of Windsor Community United Methodist Church in Windsor, California, is also focused on taking advantage of non-emergency times. She is concerned about the trauma of children who go through wildfires and other threats. She has adapted a Lutheran Social Services program called Camp Noah, which helps traumatized children learn how to process difficult experiences.
"We know there have been lots of children who have been traumatized that have seen their parents scared," Bayen said. "It is likely the kids who have less resiliency will find behavior issues cropping up in the next several months."
Camp Noah's 33-hour curriculum uses the story of Noah's Ark as a jumping-off point.
"You learn disaster preparedness," she said. "Every child receives a backpack full of emergency preparedness supplies that they can stick under their bed. It makes them feel safe."
Churches, particularly those with experience running a vacation Bible school, are uniquely positioned to do longer-term work with children, she said.
Although some Californians have fled the state for good because of wildfires and earthquakes, others don't have the resources and some are just determined to stay.
"My wife's family has been on the property since 1851," said Bolman about his 17-acre farm. "It's been in the family so long, and right now I'm not so sure either one of my kids would want to have it (because of the earthquakes and wildfires)."
"So I guess I'm here for the duration."
Patterson is a UM News reporter in Nashville, Tennessee. Contact him at 615-742-5470 or [email protected] To read more United Methodist news, subscribe to the free Daily or Weekly Digests.