On a day when we honor and celebrate our mothers and mothering figures with gifts and gratitude, it is easy to forget that the journey to motherhood is not an easy one, particularly for women in developing countries.
Every 90 seconds, somewhere in the world, a woman dies from complications due to pregnancy or childbirth. Mothers are vital to families and communities, but many women struggle to have healthy pregnancies and safe births due to lack of basic health-care services and access to family planning methods.
The tragedy of maternal mortality speaks to us as members of The United Methodist Church. As followers of Christ, we are called to be partners with God in bringing health and wholeness to all God's people.
The following stories offer a glimpse into the lives of three United Methodists who are helping bring health and wholeness to the women and mothers of the world.
Alice
Ten years ago, Alice Otieno, a nurse, midwife and wife of a United Methodist pastor, had a vision to open a health clinic to serve the marginalized population of Kopanga in rural Kenya. With no funding and only a limited supply of medicine donated by local United Methodist women, she courageously moved forward with her plans, using her own resources to rent a tiny room in a house.
One day, a young mother brought in her infant son, who was sick with bronchitis. With only a bed sheet, a steaming pot of water and a few menthol crystals, Otieno delivered the simple, yet miraculous, relief that the young child needed. And as if lifted out of a Gospel healing story, the young mother went back to her community, declaring her son had been made well.
Now each day, more than 30 patients seeking medical care come to the clinic. Many of them are women who travel from their work in the fields to seek Otieno's help in planning their families.
Every three months, Otieno receives 100 vials of Depo-Provera, a contraceptive injection effective for three months. The demand for the injection is so high that she runs out of it after three weeks and must turn away hundreds of women until another supply arrives. Although the injection costs less than $2 per vial, she does not have the financial resources to keep a supply on hand.
"When women can plan their pregnancies, they are more likely to have healthier pregnancies and deliveries," said Otieno, a former United Methodist Missioner of Hope. "Their children are healthier, too. But, without adequate family planning, a woman can become pregnant just months after delivering a child. This can lead to life-threatening bleeding and other complications, especially for HIV-positive women."
Nan
Nan McCurdy and her husband, Miguel Mairena, have been working as missionaries in Nicaragua through the United Methodist Board of Global Ministries since 1985.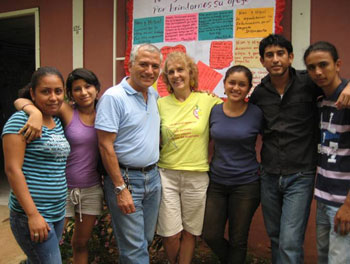 Nan McCurdy and husband Miguel Mairena (center) work as missionaries in Nicaragua with an ecumenical group called "The Women and Community Association." A web-only photo courtesy of Nan McCurdy.
The couple works with an ecumenical group of women called Women and Community in San Francisco Libre, an impoverished rural county of 12,000 people near the capital city of Managua. The Women and Community Association helps women break the chains of violent relationships and take more control over their health and reproduction in order to have a fuller life.
"Women and Community works hard to make family planning services available to the women with whom we work," said McCurdy.
"Family planning services are especially important for poor women who already have many children," explains Nan.
"These women are desperate not to have more children because they know it means even less food and fewer resources for the children they have."
The couple remains committed to the women of San Francisco Libre.
"Every day we can be part of God's plan to bring hope for a better life today for someone else - close to home or far away. It's all about showing God's love and giving hope to others - that is our mandate as followers of Jesus."
Beatrice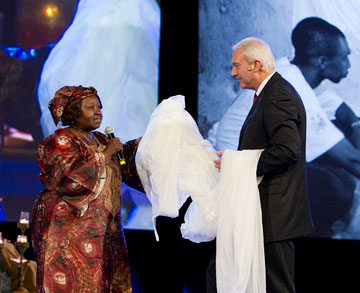 Here Gbanga and Bishop Thomas J. Bickerton hold an insecticide-treated mosquito net during a celebration of the work of the Imagine No Malaria campaign during the 2012 United Methodist General Conference in Tampa, Fla. A UMNS photo by Mike DuBose.
Beatrice Mamawah Gbanga, a maternal health advocate and missionary for the Board of Global Ministries, serves as medical coordinator for the Sierra Leone Annual (regional) Conference in Africa. There, she supervises the work of Kissy Hospital, as well as seven medical clinics supported by the conference.
As a nurse and midwife, she works on the community level to educate and empower women, even those in her own family.
By the time Gbanga 's niece turned 20, she had two children she could not support. Concerned about her niece's future, she spoke with her about family planning. "Your body needs a rest," she told her niece. "Let's try family planning." A few days later, her niece went to a local clinic where she received an intrauterine birth-control device.
Three years later, Gbanga's niece has started a small business selling beads and other items. Now economically empowered, she can care for her two children and contribute to her community. With a little counseling, Gbanga helped change the trajectory of her niece's life and that of her children and community.
Get involved
This Mother's Day, honor mothers and their sacrifices by educating your congregation about maternal health. A great way to get the conversation started is by planning a Mother's Day Worship Service or organizing a pre-worship event on maternal health.
The Healthy Families, Healthy Planet initiative, funded by a grant from the United Nations Foundation, works to educate and mobilize United Methodists in the U.S. around the importance of maternal health and international family planning.
For information on planning a Mother's Day Worship Service check out the Healthy Families, Healthy Planet website at www.umchealthyfamilies.org.
*Zeh is coordinator of Healthy Families, Healthy Planet. Kraft is legislative advocacy and communications associate for the initiative.
This story was first published in May, 2012. News media contact: Tim Tanton, (615) 742-5470 or [email protected].
---
Like what you're reading? Support the ministry of UM News! Your support ensures the latest denominational news, dynamic stories and informative articles will continue to connect our global community. Make a tax-deductible donation at ResourceUMC.org/GiveUMCom.