A relief distribution to the Phokera camp for survivors of Cyclone Idai was complicated by the fact that the camp had 500 families, but The United Methodist Church only had food relief for 300 families.

The Nsanje Disaster Relief Department and the camp committee determined which 300 families received the church relief, according to Wezi Msowoya, a disaster relief officer with the Nsanje District Council. The Malawi Conference is hoping to provide additional relief if it receives funding from U.S. churches.

Cyclone Idai damaged 15 out of 29 districts Malawi. The hardest hit areas are Nsanje and Chikwawa in the southern part of Malawi and Phalombe in the southeastern part of the country.


Related story
The cyclone destroyed homes, submerging some under floodwaters, and destroying livestock and crops. In the wake of the storm, communities had no food, shelter or clothing and sanitation was a challenge.

According to UNICEF's May 21 situation report, 868,900 people in Malawi were affected by the cyclone and floods, and more than 219,195 children are targeted for assistance by UNICEF.

Nsanje alone has 38 relief camps, with 500 to 2,000 households each, according to district relief records.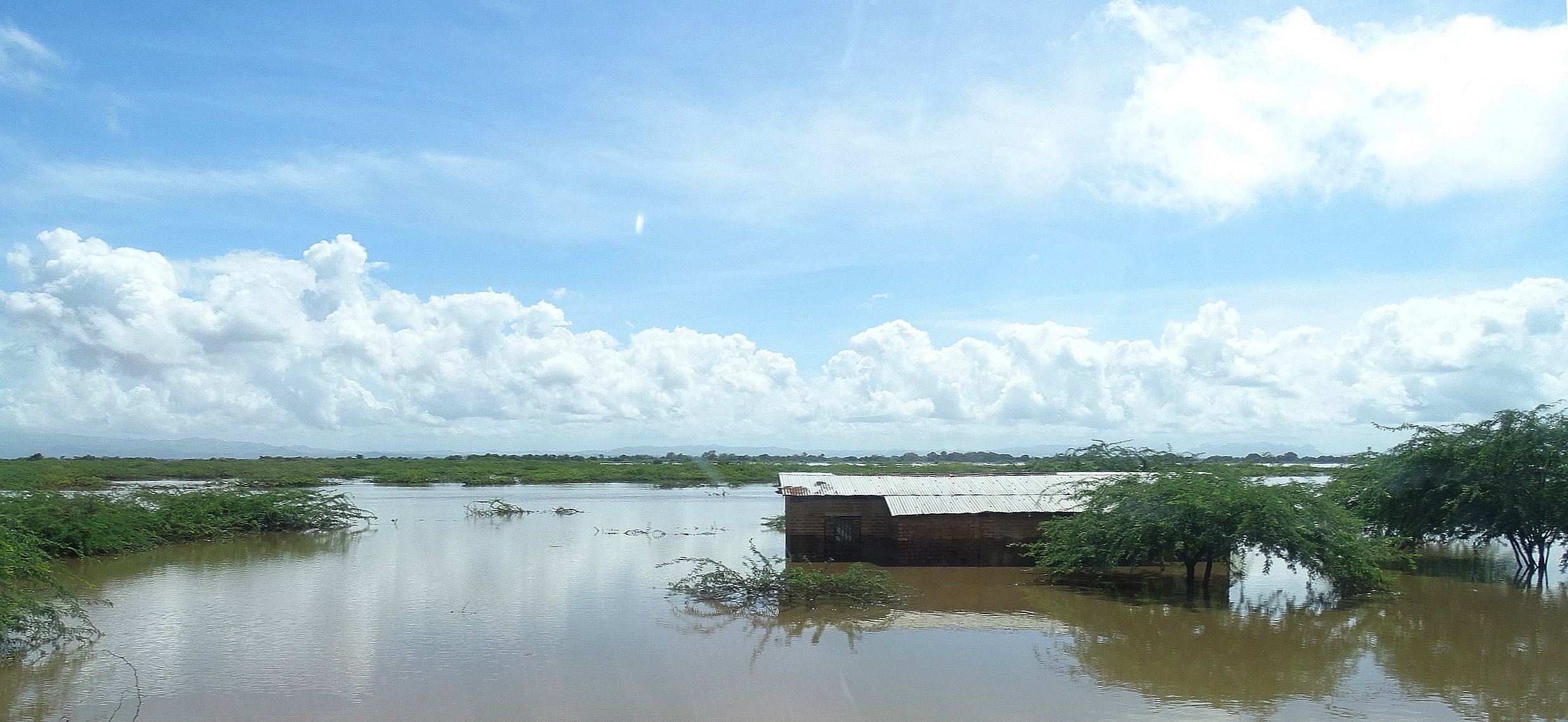 The Malawi United Methodist Church received a $10,000 grant from the United Methodist Committee on Relief and 5,000 Euros from World Mission, an organization of The United Methodist Church in Germany, for relief items to the flood victims in Nsanje.

The church distributed relief packages in April at the Phokera camp. Each package contained about three months worth of food for five people, including maize, flour, rice, beans, sugar, cooking oil, salt, soya pieces (a protein) and a 20-liter bucket.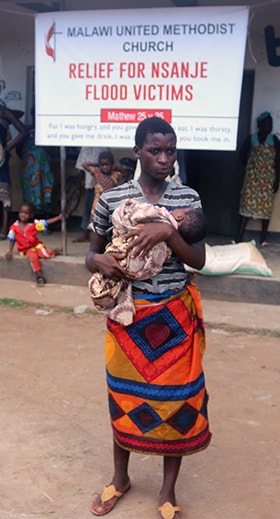 Miriam Black, age 19, holds her newborn baby who was born at the Phokera camp in the Nsanje District in Malawawi. Photo by Francis Nkhoma, UM News.

Miriam Black, 19, said she was eight months pregnant when she came to the camp. She has since given birth to a baby girl. "Life has not been easy as I could not get any nutritious food needed for a pregnant mother like me. I had no items for my delivery of the coming baby," she said.

Liche Seda, another beneficiary in the camp, said the food from The United Methodist Church came as other food was running out. "I thank God for this church, which is full of grace, mercy and compassion."

Mnthengere Joe, 50, was in the camp with six other members of his family.

"I really struggled until my heart when I saw all my belongings being washed away by the floods. This broke my heart and all hope was lost," he said. He greeted the relief package from the church with gratitude.

Shiku Kajaluka was also grateful for the food.

"I lost my house, livestock — I mean, let me just say everything. The support has made me smile again. I never thought I would get such items," Shiku said.

There is an appeal from the conference superintendent, the Rev. Daniel Mhone, to relocate the communities that are in flood-prone areas to higher ground. The plan is to work on a program of rebuilding and also introduce irrigation so that the people can plant crops in areas that have not flooded. Many crops were washed away by the storm and flooding and without additional planting, there will be no 2019 harvest.

Nkhoma is a communicator for the Malawi Provisional Conference.

News media contact: Vicki Brown at 615-742-5470 or

[email protected]

. To read more United Methodist news, subscribe to the free Daily or Weekly Digests.