United Methodists headed to Austin, Texas, on Aug. 1 to send a message to Texas legislators: "Y'all Means All."  
They were part of an interfaith advocacy event encouraging lawmakers to vote against a North Carolina-style "bathroom bill." About 200 United Methodists were among the 500 people attending the event hosted by Texas Impact, a religious grassroots network that brings together Christians, Jews and Muslims from around the state. 
"We want to lift the voices of people of the Abrahamic tradition to say, 'We are all opposed to discrimination,'" said Bee Moorehead, Texas Impact's executive director.   "Y'all means all."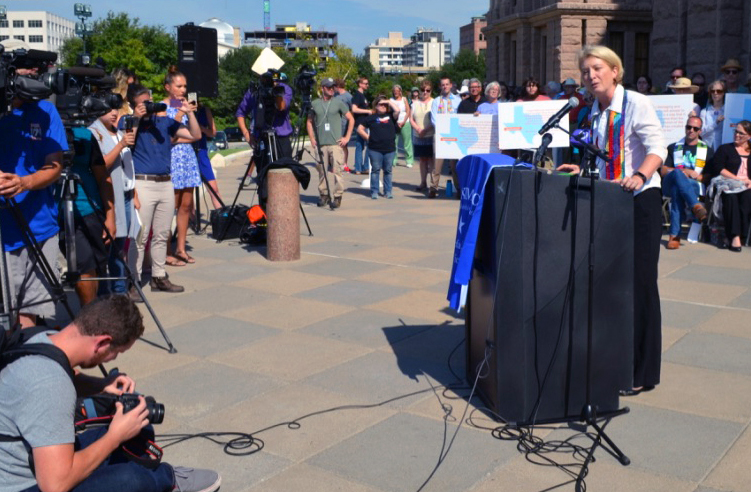 Senate Bill 3, which was approved last week and is now headed to the House, would require Texas public school students to use restrooms that match the sex on their birth certificates or state-issued identification cards. 
The bill would also strike down parts of city laws that protect the right of transgender people to use the restrooms that match their gender identity. Texas Gov. Greg Abbott has made this bill a priority for the summer special session of the legislature. 
The interfaith event kicked off with a press conference on the steps of the Texas State Capitol. Two United Methodists addressed the crowd: The Rev. Diane McGehee of Houston and retired Bishop Joel Martinez of San Antonio.
"When the church, including my own tradition, has practiced what it preached, we have stood with the pushed down, the pushed out and the pushed around," Martinez said.  "Any effort to single out, discriminate or profile anyone … must be opposed." 
McGehee, senior pastor of Bering Memorial United Methodist Church, recalled growing up in the South in the 1960s, when laws dictated which bathrooms African-Americans could use.
"Those laws were discriminatory and unfounded, yet here we are again considering the 'bathroom bill,'" she said. "Today, as then, such state-sponsored discrimination is unjust, unnecessary and threatens some of our most vulnerable citizens, robbing them of dignity and respect."
After the press conference, attendees fanned out to visit lawmakers and their staffs, to present their position and to urge a vote against the bill.
Advocates of Senate Bill 3 argue that it protects women and children's right to privacy, and prevents inconsistent regulations in different cities across the state.  Sen. Jane Nelson of Flower Mound, Texas, whose Facebook page identifies her as a United Methodist, was one of the bill's sponsors. 
Strong opposition has come from businesses, including IBM, AT&T and American Airlines, which have issued statements calling the proposed bill discriminatory. Teacher, counselor and social worker groups have also weighed in against the bill.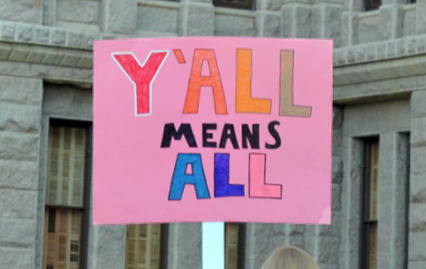 In a July 19 letter to Speaker of the House Joe Straus, who opposes the bill, leaders of the Episcopal Church threatened to relocate the denomination's triennial General Convention if the bill passes. That event would bring 10,000 people to Austin in 2018. 
More than 550 United Methodists in Texas signed Texas Impact's interfaith letter opposing the legislation. Rep. Helen Giddings, a member of St. Luke "Community" United Methodist in Dallas, opposes the bill for practical reasons. 
"The way I come to it is, 'What is the problem we are trying to solve?'" she said.  "No one has been able to answer that.  (This bill) is a solution in search of a problem."  Law enforcement leaders in Texas have pointed to a lack of evidence that incidents of the kind the bill is aimed at preventing are in fact occurring.
Cynthia Rives of First United Methodist Church in Denton, Texas, a member of the United Methodist Women board of directors, arose at 4:30 a.m. on Tuesday to board a bus in Dallas for the event. She believes the bill marginalizes transgender people, especially children.  
"You're talking about trying to exclude and call out some of the most vulnerable children in our state," she said. "The suicide rate for transgender children is high."   
Returning home on the bus after the event, along with fellow Methodists, Presbyterians, Baptists and others from North Texas, Rives added, "You could see the working on the Holy Spirit in this group. People felt empowered."
The Texas Impact event echoes interfaith efforts that may have helped reverse a similar bill in North Carolina.  After boycotts and cancellations of major sporting events and concerts, that bill was repealed in March.  
As the Texas bathroom bill heads to the House, the Rev. Paul Escamilla, senior pastor of Saint John's United Methodist Church in Austin, hopes the lobbying day will help create momentum for its rejection.   
"Seeds were planted and relationships were built," he said. "I think our presence nudged the needle a little bit."
*Jacobs is a freelance writer living in Plano, Texas.
News media contact: Linda Bloom, (615) 742-5470 or [email protected]. To get more United Methodist news, subscribe to the free Daily or Weekly Digests.
 
---
Like what you're reading? Support the ministry of UM News! Your support ensures the latest denominational news, dynamic stories and informative articles will continue to connect our global community. Make a tax-deductible donation at ResourceUMC.org/GiveUMCom.