---
Key points
White Christians must move from being non-racist ("colorblind") to anti-racist, actively working to dismantle oppressive systems.
Children need to see their parents modeling anti-racism behavior in their daily lives.
John Wesley's three rules apply to anti-racism work.
---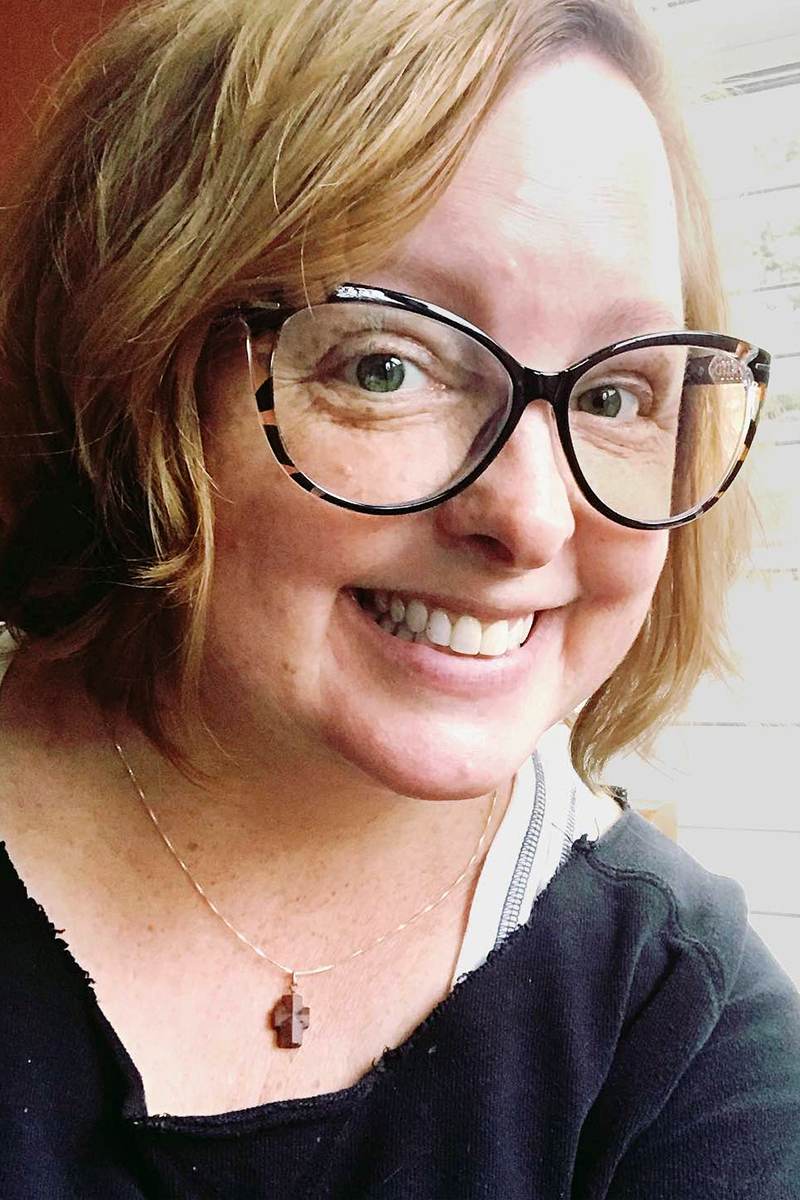 Liz Shadbolt.
Photo courtesy of the author.
Commentaries
UM News publishes various commentaries about issues in the denomination. The opinion pieces reflect a variety of viewpoints and are the opinions of the writers, not the UM News staff.
Some of the best advice I've ever gotten came from Maya Angelou. "Do the best you can until you know better. Then when you know better, do better."
This timeless wisdom has gotten me through many difficult times but has been especially invaluable to me as a parent.
As a child of the '70s, I was raised by loving parents to be colorblind: to not see race, to treat everyone as simply "human," to see everyone as a child of God. When I became a parent, this attitude stuck with me. My spouse and I worked to be sure our children were in diverse communities and knew people of many backgrounds, but we didn't fully grasp the disservice and harm we were doing by continuing colorblindness as a stance toward race.
When my sons were in elementary school, I read an article that challenged what I thought I knew about talking about race with my white children. It told how historic inequities continue to impact people of color, especially Black people, in the United States. It detailed the ways enslavement, Jim Crow and structural acts of violence have impacted family systems for generations.
That was when I realized that I knew better and needed to do better. That was when I discovered the idea of not just being non-racist (read: colorblind), but being anti-racist (read: active in recognizing and dismantling systems of oppression).
As a Christian parent, we taught our children to treat others with lovingkindness and used that as a barometer to measure our behavior. Hitting your brother with a truck, for example, is not an act of lovingkindness. This worked well for small children, and I see this reflected still in my teenagers' behavior.
However, lovingkindness is not the only Christian value needed to become anti-racist. In fact, one of the guiding principles I have used to work toward anti-racism has been John Wesley's maxim of doing no harm. I realized that when I made declarations to our children about everyone being equal and loved in God's eyes but did not identify the ways in which we are still unequal in terms of rights, access and safety, I was doing harm.
As I have worked to become anti-racist and share those values with my family, I realize more and more the lifelong nature of this work. This is not something that can be done with reading one book or attending one workshop. I feel it is crucial that white Christians do this work and commit to keep doing it.
If we truly hope to bring God's kin-dom to this earth, if that is the focus of our work and our devotion, then we must have a deeper understanding of the harm oppressive systems have on our siblings in Christ. This will not be easy and it will be uncomfortable. Prepare yourself for the pain that accompanies growth. We must practice holding tension between our belief of the holy dignity of each human life and the racial disparities that still exist around us.
It's much easier to gloss over the sins of the past — slavery, Jim Crow, segregation — than it is to name the ways those sins are still impacting our communities. We must go further with our kids than "Jesus loves the little children, red and yellow, black and white." This means naming and identifying the ways in which white supremacy and racism impact our daily lives — where we live, where we go to school, the routes we drive, our opportunities to vote, to work and to worship, to name a few.
So how does one begin and continue the work of anti-racism? As a parent, I work to surround my children with books, people, experiences and media that reflect the many races and cultures of our community. But I too need to read, learn and reflect. And my children need to see me doing this work in daily life, in my professional life and within the church.
As families, we need the courage to tackle difficult conversations, to enter into discomfort and to identify our areas of privilege. This is the work of knowing better so that we can do better. This is the work of doing no harm and staying in love with God. This is the work that leads us to doing good.
Wesley's three rules are so apt for anti-racist work. Here are some concrete ways they can be applied. This is by no means a complete list, but can be a starting point for Christians ready to do anti-racism work:
Do no harm: Learn about the history of racism in our country and be aware of the continued impact it has on our daily lives. Get out of our bubbles of privilege by reading, studying and listening to the lived experiences of our Black siblings in Christ. Avoid white "saviorism"; ask for what is needed instead of assuming you have an answer. Be able to offer sincere apologies when you are wrong.
Do good: Be teachable and willing to learn. Stand in solidarity with Black communities — for example, spend money at Black-owned businesses. Seek out diverse voices in your media consumption, social media platforms and news. Work toward equity and equality for all of God's children in your community. This means engaging with core issues of housing, food security, education, health care access and incarceration.
Stay in love with God: The words of Micah 6:8 tell us how to do this: "And what does the Lord require of you but to do justice and to love kindness and to walk humbly with your God?" Keep learning more, keep doing better.
As we do this work ourselves and engage in deeper learning about the impacts racism has in our society, we will be equipped to lead our children into more meaningful and real understandings of the world around them. We will dispel the myth of colorblindness by doing better. We will move toward a kin-dom of God for all people.
Shadbolt is a United Methodist deaconess residing in Nashville, Tennessee.
News contact: Tim Tanton or Joey Butler at (615) 742-5470 or [email protected]. To read more United Methodist news, subscribe to the free Daily or Friday Digests.
---
Like what you're reading? Support the ministry of UM News! Your support ensures the latest denominational news, dynamic stories and informative articles will continue to connect our global community. Make a tax-deductible donation at ResourceUMC.org/GiveUMCom.