For the past year, staff members at the Asian Rural Institute in northern Japan have been working to remove the low levels of radiation that settled in the Tochigi Prefecture after the Fukushima Daiichi Nuclear Plant was damaged by the earthquake and tsunami.
At 110 kilometers (68 miles) away from the abandoned reactors, the Christian training program for international grassroots rural leaders, which receives support from The United Methodist Church, is well outside the 20-kilometer "exclusion zone."
Tomoko Arakawa, ARI's general manager and assistant director, is looking forward to welcoming the class of 2012 at the beginning of April. Thirty-one students, she said, are expected if all can get visas.
An online notice details ARI's efforts to remove Cesium on its site and provides comparisons about how a year's worth of exposure at these slightly elevated radiation levels could relate to everyday exposure elsewhere - much less than having a CT scan, for example.
The bottom line, Arakawa said, is that short-term exposure is not a problem. But, that fact doesn't totally erase her concern. "I'm worried about the health of the staff members more because they stay permanently there," she explained.
"In our area, the government says it's not a problem, it's not dangerous at all," said Jonathan McCurley, who has served as a United Methodist missionary at ARI, along with his wife, Satomi, since 2009. "But a lot of people are very concerned that's not necessarily true."
Displacement and mistrust
The nuclear disaster set off by the March 11, 2011 earthquake in Japan has resulted in an unusual level of public mistrust of both the government and the nuclear industry there, which has all but shut down in the past year.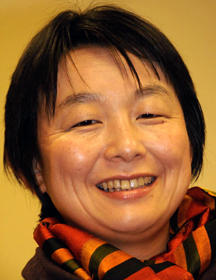 Tomoko Arakawa, Asian Rural Institute. A UMNS photo by John Goodwin.
More than 100,000 people remain displaced from the towns near the disabled Daiichi plant.
A statement from the World Council of Churches marking the anniversary of the Fukushima nuclear disaster stressed the need to take concrete steps "to protect peoples and the earth" from future nuclear tragedies.
"As we express solidarity with the victims of the nuclear accident in Fukushima, we would also like to honor the many people who have come to their assistance including humanitarian relief, counseling and radiation monitoring supported by Japanese member churches of the WCC," the statement said.
Through Japanese and international partners, United Methodists continue to contribute to humanitarian relief efforts in northern Japan. Last October, the United Methodist Committee on Relief gave a $200,000 grant to JEDRO, a consortium of Christians led by the National Council of Churches of Japan, to help address the nuclear issue in particular.
The funds are being used for the distribution of Geiger counters; assistance with soil and water decontamination, evacuee housing and economic support and advocacy efforts related to nuclear power and safe energy sources.
Christian activities in the Tohoku region are based in the city of Sendai, about 58 kilometers (36 miles) north of the city of Fukushima. Tohoku HELP has plans to assist residents living in densely-populated cities, such as Fukushima, with high levels of ambient radiation by setting up foodstuff radiation level measurement centers in the cities of Sendai and Iwaki, outside the high radiation zone.
Tohuku HELP's action plan acknowledges "a community polarization between those that have decided to evacuate and those that have decided to remain, making it difficult to publicly confront this issue. Tohoku HELP through this project hopes only to allay fears concerning radiation levels and does not wish to further polarize the community."
To stay or to leave?
The Rev. Jeffrey Mensendiek, a U.S. missionary with the United Church of Christ assigned to the Emmaus Center in Sendai, is familiar with the polarization.
In a Jan. 27 blog entry, Mensendiek illustrated the dilemma faced by churches in Fukushima.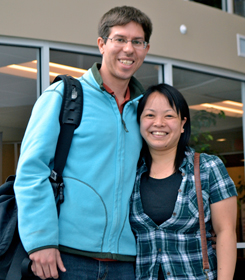 Jonathan McCurley, a United Methodist missionary from Florida, and his wife, Satomi, are assigned to the Asian Rural Institute in northern Japan. Photo courtesy of The Florida Conference of The United Methodist Church.
"The Haranomachi Church by the coast and 40 kilometers north of the damaged reactors has decided to remain open so long as there are people living in the area," he wrote. "Some people have no choice but to remain in the area. So the church will be committed to providing services to small children through their kindergarten.
"However, there has been an ongoing debate within our (local church recovery) committee as to how to respond to the nuclear disaster," he wrote, noting that some think the church should stay while others believe the more practical decision is to leave those areas.
The committee finally decided to ask the United Church of Christ in Japan, known as the Kyodan, to help fund an office designed to reach out to people at risk. "The present committee members are all local pastors of the Tohoku Conference," Mensendiek explained in his blog. "They feel overwhelmed by the immensity of the situation.
"Who is going to address this issue, and how? We are not sure if the national office will respond positively to this request. The national office is overwhelmed itself by the financial responsibility of rebuilding the many churches/parsonages that were destroyed by the earthquake. Thus, nuclear issues seem to be a secondary concern."
Still, Mensendiek hopes the Japanese church can become a "prophetic voice" on nuclear concerns. "The government is playing down the dangers and controlling information," he told United Methodist News Service. "They are sending in their 'yes-men' to schools, universities and public offices in Fukushima so that they can keep the situation under their control. In this situation, the church can act as 'sanctuary' just as it did in East Germany under communist rule."
Several factors about the United Church of Christ in Japan, known as the Kyodan, are complicating the response to the nuclear issue, he pointed out. Because the Kyodan is a united church, its members have differing theologies and understanding of mission. "Some have been committed to the nuclear issue for decades, other have insisted that social issues have nothing to do with the church," he said.
The "realities on the ground" present themselves differently to church leaders in Tokyo and those in Tohoku, Mensendiek added. Even on a local level, the dynamic is complex and emotional.
"Pastors who have long since been raising their voices against Japan's nuclear policies have a clear platform upon which to move their issues forward," he said. "However, those who are not as informed, or those who are still trying to discern how they want to proceed as to the nuclear issue, feel as though they are being forced into taking a stand."
Lingering concerns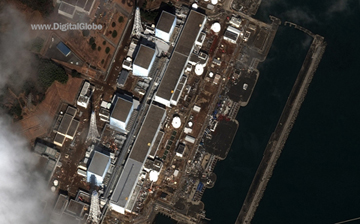 An aerial view of the Fukushima Daiichi Nuclear Power Plant after the 2011 earthquake/tsunami in northern Japan. A web-only photo courtesy of Digital Images.
Back at the Asian Rural Institute, staff members have measured the campus with a Geiger counter and obtained a machine through the National Christian Council of Japan that analyzes soil samples, foods and other substances. To help decontaminate, the institute has removed old leaves, grass and top soil, planted soybeans to help absorb the Cesium and has plans to process decomposed materials through a biogas system.
It's an odd situation for a program dedicated to organic farming. "For 40 years, they have been very careful with chemicals," McCurley explained. "This is the first time they have (dealt) with radiation on their own soil."
An organization called TWatch, from Japan's southern island of Kyushu, has met with the farm staff, looked at their fields and conducted workshops for the public, he said. A local citizens' project, "The Fortress of Hope," has been established to respond to community needs and concerns.
Arakawa rated the current soil contamination as "not so bad," noting that much of the toxin can be removed by taking off the first three centimeters of soil. "We want to make it (the contamination level) as close to zero as possible," she said. "That takes time."
Staff members have the confidence to continue the program, but "everybody's worried" about long-term health effects, she noted. One family with a baby left at the end of February.
McCurley, whose contract is up at the end of this year, said the questions of where he and his wife should be and how the radiation might physically affect them has prompted continual prayer. Recently married, they are both in their early 30s.
"We have felt God is continuing to affirm the call to remain there at this time," he said. "But it is an ongoing question. I think that's probably true for everybody."
Arakawa said her husband, a medical doctor, does not believe ARI's radiation levels are a problem. His reassurances do not relieve her concern about their teenage children. The 16-year-old is attending school in Tokyo, but the 13-year-old lives with them.
"I'm okay," she said. "I'm just worried about the next generation."
*Bloom is a United Methodist News Service multimedia reporter based in New York. Follow her at http://twitter.com/umcscribe.
News media contact: Linda Bloom, New York, (646) 369-3759 or [email protected].
---
Like what you're reading? Support the ministry of UM News! Your support ensures the latest denominational news, dynamic stories and informative articles will continue to connect our global community. Make a tax-deductible donation at ResourceUMC.org/GiveUMCom.