Bulgaria has more than 9,000 prisoners. That's why, for the United Methodists in the Bulgaria-Romania Provisional Conference, there exists an unusual opportunity for outreach and evangelism.
The Rev. Stoyan Stalev, pastor of Aksakovo Methodist Church in Eastern Bulgaria, discovered the great need for prison ministry quite by accident.
It was in 1997, in the middle of July, when a Christian friend asked him: "Would you come with me in a place you don't know?" Stalev, who was responsible for a congregation almost exclusively consisting of Roma people, said yes.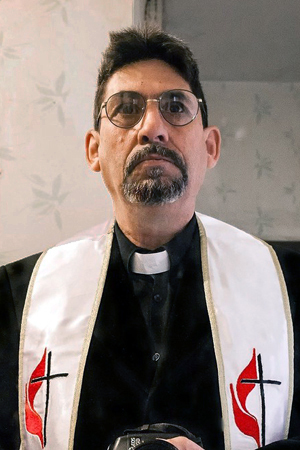 He could not know that he would regret this decision very soon.
This "unknown" place was a prison, and when he first visited it, he was shocked. There were people with tattoos everywhere on their bodies. Everyone came and wanted to shake hands with him, but they stayed so close to him and smiled with their toothless mouths: The whole picture was frightening! It was as if sin had left on them not only spiritual but physical scars.
The only thing Stalev could say was, "I am glad to be here with you." Everybody laughed and he wanted to run out immediately.
When he was at home, he thought to himself, "There are so many sinners in that place who need to hear the Good News." This insight changed his mind — and became a starting point of a unique ministry. It is a ministry through which hope is brought to places where there is none, and through which love finds an expression among people who are often not regarded to be worthy of being loved.
Together with other Christians he continued visiting prisons, both in Razdelna and in Varna. Life in these institutions is difficult. They are overcrowded, sanitary facilities are lacking, communication with the world outside of the prison is heavily restricted or almost completely forbidden, and there is hardly any assistance for those with psychological pain.
In the beginning of his ministry, the visits in the prisons were like visits to foreign lands, with different rules and culture. But Stalev knew that he had to understand in order to help these people, so he decided to do everything possible to reach their hearts.
Stalev's visits brought joy to the prisoners because they could see that there is somebody who cares for them, who wants to talk to them, to listen to them, to give them advice.
"Through us they can feel God's love. They feel encouraged. Some of the prisoners don't have parents; some of them are abandoned after getting to prison. For those people I am a brother, a friend, a father," Stalev said. "It is a blessing for me to speak about Christ and the salvation He gives to everybody; to pray with the prisoners; to discover the Bible with them, and to celebrate Holy Communion."
Stalev not only takes care of the prisoners, he also serves as a link between them and their relatives.
Over and over it becomes visible how God touches the hearts of these prisoners. They repent for their sins and commit their lives to God. It is a real joy for Stalev to meet some of them on the street after their release, and see that they have families and go to church. This is an encouragement to remain faithful to his calling.
Stalev's desire is to win more people who are willing to get involved in the prison ministry and to continue helping the former prisoners to be socialized.
Information provided by the Bulgaria-Romania Provisional Conference.
 
---
Like what you're reading? Support the ministry of UM News! Your support ensures the latest denominational news, dynamic stories and informative articles will continue to connect our global community. Make a tax-deductible donation at ResourceUMC.org/GiveUMCom.