President Barack Obama and United Methodist Bishop Minerva Carcaño have cited the Christmas story as the best example of how to welcome the undocumented "strangers among us."
Both were in Nashville Dec. 9.
Obama was at Casa Azafrán, a community center which offers a wide variety of services for Nashville's diverse immigrant population, to talk about the executive action he issued in November. United Methodist Tennessee Justice for Our Neighbors, a denomination-wide program that offers free legal service to immigrants, is located in Casa Azafran.
The bishop, episcopal leader of the California-Pacific Conference, attended another meeting in Nashville and did not hear the president's address but she has long been an outspoken advocate for undocumented people. "When we look at the vulnerable immigrant child we should see the Christ child," Carcaño said.
Obama said his order shifts the priority of who gets deported to "felons instead of families, to criminals instead of children." This will allow ordinary law-abiding people to "come out of the shadows," he said.
Undocumented people who have lived in the U.S. for more than five years and have children who are U.S. citizens will be able to register. They will have to pass a background check and, if they have not already, begin to pay taxes.
"This isn't amnesty, or legalization, or even a path to citizenship," he said.
"What we're saying is, until Congress fixes this problem legislatively, if you have deep ties to this country and you are willing to get right by the law and do what you need to do, then you shouldn't have to worry about being deported or being separated from your kids."
About 75 people were part of the "town hall" meeting – many of them undocumented or advocates for immigration reform.
Adrienne Kittos, the attorney for the Tennessee JFON, said the president's visit "gives me hope" as he continues to keep immigration as a priority after the November announcement of his executive actions.
The first person to ask a question of the president voiced the concern of many undocumented immigrants that stepping forward might lead to deportation later if the next administration does not support the executive order.
Obama replied the plan is temporary, just as the DACA (Deferred Action for Childhood Arrivals) which protects young people enrolled in higher education or the military.
"And so it's true that a future administration might try to reverse some of our policies," he said. "But I'll be honest with you, I think that the American people basically have a good heart and want to treat people fairly."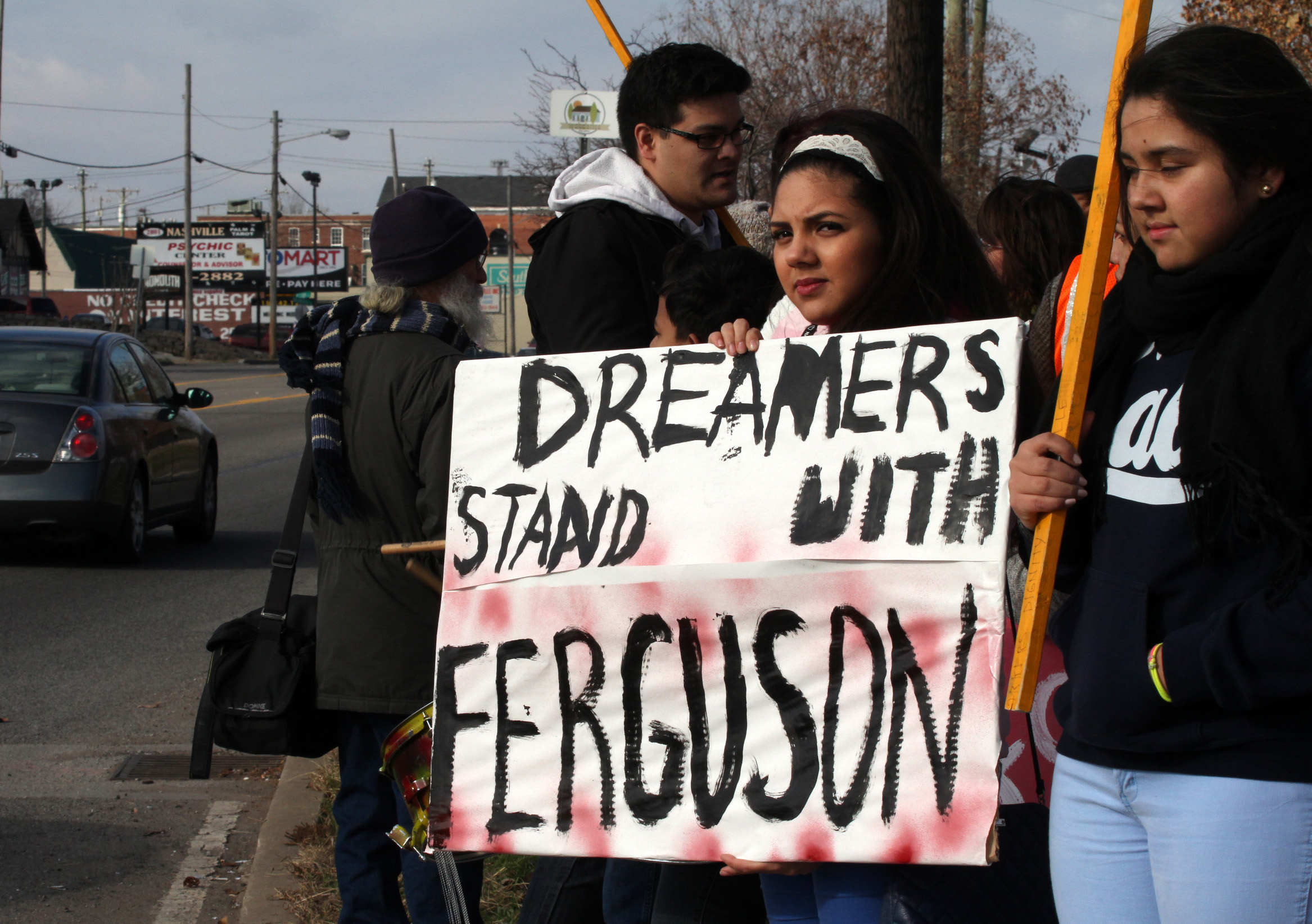 Building trust
Obama acknowledged it will take time to build trust and courage for undocumented people to come forward but that, he pointed out, is where churches and other organization can step in.
"I had thought that there would be less fear and uncertainty around applying for the program because DACA has been around for a few years now, but we are definitely hearing from people who are nervous to send their information to the government without a guarantee that they will have that protection on an ongoing basis," Kittos said.
The plan isn't perfect but that's why it is important to continue to advocate for change, she said.
"The president is limited in what he can do unilaterally. It is still vital for Congress to act to repair our immigration system and the only way to make sure that happens is to let our leaders know that is what the American people want."
Christmas wish
The Rev. Joseph Breen, a retired Roman Catholic priest who was part of the audience at Casa Azafrán, didn't have a question but he did want to make a statement.
"I think I can speak for so many who are so proud of you for giving such a great example of a husband, of a father, and doing your very best as a president … we wish for you a joyful and blessed Christmas."
Obama thanked Breen and responded, "It's worth considering the Good Book when you're thinking about immigration. This Christmas season there's a whole story about a young, soon-to-be-mother and her husband of modest means looking for a place to house themselves for the night, and there's no room at the inn."
Carcaño said it is time for Congress to pass a comprehensive immigration reform and for the church to open their hearts to helping undocumented people.
"In this season of mercy and grace, how do we open our hearts to the vulnerable immigrant child?"
Gilbert is a multimedia reporter for United Methodist News Service. Contact her at (615)742-5471 or [email protected].
---
Like what you're reading? Support the ministry of UM News! Your support ensures the latest denominational news, dynamic stories and informative articles will continue to connect our global community. Make a tax-deductible donation at ResourceUMC.org/GiveUMCom.