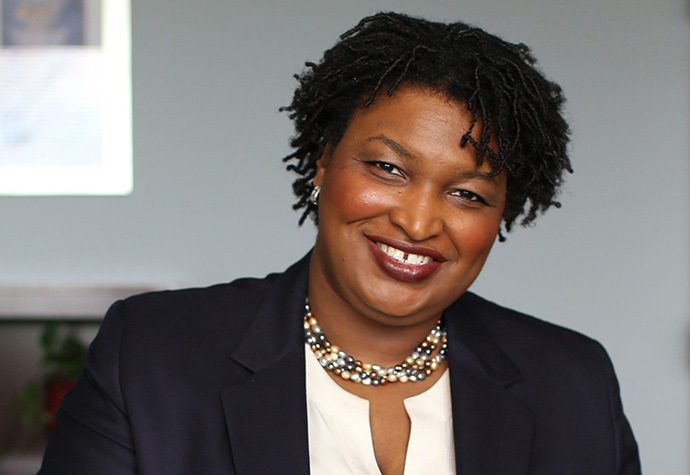 The campaign to improve the environment is part of a longer war to treat each other better, said Stacey Abrams, one of the United Methodist speakers at this year's
Festival of Homiletics
.
Abrams, who served in the Georgia House of Representatives for a decade and unsuccessfully ran for governor of that state in 2018, was one of four United Methodists who spoke or were interviewed. The festival brings together preachers and professors to engage theologically about the practices of preaching and worship.
2020 Festival of Homiletics
Online access to the sessions from the 2020 Festival of Homiletics may be purchased at the
festival website
. The cost is $150 for access to all the original sessions plus up to 75% more content. The recordings will be available June 1.
"We must acknowledge that we are at war," Abrams said in a pre-taped sermon broadcast May 20 at the festival. "A great massive battle that has been waged for centuries, if not millennia. … It is the eternal human struggle to do right by others. To do right by the Earth is the reason we are gathered here today."
The Festival of Homiletics, founded in 1992 by Presbyterian minister the Rev. David Howell, is now owned and operated by Luther Seminary in St. Paul, Minnesota. It was held online this year because of COVID-19, with contributors filming their segments from home.
United Methodist participants included Abrams, who attends Columbia Drive United Methodist Church in Decatur, Georgia, and is the daughter of two United Methodist elders; the Rev. Dawn Hand, superintendent for the Pittsburgh District in the Western Pennsylvania Conference; the Rev. Joy J. Moore, associate professor of Biblical Preaching at Luther Seminary; and retired United Methodist Bishop Will Willimon, professor of the Practice of Christian Ministry at Duke Divinity School. Most of the speakers or interviewees were clergy, with the exception of Abrams and a few others.
The theme of this year's festival was "Preaching a New Earth: Climate and Creation."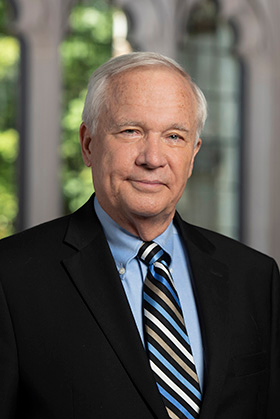 Retired Bishop Will Willimon is professor of the practice of Christian ministry at Duke Divinity School. Photo by Les Todd, Duke University.
To prepare for the festival, Willimon did a lot of reading.
"It was very enlightening, but the more I read the more depressing it got," Willimon said during an interview by Karoline Lewis, associate professor of Biblical Preaching and The Marbury E. Anderson Chair of Biblical Preaching at Luther Seminary, posted May 20.
"It seemed (to) me, a lot of the church response to climate change has been sort of sentimental piety about, 'Each of us needs to recycle.'"
Preaching about coping with anxiety, improving your marriage or having a better self-image has its place, but the environmental crisis begs for preachers to answer bigger questions instead of giving reminders to recycle, Willimon said.
"A lot of that stuff kind of wilts right now, and we're driven to large questions, to large answers, the large claims," he said. "Therefore, you use the word 'apocalyptic.' We've got a lot of good stuff on that.
"It takes what it takes every Sunday — a serious engagement with Scripture."
Abrams preached on 2 Chronicles, 7:11-22. It's the story of God speaking to Solomon after the construction of a temple and palace were completed. God warns Solomon that there will be times when too much rain or locusts challenge them, but promises to restore the land if they humbly turn to God and away from wicked ways.
"This temple of God, this Earth that we inhabit, has for centuries turned its face from the Lord," Abrams said. "I would argue that God's admonition is that our presence on this planet reflects the Earth as the chosen temple, a place of worship and of stewardship."
Poor people suffer most from famine, drought and disease, she said.
"This is antithetical to the story of creation, that God's children would be destroyed by failure to steward the Earth and serve His people," Abrams said.
Moore's sermon was posted May 19 and centered on Romans 8:18-22, part of a letter from the Apostle Paul to the Christian community in Rome.
"I consider that the sufferings of this present time are not worth comparing with the glory about to be revealed to us," part of the verses read. "For the creation waits with eager longing for the revealing of the children of God."
To Moore, these words inspire hope for victory over the climate crisis.
"Remember the circumstances of the first century," Moore said. "A narcissistic national leader had co-opted the religious leaders; instigating horrendous policies that kept them both in power, but also compromised practices of justice. … This is a system established to make some rich and make the rest of us pay for it."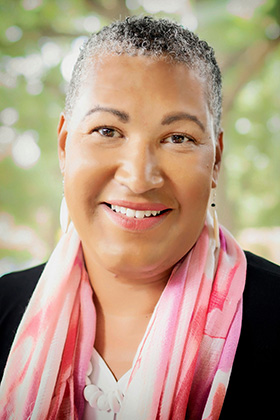 The Rev. Joy J. Moore is associate professor of Biblical preaching at Luther Seminary. Photo courtesy of Luther Seminary.
But Paul's letter to Christians in Rome "reminded us that what we see now is not what we get later," Moore said. "For it tells us that Jesus' death was real. But, Jesus' death was not final."
Therefore, there is hope for overcoming environmental challenges, she said.
"Whatever happens, God's got this," Moore said. "From the very beginning, humanity has been destined to an abundant life. Granted a seat at the banquet table. Invited into an incorruptible future. God's long-term game plan has always been global."
Hand, who gave a short welcome speech to introduce the May 20 session, urged participating preachers to make sure they care for themselves.
"We talk about all of the front-line personnel," she said. "We, too, are on the front lines in faith. … We are the folks that will provide care, and to come alongside people in their deepest valleys — that's you and that's me."
United Methodist activists must also share the load, Abrams said.
"Redemption must find its warriors in the seasoned activist, the worried grandparents and the teenager seeking a voice," she said. "The warriors who fight the good fight, they must grab the hand of the unemployed and the unacknowledged and the unseen."
Abrams added that "silence in a revolution is a dangerous thing. It suggests complacency and defeat and complicity."
Patterson is a UM News reporter in Nashville, Tennessee. Contact him at 615-742-5470 or

[email protected]

. To read more United Methodist news, subscribe to the free Daily or Weekly Digests.
---
Like what you're reading? Support the ministry of UM News! Your support ensures the latest denominational news, dynamic stories and informative articles will continue to connect our global community. Make a tax-deductible donation at ResourceUMC.org/GiveUMCom.