Last semester, sophomore Sarah Haas was walking into her dorm at United Methodist-related Duke University when she noticed a sticky note on the floor of the entrance.
"I picked it up, and it said, 'You belong at Duke. #DukeEncourage.' I had just come back from a really long night at the library, so it meant a lot to me," she explained.
Curious about the hashtag on the note, Sarah did a quick search on Twitter. She tweeted a photo of the note, "Thank you whoever you are, I really needed to hear this. #DukeEncourage."
All around campus, other students were finding similar notes of inspiration and sharing photos of them on Twitter.
"We flooded the campus with sticky notes. I don't even know how many there are total, but they are everywhere," explained Michael Habashi, chair of Duke's Honor Council.
The Honor Council, charged with encouraging students to maintain honorable behavior and academic integrity, had decided to address the issues of identity and mobility on campus.
"The amount of division on campus was greater than the amount of unity. It's not an issue that's unique to Duke," said Habashi. "We come as individuals, but then we start to represent the group that we're hanging out with - whether it's a particular ethnic group or athletic group. I may not want to conform, but I do because I want to be a part of the community, so it creates a lack of mobility because students feel like they can only be part of a certain group and they start to lose sight of themselves as individuals."
The administration and faculty have even gotten involved with #DukeEncourage. "I heard an administrator say that every time he sees a note on campus, he takes them down because he wants to keep them," said Habashi.
Haas, who has since found another note, did just that - so she could share the motivation with friends.
Habashi, who graduates later this semester, says he'll take lessons from the campaign with him into the corporate sector. "The act of seeing positive messages everywhere brings a positive reinforcement of the good in life and not the bad things. We all need to be around people like that."
In January, the Honor Council and other on-campus organizations expanded the campaign by co-sponsoring weekly dinner discussions in the freshman cafeteria. Topics range from labels to navigating college relationships.
"It's 20 to 25 people in groups of four or five, so we're really able to connect on a personal level," said Habashi.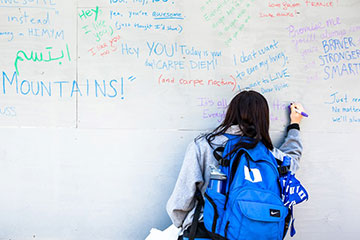 The wall holds notes that include Bible verses, Dr. Seuss quotes, Aerosmith lyrics and even drawings. Photo by John Rash.
The wall that's breaking down walls
On Bryan Center Plaza, an open area where students often sit outside to have lunch or do homework, there's a 50-foot-long wall, which was originally built as a barrier during construction in the area.
On Feb. 1, #DukeEncourage took over the wall and invited students to cover it with motivational statements.
"We were afraid people would come up and deface it with negative comments, but thankfully, there were only one or two inappropriate comments, and other students, not us, actually painted over those and wrote positive messages, which is a testament to the campaign," said Habashi.
The wall holds notes that include Bible verses, Dr. Seuss quotes, Aerosmith lyrics and even drawings. Haas contributed her favorite Maya Angelou quote.
"The campaign is important because it's anonymous and it's something everyone has seen," she added. "Everyone can come together in a way that's not under the guise of one organization. It makes the campus more inclusive for everyone."
Duke is a part of the United Methodist higher education connection that includes 119 schools, colleges and universities in the United States; 520 campus ministries; and 720 Methodist institutions around the world.
To see more photos and learn more about the campaign, follow @DukeEncourage on Twitter.
*Bannon is a public relations specialist at United Methodist Communications in Nashville, Tenn.
News media contact: Joey Butler, Nashville, Tenn., (615) 742-5470 or [email protected].
---
Like what you're reading? Support the ministry of UM News! Your support ensures the latest denominational news, dynamic stories and informative articles will continue to connect our global community. Make a tax-deductible donation at ResourceUMC.org/GiveUMCom.