To encourage United Methodists to talk about world food production over lunch or dinner, hunger advocates are providing the placemats.
Sharing a meal is just one of the ways local congregations can observe World Food Day on Oct. 16. The 2012 theme is "Agricultural cooperatives - key to feeding the world."
This year, Church World Service, the ecumenical humanitarian agency, is promoting the "Share a Meal" project in cooperation with its partners, including United Methodist Women, the United Methodist Board of Church and Society, Church Women United, Mennonite Central Committee, Presbyterian Church USA Hunger Program and the United Church of Christ.
A project goal is to help participants become knowledgeable about the various factors that affect access to nutritional food, noted Maurice A. Bloem, deputy director and head of programs for Church World Service.
"With some 925 million hungry people in the world, CWS is encouraging people to recognize access to nutritionally sufficient food as a human right and either begin or join in ongoing conversations and advocacy around hunger and malnutrition," he explained.
Funding from United Methodist Women and Oxfam America will allow congregations to order free full-color placemats for that meal or another hunger education event. Order online or call 1-800-297-1516 and ask for resource EA 1237.
Other downloadable World Food Day resources on the Church World Service website include a "how to" instruction sheet, discussion guide, recipes for sharing a meal, worship aids and a list of action ideas.
Making connections
Church World Service invites people to order free placemats to raise awareness on ending world hunger. A UMNS photo illustration by Kathleen Barry.
Pam Sparr, a United Methodist Women consultant on climate change and liaison with Church World Service, said the placemat project connects with the organization's mission study on poverty, a recent geographic study on Haiti and the fact that climate change is a "priority issue."
She noted that the design of the placemat and the discussion guide make the project suitable for other occasions related to food advocacy. "It's meant &ellipsis; to be used in a variety of settings," she said.
Other activities listed on the World Food Day USA website range from organizing a run or walk to end hunger to cultivating a community garden and joining a social media campaign.
Church World Service has sponsored CROP Hunger Walks - which draw significant United Methodist participation - for more than 40 years. Some 881 of the agency's fall walks are scheduled in the days surrounding World Food Day, the agency reports.
Funds raised by thousands of volunteers through the walks help fund food pantries and soup kitchens, along with Church World Service food cooperatives and other hunger-fighting initiatives around the world.
The placemat highlights farm cooperatives in Michigan, Haiti, Nicaragua and West Timor.
Sparr said the Nicaragua and West Timor projects demonstrate how climate change has an impact on "how small-scale farmers are having to shift what they grow and how they grow it," while the 12 co-ops in northwest Haiti provide microloans for agricultural supplies or small businesses, with the majority of loans going to women.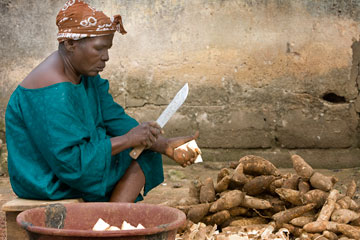 A woman prepares cassava roots outside Trinite United Methodist Church in Yopougon, Côte d'Ivoire. A UMNS photo by Mike DuBose.
By pooling resources and knowledge to increase the production of diverse crops, food cooperatives "are a way of building sustainable food and nutrition security for families and entire communities," Bloem pointed out.
Such nutrition security also helps ensure children have an adequate diet during the first 1,000 days of their lives to prevent permanent stunting in physical and intellectual development, he said.
At the community level, "co-ops are a great way to share the cost and the knowledge and increase the marketing power of small producers," Sparr said. Consumers also can benefit from reduced costs and increased purchasing power.
U.S. research has shown that if consumers shift "a relatively small percentage of our food purchases towards more local food production, we can have a positive impact on our local economy," she said, adding that even buying food that a grocery has identified as locally produced can have an impact.
*Bloom is a United Methodist News Service multimedia reporter based in New York. Follow her at http://twitter.com/umcscribe.
News media contact: Linda Bloom, New York, (646) 369-3759 or [email protected].
---
Like what you're reading? Support the ministry of UM News! Your support ensures the latest denominational news, dynamic stories and informative articles will continue to connect our global community. Make a tax-deductible donation at ResourceUMC.org/GiveUMCom.