"Think justice" is what motorists on Interstate 630 see when they drive by Philander Smith College. The words on the side of the college's gymnasium reflect both the school's Wesleyan heritage and its modern-day mission.
Ahmad Williams, who just completed his sophomore year at Philander Smith, has helped put the college's commitment to justice into action. As vice president of the college's Social Justice League, he has gotten involved in projects ranging from cultivating a community garden to raising awareness about Arkansas' prisons.
The St. Louis native said he came to the United Methodist-related campus on the edge of downtown Little Rock largely because of his interest in social justice and community development.
"I knew I wanted a small (historically black college) that graduated students who are academically grounded and dedicated to changing the world," said Williams, who is majoring in social work. "I can read a book all day at any college. But here, I'm also getting experience while I'm learning."
A history of justice
Walter M. Kimbrough, Philander Smith's 12th president, launched an effort to develop a clear identity for the liberal arts college, one of 11 historically black colleges and universities related to The United Methodist Church.
"It was quickly recognized that throughout its history Philander Smith has been part of social change here in Arkansas," said Joseph Jones, who joined the staff in 2011 as founding director of the Social Justice Initiative.
Black College Fund
The family of 11 historically black United Methodist college and universities receives support from a churchwide Black College Fund launched in 1972. In 2011, the fund produced $9.6 million.
Cynthia Bond Hopson, director of the fund, said all of the schools are fully accredited by the various college-accrediting agencies.
Many have academic programs that have earned additional recognition, she said. For example, Meharry Medical College, Clark Atlanta and Claflin University have developed a reputation for groundbreaking research on AIDS and various kinds of cancers. Rust College has a nationally certified social work program. Huston-Tillotson University has an accredited business program. Philander Smith has earned plaudits for its social justice emphasis and its Black Male Initiative, a mentoring and peer-education program for male students.
"To serve the underserved continues to be a core value," Hopson said. "We have international faculties and students who can compete on any level and in any arena. Our schools have always been open to anyone who has a hope and a dream."
Six of the top-ranked historically black colleges included in the September issue of Ebony Magazine were United Methodist-related. Philander Smith was included in the social sciences category.
A challenge, Jones said, is to explain what is meant by social justice. "Our simplified, operational definition is 'people improving other people's lives.' It is how we deal with one another. The end goal is to provide an environment and atmosphere where justice is being practiced, manifested, whether it is curriculum or the way the college invests its endowment. It's a holistic approach."
Philander Smith has 667 students. The college was founded in 1877, as Walden Seminary, named in honor of J.J. Walden. He was one of the originators and the first corresponding secretaries of the Freedmen's Aid Society, which was founded to educate freed slaves after the Civil War.
Jones pointed to alumni including theologian James Cone, the founder of black liberation theology; Dr. Joycelyn Elders, former U.S. Surgeon General, and Robert L. Williams, a psychologist known as a stalwart critic of racial and cultural biases.
He also noted that Philander Smith is only a mile from Little Rock's Central High School where, an issue of justice unfolded before the world in 1957.
Nine African-American students were denied entrance by the Arkansas National Guard under orders from Gov. Orval Faubus. President Dwight Eisenhower ordered federal intervention to ensure the students could attend Central High.
"Out of this history, Dr. Kimbrough and others came up with a vision for reclaiming our identity as a social justice institution of higher education," Jones said.
Jones is a Philander Smith alum who had served as an ambassador for the family of black colleges. He was asked to serve on an advisory group for the initiative, which has rocketed ahead with a $1.2 million grant from the Kresge Foundation.
The college's renewed identity is reflected in a new mission statement calling it to "graduate academically accomplished students, grounded as advocates for social justice, determined to change the world for the better."
Kimbrough moved last July to the presidency of Dillard University, another United Methodist-affiliated historically black school. Jones admits there was some initial concern at Philander Smith about what would happen to the evolving emphasis on social justice after Kimbrough's departure.
That concern was short-lived.
"Dr. Johnny Moore, our new president, has reaffirmed our effort and is giving us 100 percent support," he said. Moore, an Arkansas native, is a 1989 graduate of Philander Smith.
More than a slogan
Social justice is more than a billboard, slogan or program, Jones emphasized.
"It is infused in everything we do," Jones said. "When students come here, we encourage them to do something to change the lives of others. In freshmen orientation, we talk and walk the students through what social justice means and discuss issues of marginalization and oppression. We look at environmental justice, gender justice - the gamut."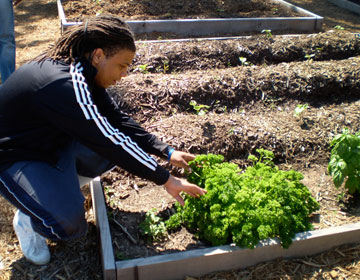 Philander Smith student Ahmad Williams works in the community garden. Photo by Shareese Kondo.
Williams, the Philander student, has served as a social justice intern at Wesley Chapel United Methodist Church on campus. As an intern, one of his favorite duties was working in the college's Commerce Community Garden dug on a city block once marred by rundown buildings. This past winter, organic produce from the garden helped feed 56 families.
"I grew up in an impoverished, violent urban environment," Williams said. "I love the peace I found when I came here. The best thing about gardening is when the seed you planted transforms into a plant and then a tomato you can eat. It's beautiful."
He said the garden also is fostering community among the college students and their neighbors. Little Rock residents and even pupils at a nearby preschool have helped with the garden's upkeep. Okra, greens, cabbage, hot peppers, tomatoes and squash are among the garden's crops.
Williams also hosts weekly discussions with other students about social-justice issues. Recently, the students have been researching more about Arkansas' prison system and the use of the death penalty.
Williams plans to join other students in constructing a replica of an isolation cell to give people a better understanding of what life is like in solitary confinement on Arkansas' death row. The Methodist Church, a predecessor body of The United Methodist Church, has opposed the death penalty since 1956.
In the discussions that began in 2007, Jones said a relationship with The United Methodist Church was seen as important. "In our language, we are very intentional to include the Social Principles of The United Methodist Church. The work we do is a complement to that. The offices of the Arkansas Annual (regional) Conference and the area bishop are located on the campus. Their presence is a constant reminder of our Methodist roots and the heritage that fuels our social justice thrust."
News media contact: Tim Tanton, Nashville, Tenn., (615) 742-5470 or [email protected].
---
Like what you're reading? Support the ministry of UM News! Your support ensures the latest denominational news, dynamic stories and informative articles will continue to connect our global community. Make a tax-deductible donation at ResourceUMC.org/GiveUMCom.