When a group of Native American young people tried to envision a symbol that would represent their community and the challenges they have overcome, someone jokingly suggested a flamingo with a peg leg. "What could be more challenging than that?" the kids asked.
They could relate to such a bird's struggle to stand up to life's obstacles and remain balanced. Peg-Leg Flamingos, they decided, would be a perfect new name for the Native American International Caucus' youth leadership training program.
The United Methodist caucus has been holding annual training gatherings for more than 20 years as a way to nurture and educate young leaders. About 300 youth have participated in the program. The meetings address prevalent issues in Native communities, such as bullying, suicide, drug and alcohol abuse, and health problems like diabetes.
"We always say what we are doing is working with one of the most at-risk groups of youth in our country," said the Rev. Carol Lakota Eastin, a district superintendent in the Illinois Great Rivers Conference and one of Peg-Leg's organizers. "Their rate of suicide is higher than any other group in the United States and that's the reason we started; we're losing our young people in a lot of places."
The suicide rate among American Indian/Alaska Native adolescents and young adults ages 15 to 34 is 1.5 times higher than the national average for that age group, according to 2015 data from the Centers for Disease Control and Prevention. It is the second leading cause of death for those ages 10 to 34 among that population.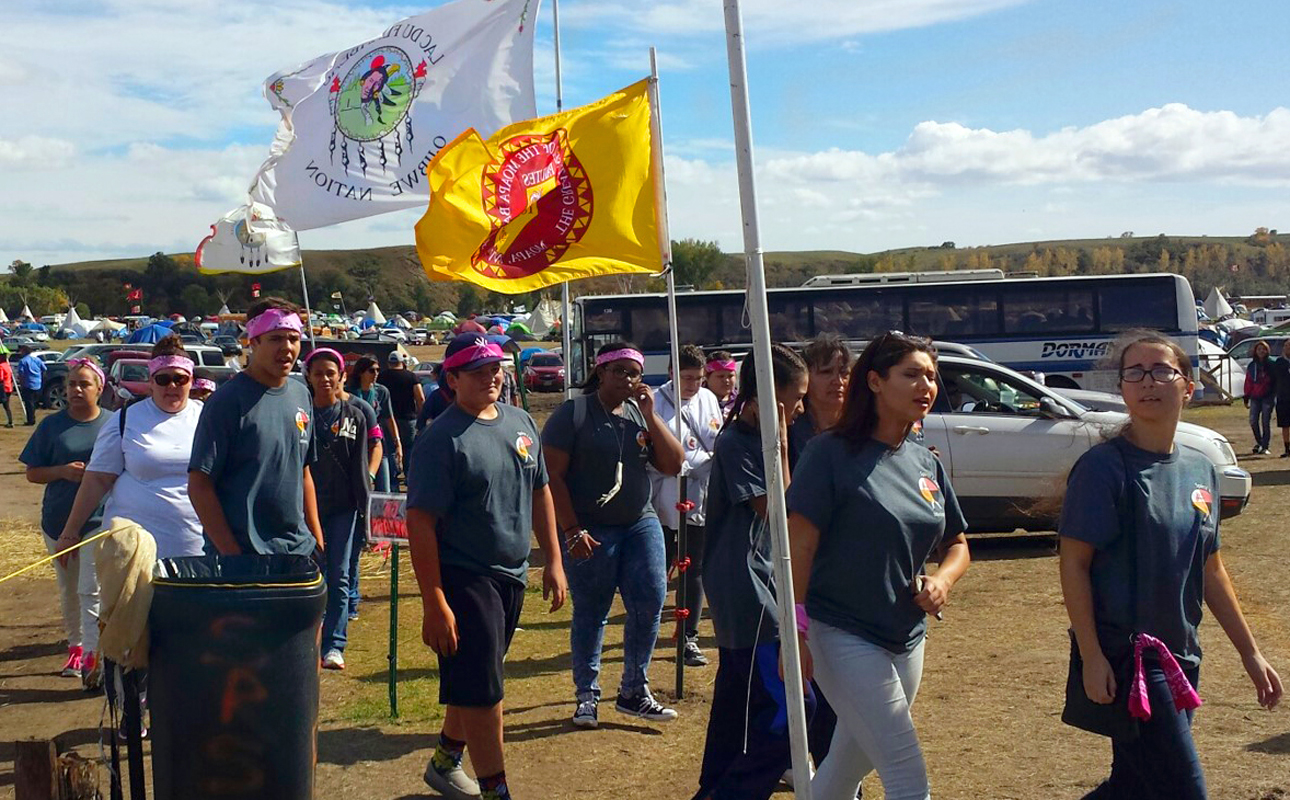 While the training at Peg-Leg Flamingos features lessons on building self-esteem and leadership, each gathering also includes visits to Native American tribal centers, sacred sites and historic places, such as boarding schools.
For 17-year-old Wesley Norton and his brother, 14-year-old Sam Norton, of Gibsonville, North Carolina, the conferences allow them to build relationships with other Native Americans their age and celebrate their heritage in a way they haven't been able to do at home.
"I've learned to embrace more of the Native culture than I was before  — and not be so ashamed of being a Native American, but to know that I am a Native American and proud of it," said Wesley.
Sam Norton said there are few Native American students at his high school, so the Peg-Leg Flamingos gatherings offer a place where he can be himself "without being judged."
"One of the things we try to do with these young people is educate them about the truth of American history. What is historic trauma? And the fact that what they're experiencing in their communities is the consequence of a great deal of trauma that happened to their elders of generations before them," said Eastin. "We give them a sense of pride in their identity as Native Americans. Rather than shame, we want them to have pride."
The 2016 Peg-Leg Flamingos conference would do that in a way that organizers never imagined.
A feeling of belonging
Planned more than a year in advance, last year's meeting took place Sept. 22-25 at Spirit Lake Ministry Center in Sheyenne, North Dakota. The United Methodist mission center is about a three-hour drive from Cannon Ball, North Dakota, where the Standing Rock Sioux tribe has been protesting the $3.8 billion Dakota Access Pipeline. Protesters say the project would disturb tribal sacred sites and threaten drinking water.
Tribes from across the nation rallied around the Standing Rock Sioux in what would become the largest gathering of Native communities in more than 100 years.
"It really felt like it was meant to be that we would be there in that area at that time," Eastin said.
Making the journey was a moving experience for everyone involved.
"The most powerful part for me is these elders, these old men and women, who are there just hugging (the kids) for a long time and saying, 'Welcome home. You belong here with us.' It was just beautiful," Eastin said.
Wesley Norton echoed that feeling of belonging.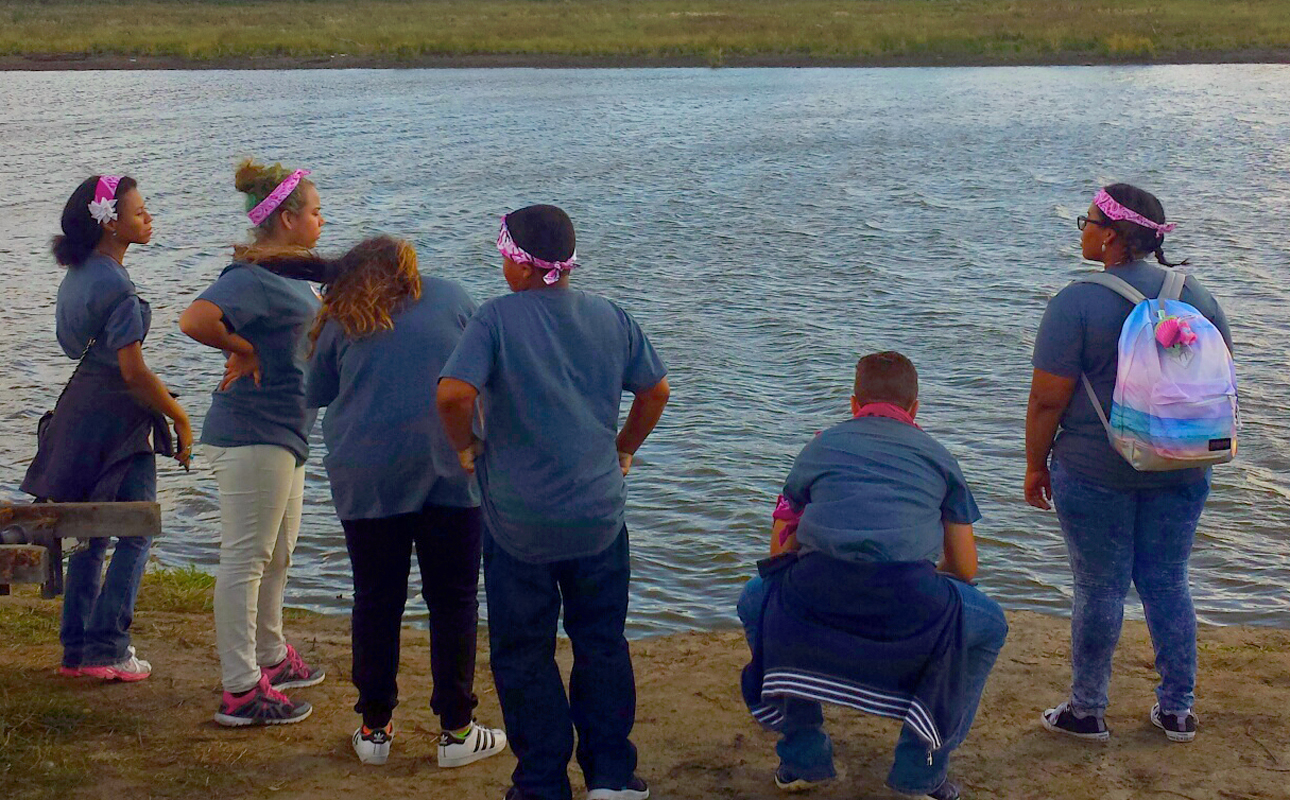 "One of the most memorable moments was when we brought the gifts and we were honored for it. … It was kind of like feeling welcome and like they wanted us there. They didn't turn their back to us or anything. It was pretty cool," he said.
The visit offered real-life lessons that the students couldn't have learned in the same way in a classroom setting. The suicide prevention piece, for example, was delivered without ever uttering the word "suicide." Still, the message was clear, Eastin said.
"They had gone and they had seen what people can do when they feel down or oppressed. They can gather together and pray and they can stand up for their people instead of giving up," she said.
In early December, the U.S. Department of the Army denied easement of the pipeline to cross under Lake Oahe, a dammed section of the Missouri River near the Standing Rock Sioux reservation, temporarily halting the project. However, in February, the Trump administration green-lighted the pipeline. The Standing Rock Sioux Tribe has vowed to continue its fight.
No matter the outcome, the experience is one these youth will never forget.
"It was a God thing that we were that close and could take them there. They had an experience they will remember for the rest of their lives. They will tell their grandchildren, 'I was at Standing Rock in 2016.' ''
Lasting impact
The mission of Peg-Leg Flamingos aligns with The United Methodist Church's focus on developing principled Christian leaders. Reaching youth and young adults and bringing them into the leadership of the church continues to be a priority.
Most of those who come to the Peg-Leg Flamingos conference attend Native American United Methodist churches from the North Central and Northeast jurisdictions, which co-sponsor the event. Young leaders from other parts of the United States also may be invited.
The Nortons attend Triad Native American United Methodist Church in Greensboro, North Carolina. The 2016 conference was the second Peg-Leg gathering for the pair, and they plan to attend in 2017 as well.
The Native American International Caucus writes grants and raises money to provide the program, but it asks local churches and conferences to help with the travel costs of the youth. The caucus provides scholarships when possible.
"These are young people who are being, in a focused way, nurtured to be leaders in the church," Eastin said. Some of those who have attended have become members of their conference's Committee on Native American Ministries or delegates to their annual conferences, she added.
Wesley Norton said he would like to be a leader in the church one day and is planning to go to college or join the Army after graduation.
He said Peg-Leg Flamingos has already helped him become a better leader, encouraging him to "step up and become more of a man and take on more responsibilities."
Wesley and Sam's mother, Meshell Sigmon, who has attended the conference the past two years with her sons and other youth from their church, said it's the best money she has invested in her boys and "worth every penny."
"The experiences are life-changing, from our visit to Standing Rock to keep our country's water safe, to our visit to Carlisle boarding school (in Pennsylvania), where we placed spirit ponies on the graves of those children who perished there," she said. "It has also allowed my boys to connect at a vital time in their lives when they need to feel connected."
Dwyer is general church content editor for United Methodist Communications. Contact her at (615) 742-5470 or [email protected].
---
Like what you're reading? Support the ministry of UM News! Your support ensures the latest denominational news, dynamic stories and informative articles will continue to connect our global community. Make a tax-deductible donation at ResourceUMC.org/GiveUMCom.