Masked worshippers filed into Charles Davies Memorial United Methodist Church in Lumley, western Freetown, as churches in Sierra Leone returned to in-person services under strict COVID-19 guidelines.
The ban on congregational worship was one measure the government put in place to contain the spread of the coronavirus nearly three months ago. In a statement July 9, President Julius Maada Bio said the government was lifting the ban after an agreement on a list of guidelines with the inter-religious council.
"I am so pleased that government has lifted the ban," said the Rev. Sahr Fallah, pastor in charge, after the church's second service. "I missed the interaction with my members every Sunday. Though we have been holding online services, I missed the in-person fellowship.
"I was really overjoyed today when I saw my members entering the church, many looking cheerful. I could see that many have been eager to come to church."
The new rules were visible at Charlies Davies as stewards did temperature checks and took down the names of churchgoers after they sanitized their hands at one of the two wash stations at the entrance. People entered through one door and walked out another.
Attendance was lower as some worshippers likely remained hesitant to attend amid the threat of the coronavirus. There have been 1,783 confirmed cases of COVID-19 and 66 deaths in the country, according to the most recent data from Johns Hopkins University.
Inside the church, worshippers sat in pews according to families, with alternating empty rows of seats in between them. The new guidelines state that all worship services need to be less than 90 minutes and have no more than 100 people in attendance.
The National COVID-19 Emergency Response Center has threatened to close places of worship that do not observe the guidelines.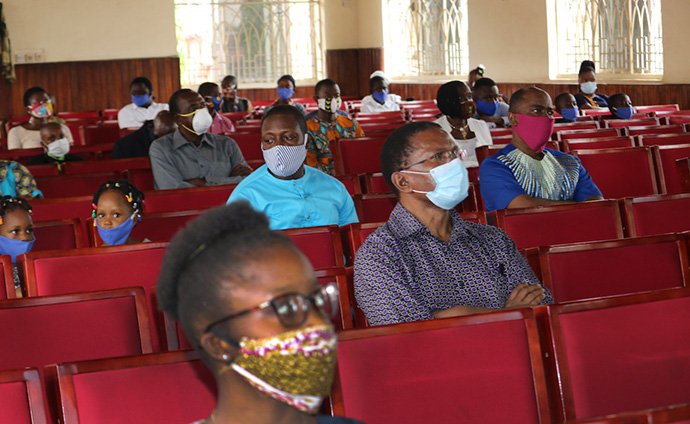 Before COVID-19, Charles Davies Memorial had one main worship service on Sundays starting at 10 a.m. To avoid overcrowding, there are now two services: one at 8:30 a.m. and the second at 10 a.m.
Fallah said the church did a lot of background work to resume normal church services, such as disinfecting the church and taking the hymnals from the pews so that people could only sing from the hymns on projector screens.
"All that was to minimize contact," he explained.
But Fallah believes it is denial that is making COVID-19 last longer.
"We now need to educate our members. Church leaders must sensitize their congregations. Even some educated people still do not believe that the coronavirus is real. The denial is what is responsible for the increasing cases," he said.
Fallah recommends pastors include coronavirus messages in their sermons.
"This can be in the first few minutes of the pastor's sermon," he said.
The West African country registered its first confirmed case of COVID-19 on March 31.
A three-day national lockdown was observed the week following, coupled with an inter-district lockdown that continued until early April.
The lockdown meant that people could not travel between districts. Though vehicles carrying essential commodities were permitted by law, there were constraints, and transportation and transactions were highly limited.
Goods or products from elsewhere in the country became scarce and prices skyrocketed.
"We could barely afford a decent meal because some of the items we need for a good meal are purchased from other districts," said Jabulay Tombor of Wesley United Methodist Church in Pujehun.
She said their farm products perished because they could not be transported to the cities where they were in great demand.
Sylvester Munda Kamara, speaker for the Kpanga Chiefdom in the Pujehun District, said that since the president lifted the ban on travel, prices are slowly returning to normal.
"There was a lot of hardship on the people due to restrictions on their movement and interactions. Now, we're expecting normal life to resume. … Market women can now take their commodities to sell in other districts or to the cities, make money and attend to their needs. They can now trade their farm products and buy items from the cities that are in need in our communities," Kamara said.
Pujehun District is emphasizing the use of face masks among several other measures being put into place to contain the spread of the virus, he said.
"People know about hand washing and they adhere to medical advice. There is a fine of Le10,000 (about $1 USD) for anyone caught in a public place without a mask. And our people don't like to pay fines. Now everybody uses masks," he said.
"We no longer allow community ceremonies that attract large crowds. Even funerals are allowed a limited number of people to attend."
As was the case with Ebola, there has been a lot of denial in regards to the coronavirus, said Kamara. While Pujehun District has seen few cases, reports of deaths in the West and new community infections are compelling more people to believe that the threat is real.
"We are now reaching the community at every given opportunity. … I will be reporting to other elders in the community that (United Methodist) Women were here with coronavirus messages and that I attended," he said. "We will cascade that information down to the community level. I will even be sharing with them and my household the coronavirus leaflets distributed by the UM Women."
The Rev. Michael Columba, United Methodist Pujehun District superintendent, said life during the inter-district lockdown was challenging.
"Traveling from one place to another was difficult even for us clergy. It took me three days in May to secure a pass to attend to an emergency in Bo. Normally, we the clergy are given priority when there are restrictions on movement; this time it was not so," he said.
Closures and lockdowns are usually difficult to maintain in frontier districts like Kailahun, where Sierra Leone shares borders with Liberia and Guinea. Strict adherence was rigorously enforced this time, said Samuel Kailie, pastor in charge of Grace United Methodist Church.
He said the lockdown for Kailahun District was particularly hard because the district was enforcing a curfew three hours beyond what the government had ordered.
"Though it was harsh, we are realizing the gains now," he said, noting dwindling case numbers in the region. He said as of July 25, no new cases were reported and the last person at the local treatment center had been discharged.
Jusu is director of communications for The United Methodist Church in Sierra Leone.
News media contact: Vicki Brown at (615) 742-5470 or [email protected]. To read more United Methodist news, subscribe to the free Daily or Weekly Digests.