Jesus loves them, this they know. For the Rev. Earl Bible tells them so.
For more than three decades, he has been the pastor for members of the Whitmer, Circleville, North Dry Run and Job United Methodist churches — all in the West Virginia mountains.
At 78, Bible no longer does river baptisms. But that's about his only ministry compromise.
"I'll go, probably, as long as the Lord allows," he said.
Bible grew up in the northeastern West Virginia mountains, as did his wife of 59 years, Doris. They live near the town of Seneca Rocks in a 1930 farmhouse made of wood from the chestnut blight. Brushy Run Creek sings across the road, and there is pasture nearby.
For Bible, sheep are not just a New Testament metaphor. He and Doris have a flock and feed them twice daily. They also have cattle and, in the summer, a bountiful vegetable garden.
In the early 1980s, Bible was a member of Seneca Falls United Methodist Church but also a lay speaker, filling in as pastor at three rural churches. He recalls his district superintendent saying, "It's time we did something with you." That "something" was persuading him to go to local pastor licensing school.
Bible did, and would soon become pastor to the four churches he still leads 31 years later — those of the Allegheny Charge. Two are one side of Allegheny Mountain, and two on the other.
Trending Local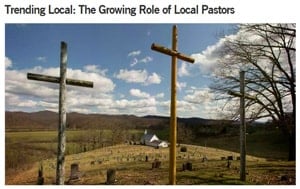 Read the full the series
about growth of local pastors in The United Methodist Church.
Always a farmer, Bible also had a main job — as foreman at a nearby plant of the Hanover Shoe Company. Each summer, for eight years, he would take his vacation and travel to Wesley Theological Seminary in Washington, D.C., to pursue the course of study required of local pastors.
It was a commitment for him and Doris, but he enjoyed the studies. He emerged a mountain pastor who sticks to the lectionary.
"It disciplines me," Bible said. "There's texts in there that I would easily throw away. I wouldn't want to preach them. But if I force myself to do it, it helps me in the long run."
Through the years, Bible has endured teasing about his name. Wags have asked whether he is the New Testament or Old Testament.
More often, church visitors and others who know he's a pastor have mispronounced his name, so that it rhymes with "kibble."
"Anything other than 'Bible,'" Bible said. "They can't believe it's possible.… It's a German name."
To have a pastor whose name is synonymous with Scripture, keeps real sheep and leads a church named Job seems almost too good — too symbol-laden — to be true.
But his church members, for whom he's "Earl," testify to his and Doris' down-to-earth faithfulness.
"The most special thing is their compassion," said Steve Wymer of Whitmer United Methodist. "If you call them up and say you need them, they'll be there."
See related slideshow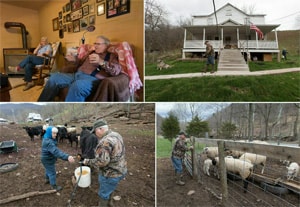 The little churches that could
The four churches together have about 100 members. Services alternate, with Bible preaching at two of them on one Sunday morning and two on the next. They come together on the fifth Sunday. Bible leads a Bible study at one of the churches each Sunday night and at another on Thursday night.
Then there is the rest of a pastor's usual work, attending church meetings and visiting the sick, doing weddings and funerals, and preaching at special services.
Finding musicians at country churches often is a challenge. At one of his churches, Bible has a man who plays piano, but only the white keys.
"He does real good," Bible said.
Asked how many sermons he has preached, Bible wouldn't offer even a wild guess. "(God) has a better calculator than I do," Bible said. But he did recall with precision and satisfaction that he had 15 youth in a confirmation class the year before last.
He is proud, too, of how his churches have, at his suggestion, gone together to fund an Allegheny Charge college scholarship.
West Virginia Conference records for 2014 show each of his churches paying Bible $5,100, for a combined salary of $20,400. With benefits, his compensation still came in under $24,000.
Through the years, the conference has classified Bible as a supply pastor, a part-time local pastor and a full-time local pastor (his title after he retired from Hanover Shoe Co.). Today he is a part-time local pastor, retired.
Those are just titles.
"As far as the service," Bible said, "there ain't no difference in them. It's all about the same."
Hodges, a United Methodist News Service writer, lives in Dallas. Contact him at (615) 742-5470 or [email protected].
---
Like what you're reading? Support the ministry of UM News! Your support ensures the latest denominational news, dynamic stories and informative articles will continue to connect our global community. Make a tax-deductible donation at ResourceUMC.org/GiveUMCom.