For the Rev. Elizabeth Jackson, the sadness of losing a friend in the Colorado movie theater shootings has become a portion of her life's journey.
Only three weeks into her appointment as the pastor of the Edgewater (Colo.) United Methodist Church, the tragedy also has added a different dimension to the get-acquainted period for her and her supportive congregation.
"There's a beauty and a sorrow," she reflected. "While it (the loss) is not the identifying characteristic of what I am, it's a piece of who I am."
Jackson, 31, who graduated from Denver's Iliff School of Theology in 2011 with a master of divinity degree, was a close friend and former co-worker of Alex "Sully" Sullivan, one of 12 killed July 20 when a gunman opened fire during an early-morning showing of the new Batman movie in Aurora.
Sullivan died on his 27th birthday. "Alex was one of those guys you aspire to be like," Jackson recalled. "He was friends with everybody and was authentic in that friendliness. He was just an all-around loving and compassionate guy."
For the Rev. Michael Dent, senior pastor of Trinity United Methodist Church in downtown Denver, the Aurora shootings were not quite as personal. But, his own life experiences have taught him that "bad things sometimes happen randomly," he told United Methodist News Service.
Dent's brother was murdered, his sister suffered a sexual assault and, a few years ago, his son was violently attacked in Denver. He also led in 1999 a session on grief and coping for survivors after a day trader shot 22 people and killed nine in two attacks at the offices of securities firms in Atlanta.
The church must respond to the anguish and despair that accompanies such loss, Dent said in his July 22 sermon.
"The call we share is the same one this community had after Columbine 13 years ago and I had following the mass shooting in Atlanta and our nation had after the 9/11 attack and every similar devastating loss - it is the word of the Lord to Isaiah the prophet. The command is this: To bring good news to the oppressed, to bind up the brokenhearted, to comfort all who mourn."
Fearing the worst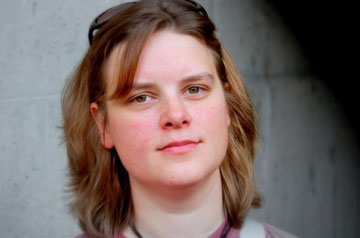 The Rev. Elizabeth Jackson
The uncertainty in the immediate aftermath of the shootings made July 20 a difficult day for everyone touched by the tragedy.
Jackson first learned of the shootings through a panicked phone call from a close friend and began searching social media for information on friends from her previous employment at area restaurants.
On foursquare, she determined that Sullivan had gone to that particular showing of the Batman movie. "He was the first person I realized had been involved," she said.
Jackson had worked with Sullivan at Red Robin and learned that a group of co-workers had joined him in the birthday celebration. But, no one could find him after the shootings. The pleas for assistance from his father, Tom Sullivan, who showed a photo of his son to the media, received national news coverage.
She remained in touch with Sullivan's wife, Cassandra, who was with his parents. "We spent the majority of the day thinking he was missing," she added. "With that, there's a lot of hope, there's a lot of denial and there's a lot of anxiousness. I think that's probably the most painful part about Friday."
There were others to care for after the tragedy, and Jackson said that type of "face-to-face" interaction comes naturally to her. She spent Friday with a young woman who was still somewhat new to the area and was waiting for relatives to fly in. On Saturday, she made the rounds of four different hospitals, talking with friends and other victims of the shootings and their families.
Most of those she knew among the 58 people wounded in the attack were sent home within a few days, but two remain hospitalized and "have a long journey of healing to go."
Addressing collective grief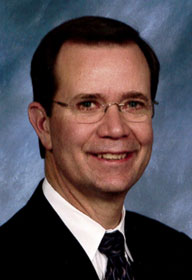 The Rev. Mike Dent
United Methodist churches in the area are beginning to assist with the spiritual healing. In a July 20 letter, Denver Area Bishop Elaine Stanovsky urged leaders of the denomination's Rocky Mountain Annual (regional) Conferenceto address the community's collective grief and "use your biblical imagination to generate creative responses to this crisis."
At Trinity, Dent composed a letter to his congregation, asking them to pray, worship and express their faith and to give blood; rewrote his Sunday sermon; chose new hymns and issued a notice about the special plans for worship. "People needed to be together," he said. "That's been a major blessing for this."
Attendance at the service was up to more than 700, compared to the weekly figure of 550 this summer. "We had a number of first-time guests&ellipsis;so I know we had folks coming for solace and comfort, encouragement and hope."
A full-page ad placed in the July 23 edition of the Denver Post by United Methodist Communications helped spread the denominational message.
"A lot of us felt very proud to be United Methodist," Dent said about the ad. "It was very simple, very eye-catching and, I think, very appropriate."
In a joint effort with hospice organizations, Trinity has been open from 6:30 p.m. to 8:30 p.m. this week for walk-in grief support. The church also has made its professional counselors and Stephen ministers available for conversation and has scheduled a "Living with Loss" seminar on Aug. 11.
A healing celebration to help children and teens process the shootings and the Colorado wildfires is planned Aug. 12 at First United Methodist Church in Colorado Springs. The event is organized by the Rev. Leanne Hadley, a church staff member and director of First Steps Spirituality Center.
Jackson is optimistic that she, her friends and the community will heal over time. "Many of the people I know from Red Robin are fighters and strong individuals," she said. "I am amazed at the spirit and will to heal from the variety of wounds we have suffered."
But, with the pain still fresh, she admitted, her struggle as a pastor this week "is putting together a message of hope for this upcoming Sunday and being able to preach it from the pulpit."
*Bloom is a United Methodist News Service multimedia reporter based in New York. Follow her at http://twitter.com/umcscribe.
News media contact: Linda Bloom, New York, (646) 369-3759 or [email protected].
---
Like what you're reading? Support the ministry of UM News! Your support ensures the latest denominational news, dynamic stories and informative articles will continue to connect our global community. Make a tax-deductible donation at ResourceUMC.org/GiveUMCom.