This week people have gathered to remember and to re-enact the Selma-to-Montgomery march of 1965. As I've watched the preparations via television, I have thought of these words introducing the "Social Community" section of the Social Principles in our United Methodist Book of Discipline: "The rights and privileges a society bestows or withholds from those who comprise it indicate the relative esteem in which that society holds particular persons and groups of persons. We affirm all persons as equally valid in the "sight of God." (Paragraph 162)
We in The United Methodist Church have every right to be proud of the leadership roles the Rev. Joseph Lowery, the Rev. James Lawson and other United Methodists played in the Martin Luther King-led Southern Christian Leadership Conference, the organization that initiated the Selma-to-Montgomery march.
At the same time, it is important to remember that the Voting Rights Act of 1965 was one result of that effort. In this presidential election year, much attention is being given to voter identification and participation. Many of us hope that United Methodists, along with all Americans, will make sure voter identification does not become voter suppression.
Many United Methodists, lay and clergy, black and white, participated in the civil rights demonstrations that pushed our nation from legal racial segregation to racial desegregation and integration. My hope is that at General Conference 2012 some mention will be made of the newly dedicated Martin Luther King Jr. Memorial in Washington and its testimony to the activism of many United Methodists, living and dead.
'Foot soldier' in the movement
I describe myself as a "foot soldier" in the civil rights movement. From 1963 to 1968, while I was senior pastor of Union Methodist Church in Boston, I was part of the Mississippi Freedom Summer in 1964 and was active in the Massachusetts Unit of the Southern Christian Leadership Conference. After the brutality of "Bloody Sunday" in Selma, I prayerfully made the decision to go there even though it meant leaving my wife, Grace, and our two young sons in Boston. Some of us in the unit were among many people from Boston who responded to a call to come to Selma on the following Tuesday. Among us was the Rev. James Reeb, a white Unitarian minister in Boston, whom I had gotten to know.
That Tuesday came to be known as "Turnaround Tuesday." Our sense of the rightness of our commitment to racial justice was stronger than any apprehension or fear. I experienced for the first time the inner peace and strength that accompanies a commitment to nonviolence. After a stirring service in Brown Chapel AME Church, we marched across the Edmund Pettus Bridge, stopped behind the leaders of the march, had moments of prayer and returned to Selma. We found out later, to the disappointment of many, that we did not continue the march that day because the arrangements for protection of the marchers had not been completed.
That evening, Jim Reeb and some of his Unitarian colleagues visited a restaurant. When they left, Jim was attacked and beaten so severely that he died a few days later. When we heard of the beating on our way back to the airport, we were stunned. I asked myself, what was it that made white persons shoot or beat up other white persons because they joined with those of us who are black in the struggle for racial justice? The violence Jim experienced on that "Turnaround Tuesday" erased the elation that was mine earlier in the day.
After returning to Boston, I participated in his memorial service at Arlington Street Unitarian Church as a representative of the Massachusetts Unit. As we raised money to contribute to the expenses incurred by the march, I was chosen to return to present the check. My memories of the night before we marched into Montgomery on March 24, 1965, are vivid.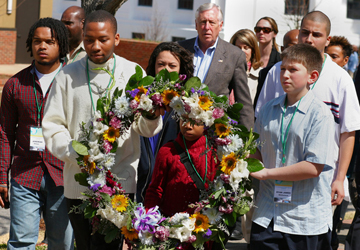 Children lay a wreath at the Civil Rights Memorial in Montgomery during the annual congressional civil rights pilgrimage to Alabama. A UMNS 2009 file photo by Kathy Gilbert.
Camping out in the rain
We camped out in the rain and mud at the City of St. Jude, a Catholic compound outside of Montgomery. Harry Belafonte led an outdoor rally that included many of his friends from the entertainment world. I was invited to the stage because of the check I was to present. Since that night, I have had fun telling my family and friends that, although I have never had any musical or other entertaining ability, I was on the stage with Johnny Mathis; Tony Bennett; Peter, Paul and Mary, and Joan Baez as well as with James Baldwin, Nipsey Russell, Dick Gregory, Ossie Davis, Floyd Patterson and others! (Harry Belafonte has a marvelous description of that celebratory event during the Selma-to-Montgomery march in his memoir, "My Song" [Alfred A. Knopf, 2011], but he neglected to mention that on that stage there also was Gil Caldwell, a 31-year-old Methodist preacher from Boston - smile.)
We must never forget the participation of well-known and lesser-known United Methodists in the Civil Rights Movement. We, as a church in this General Conference year, have an opportunity to celebrate that in the past, the denomination and individual United Methodists "walked our talk" as we made our United Methodist Social Principles come alive. May this always be so of the people called United Methodist!
*Caldwell is a retired elder and member of the Rocky Mountain Conference. A member of the board of the African-American Methodist Heritage Center, he lives in Asbury Park, N.J.
News media contact: Kathy Noble, Nashville, Tenn., (615) 742-5470 or [email protected].
---
Like what you're reading? Support the ministry of UM News! Your support ensures the latest denominational news, dynamic stories and informative articles will continue to connect our global community. Make a tax-deductible donation at ResourceUMC.org/GiveUMCom.