The 10th Circuit Court of Appeals in Denver has ruled a United Methodist pastor can continue his suit against the state of Oklahoma over the license plate image of a Native American shooting an arrow into the sky because he feels it violates his religious liberty.
Even though neither his church nor his ordination is mentioned, the suit has stirred up some negative feelings in the denomination.
The Rev. Keith Cressman, pastor of St. Mark's United Methodist Church in Bethany, Okla., said the case is not an attack on Native American religion, culture or beliefs.
"One is mistaken to characterize it as such," he said.
The image to which Cressman objects is a photo of a sculpture by Allan Houser titled "Sacred Rain Arrow." It is based on an ancient Apache legend about a warrior who had his bow and arrow blessed for ending a drought.
"Being a citizen of the United States entitles Cressman the rights to express his opinion, but being a United Methodist minister does not entitle him to speak for The United Methodist Church," said the Rev. David Wilson, district superintendent of the Oklahoma Indian Missionary Conference. "I think there are many who understand this lawsuit (to be) as frivolous as I do."
Many art galleries around the world display Houser's work, and the Smithsonian Institute owns a version of the "Sacred Rain Arrow."
"The Rain Arrow sculpture to my understanding is the artist's attempt to show an aspect of Apache life," Wilson said. "It reminds me of the artist's connection to God and the people's desire to connect with God."
Native Americans, Oklahoma and the church
Oklahoma is home to two United Methodist annual (regional) Conferences. The Oklahoma Indian Missionary Conference includes 6,000 members of 84 churches that are in ministry with Native American people. Oklahoma is home to the majority of its congregations; however, the conference has one church in Dallas, and three churches and one fellowship in Kansas.
Bishop Robert Hayes Jr. is the episcopal leader for both Oklahoma conferences.
"I find it troubling and disturbing that one of our pastors would find this symbol offensive," Hayes said. "I wish Rev. Cressman could have said something to me so that I could have entered into some dialogue with him and some of my Native American brothers and sisters who could have explained the symbol. I view it as a distraction to the ongoing healing relationships."
The 2012 United Methodist General Conference, the denomination's top lawmaking body, dedicated a significant portion to an "Act of Repentance toward Healing Relationships with Indigenous Peoples."
Freedom of speech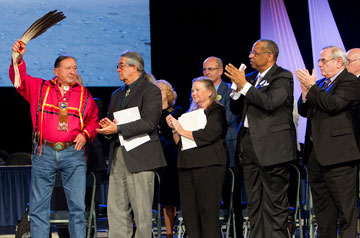 The Rev. George Tinker (left) receives the applause of United Methodist Church leaders after giving the sermon at the 2012 United Methodist General Conference in Tampa, Fla. Applauding Tinker (from left, front row) are: the Rev. Thom White Wolf Fassett and Bishops Mary Ann Swenson, Robert E. Hayes Jr. and Larry M. Goodpaster. A UMNS photo by Mike DuBose.
Nate Kellum, the attorney representing Cressman, explained his client's views in a post on the Facebook page for the Center for Religious Expression.
"The standard Oklahoma license plate, introduced in 2009, depicts a statue of a Native American shooting an arrow toward the sky. Based on a sculpture entitled 'Sacred Rain Arrow,' the image illustrates a story of an Apache warrior shooting arrows blessed by a medicine man toward the clouds to end a drought.
"Cressman doesn't believe in the myth and doesn't want to promote it. As a Christian pastor called to ministry in an area steeped in Native American tradition, he frequently encounters individuals who cling to these beliefs, and he tries to convince them to cast off myths and accept the truth of the gospel."
Cressman said the case "presents legal issues of freedom of speech that are important for all Americans of all religious, nonreligious and ethnic backgrounds," Cressman said. "Repeated efforts were made to find a resolution without filing a lawsuit."
Christian faith
Enoch Kelly Haney, also a Native American artist and former Oklahoma state legislator, said he could not understand why Cressman has an issue with the artwork.
"I did know Allan Houser, and he was a very kind and gentle man. I can't recall that he had anything bad to say about anybody," Haney said. "His art is much like mine; often, it is an illustration of who we are and what we think."
Haney, a member of Norman (Okla.) First American United Methodist Church, pointed out that many Native people were forced to be Christians, "but a great percentage of Native people today are Christians in spite of all that."
Native tribes were the first to bring The Methodist Church to the state, Wilson said.
Pledge to Indigenous People
The 2012 United Methodist General Conference pledged to work toward healing relationships with indigenous people.
"We are the Mother Church of Methodism for Oklahoma, and it was the Indian Methodist preachers and lay persons who laid the foundation for the future generations such as me," Wilson said.
"More disturbing, still, is the message this sends to Native Americans by a clergy leader of a Christian church," said the Rev. Thom White Wolf Fassett, a member of the Seneca Nation and of the Native American Ministries for the Upper New York Annual (regional) Conference. He also was a chair of the 2012 Act of Repentance General Secretary's Advisory Council of the United Methodist Commission on Christian Unity and Interreligious Concerns.
"Do we violate the religious liberty of others when we pray in church and send our prayers on the smoke of burning cedar or sage?" he asked. "Do our sisters and brothers in our Native American United Methodist churches in Oklahoma need to be wary of suits against them because they may dance a prayer or wear ribbon shirts or blouses as celebrations of their joy in the faith?
"The image of a Native shooting an arrow into the sky on a license plate is a cultural image that can be embraced as a part of our church's celebration of diversity and our intention to live equally together," Fassett said.
Hayes said Cressman is exercising his rights and has not violated any United Methodist Book of Discipline rules. The courts will decide the case, he said.
"Once it is dealt with, we will go on with our lives, we will go on with ministry and we will go on with the work of the church."
*Gilbert is a multimedia reporter for the young adult content team at United Methodist Communications, Nashville, Tenn.
News media contact: Kathy L. Gilbert, Nashville, Tenn., (615) 742-5470 or [email protected].
---
Like what you're reading? Support the ministry of UM News! Your support ensures the latest denominational news, dynamic stories and informative articles will continue to connect our global community. Make a tax-deductible donation at ResourceUMC.org/GiveUMCom.