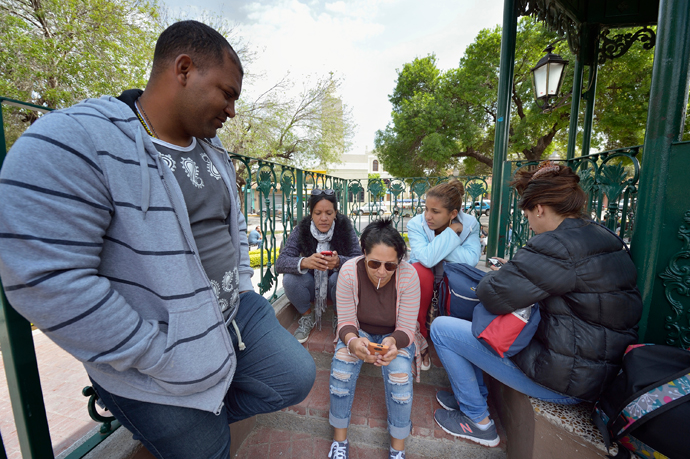 Every morning, hundreds of Cuban refugees come to the Plaza Benito Juarez, just a block from Mexico's border with the United States, and spend the day sharing news and rumors that fuel the hope they can soon cross that border.
As the Cubans wait in political limbo, Methodists on both side of the border are sharing food, shelter and faith with the stranded families.
The Cubans left their homeland in recent months and headed toward the United States, some flying directly to Mexico while others floated or flew to South America and then began working their way north.
They planned to take advantage of the so-called "wet foot, dry foot" policy that for two decades has automatically granted parole status to Cuban immigrants once they touched U.S. soil. But President Barack Obama did away with the controversial policy on January 12, meaning Cuban refugees are now treated the same as refugees from other nations.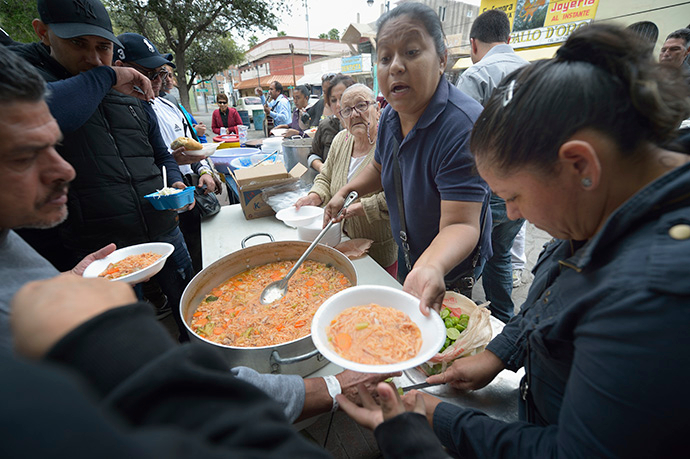 "I got tired of living in Cuba. Although there is a bit more liberty now, I am an engineer and for those of us with religious beliefs it is difficult," said Junior Simon, a Methodist from the province of Villa Clara who comes to the plaza every day to wait with his wife and two of his children.
"My son is 17 years old and he was denied an opportunity to study in the university because his father was identified as not being in favor of the government. And his military service was approaching. So I came to Mexico in May where I got a job through a friend. Later my wife and children came. Our goal is to get to the United States, where I have a daughter," said Simon, who sleeps with his family every night in a Pentecostal church.
A Methodist pastor in Nuevo Laredo, the Rev. Jaser Davila, says the Cubans are caught between a rock and a hard place and should start thinking about long-term residency in Mexico. "They don't want to return to Cuba for political reasons, so unless the United States has mercy on them, they will need to remain in Mexico," said Davila. "Many of them are well-educated and well-trained, so Mexico would need to offer them real possibilities. If not, they'd have to begin from zero."
Michael Smith, the executive director of the Holding Institute, a United Methodist Women-sponsored community center across the border in Laredo, Texas, agrees that Mexico may be the refugees' best option.
"The Mexican Constitution offers far more rights and respect to immigrants than the U.S. Constitution, so if the Cubans would be willing to request work visas to stay in Mexico, that would buy them time to figure out what to do," Smith said. "Otherwise, they will continue in a situation where many of their visas have expired, and they worry about being deported. Work permits are cheap and easy to obtain, and would give them legal protection–and income–for a year."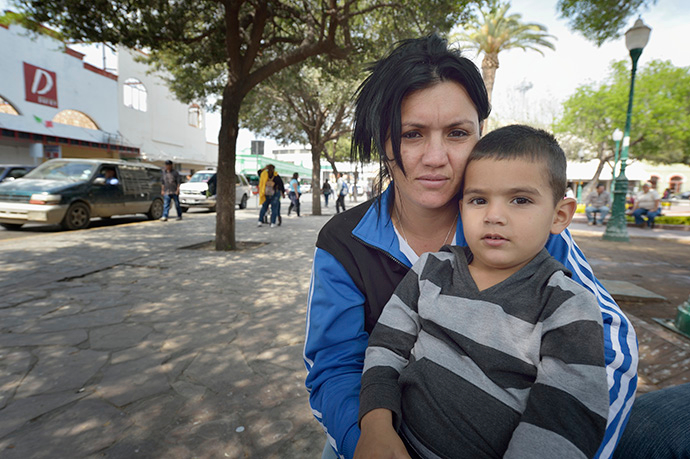 Yet many of the refugees, including Simon's wife, Anaivis Machado Rodriguez, a psychologist, said remaining in Mexico is not an option.
"It's not our fault they changed the law without advising us," she said. "We want to enter the U.S. and work. We don't want assistance, just permission to work and get on with our lives."
Whatever their long-term fate, the Cubans have been welcomed in Nuevo Laredo.
"Most Mexicans have responded with caring and love," said Davila, pastor of the El Ebenezer and Aposento Alto Methodist churches, whose members regularly cook food and take it to the plaza to feed the stranded Cubans.
"Ten Methodist congregations and many churches from other denominations have provided food and medical care, and we have channeled the donation of blankets and other things. Several churches have offered shelter in their sanctuaries. And we're developing a system of legal attention with volunteer lawyers so that the Cubans know their rights, including their right to request work permits here," he said.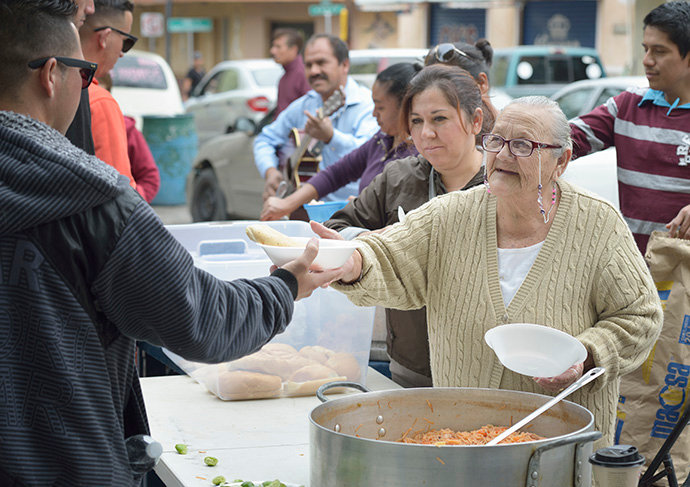 That ecumenical network of Mexican congregations is getting assistance from the Holding Institute, which has served as a destination for trucks full of relief supplies sent from Cuban-American communities around the United States. The United Methodist Committee on Relief has also provided some financial and material support. Local volunteers unload and sort the supplies, then transport them across the border to churches in Nuevo Laredo.
While that border crossing is usually not complicated, when a volunteer tried to transport a pick- up full of diapers and food and water to Nuevo Laredo on March 2, a Mexican customs worker charged a much higher fee than normal. "If Trump is going to be hard on us, we can be just as hard on you," she said.
The Cubans' plight has provoked an outpouring of solidarity from ordinary Mexicans, Davila says.
"There are many neighborhoods where people have offered immigrants a place to stay in their homes, whether they are Cubans or other nationalities. When we are serving food in the plaza, people often approach us with food to contribute, though that can become a problem, because if people donate tortillas or chiles, the Cubans won't eat them," he said.
An initial reluctance of the Cubans to eat food the Mexicans prepared fueled longstanding local resentment toward the refugees.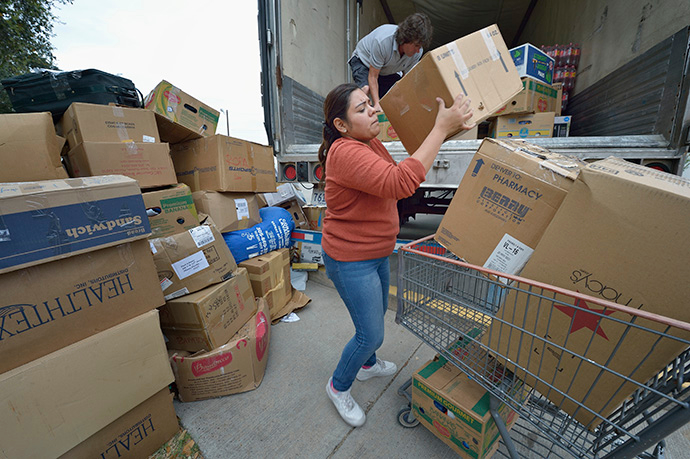 "U.S. immigration policies treat most refugees as bad, but there were always 'good refugees,' like the Cubans, who were 'sainted immigrants' who had fled from communism," said Smith. "The Mexicans would ask why the Cubans got a free pass, because all they had to do was walk across the border and say they were Cuban, and they'd automatically get Social Security and other benefits. Mexicans have been migrating for years and no one ever offered them anything except deportation."
After two months of solidarity, Davila says some churches have fallen victim to compassion fatigue and begun to pull back from serving the Cubans. "It's the poorest congregations that continue to help. It's always the poorest people who give the most," he said.
Whatever happens to the Cubans, Davila says the faith community in Nuevo Laredo knows it faces serious challenges in the future as deportations increase under the Trump administration. And it's not just Mexican deportees. In recent weeks, the U.S. has begun dumping non-Mexican immigrants across the border, including refugees from Central America and beyond.
"The reluctance of some congregations to continue being involved is fed by the fear that things are going to grow even larger in coming months. That's why we are working on an overall plan, a better way of collaborating among ourselves. Because the future doesn't look good," said Davila.
"This is a good opportunity for the church to rise up, and we pray that God permits us to do our work and keep our commitment to bring the light of Christ to the world, that we understand better our vocation as Christians to be the light and salt. I don't know anything about politics, but I do know that this is an opportunity for God to be glorified."
Jeffrey is a United Methodist missionary photojournalist. He lives in the State of Washington. News media contact: Linda Bloom (615) 742-5470 or [email protected]. To read more United Methodist news, subscribe to the free Daily or Weekly Digests. 
---
Like what you're reading? Support the ministry of UM News! Your support ensures the latest denominational news, dynamic stories and informative articles will continue to connect our global community. Make a tax-deductible donation at ResourceUMC.org/GiveUMCom.