When Hurricane Katrina rolled over the Mississippi Gulf Coast early Aug. 29, 83-year-old Alberta Paige was sleeping peacefully in her historic Biloxi home.
Six months later, she is sitting in her tiny FEMA trailer, flipping through the pages of a Cokesbury catalog in search of some offering plates for her church, St. Paul United Methodist. She is a lifelong member of the congregation.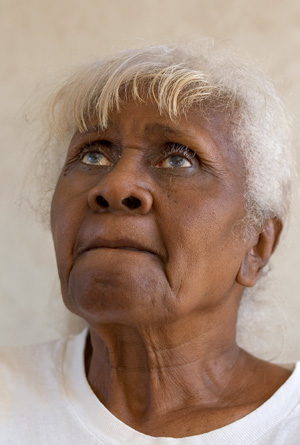 Alberta Paige recalls how hurricane floodwaters swept into her Biloxi, Miss., home. Photo by Mike DuBose, UMNS.
Paige's father was a United Methodist circuit preacher. When he died, he left her mother $1.50 and six children to raise. Paige is the youngest child.
Her mother taught her the importance of giving to the church. "She was always faithful to give to the pension fund for widows. She told me, 'You have to give back.'
"You can't hurt my feelings; I am not leaving the church," Paige says. She was a schoolteacher and has traveled all over the world. Even though she lived through a nightmare, she has a firm grip on life and a gentle belief in the God "who knows me and won't put anything more on me than I can handle."
When the hurricane blew into Biloxi, she says, "a gentle nudge on her shoulder" woke her up, and she looked out her upstairs bedroom window to see her whole neighborhood submerged in water.
"That morning about 6:30 — you know how it is when you are in a crowd, when you are Christmas shopping and people bump into each other — someone just bumped my right shoulder and immediately I was awakened by that," she says. "When I got up, I went to the door and saw the nine-foot surf, waves, coming from west to east down the tracks."
She opened her front door and water gushed in. "Within minutes, it was all over my house. I went upstairs and just watched it." Her car was carried off by the water and ended up in a neighbor's yard.
"The wind was fierce; the waves — everything just sailing in the water," she says. "The water was coming east, and I said, 'I guess it is coming to get me.' As fast as it came into the house it receded, as if it said, 'I have done enough, and now I am going to go.'"
She remembers looking out and seeing a blue, silk, three-cushion couch on her fence.
A couple of ladies from the neighborhood came to stay in her house because water was up to the ceiling in their homes. At the end of the day she went to bed early again and slept peacefully. "I don't really know what is wrong with me," she says, with a sly smile. "It takes a lot to excite me."
When firemen came to rescue her about five days later, they told her she must be "either stupid or paralyzed."
"I know I am not really stupid, like those firemen said, and I knew I wasn't paralyzed; I knew what was going on," she says. "But not one time was I afraid."
Even after seeing all the houses around her submerged, even after witnessing a couple float out through a window and land on a neighbor's roof. "I had seen all of that, but God is good."
The word went out to the Red Cross that she was in the big house on the corner and probably couldn't get out. Relief workers came and left food in the carport.
"I could get out, but the mud had come upstairs about four steps and the carpet was gummy."
When the fireman came to rescue her, they swung "this big basket around to my window."
"I said, 'I am not getting in that. I am not getting in there and fall and break my neck.' Well, they got a good laugh out of that," she says. They told her that her name was on the hotline and her family was worried about her.
"I just felt safe, surrounded by mud and everything, but I was never really frightened."
The firemen took her to a shelter at an AME Methodist Church, where she stayed until Nov. 4, when she got the trailer from the Federal Emergency Management Agency.
"I had fun at the shelter," she says. Located in the back of the church, the shelter included 24 beds covered with "pretty brightly colored quilts."
"The second week I was there, the bishop and his wife and some ladies came to visit us," she recalls. "They were so nice. They had a lot of empathy and sympathy for people in the shelter."
Before that visit, she remembers, "Some white ladies from South Carolina from the First Baptist Church came with the Salvation Army. They gave me such nice things, like a pretty negligee. I never owned one before."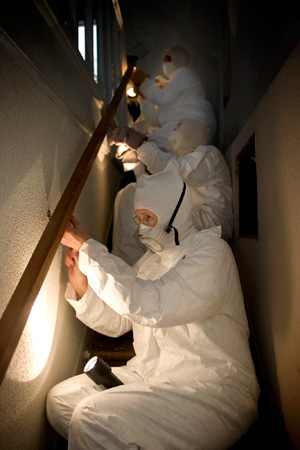 Sue Bymul (front) works with other members of her team from New York to remove a handrail in Alberta Paige's home. Photo by Mike DuBose, UMNS.
Paige feels the storm was biblical, that God was telling people to pay attention and remember who he is.
"He knows what he is doing, and I just felt he isn't going to put any more on me. He knows me, and that's the way I lived all the summer."
Paige continues to take each day as it comes. Her two-story house was once filled with antiques, and her closets were full of "nice clothes." Now everything she owns comes out of black plastic sacks donated to her.
"I never want to have a closet full of things again," she says.
Workers are putting a roof back on her house, and a volunteer team from the United Methodist Church's New York Annual Conference is tearing down the moldy Sheetrock. A mud-encrusted crystal lamp sits in one of the rooms.
Paige is philosophical about making "do with what you have."
"You will soon find that's probably what you need anyway."
*Gilbert is a United Methodist News Service news writer based in Nashville, Tenn.
News media contact: Kathy L. Gilbert, Nashville, Tenn., (615) 742-5470 or [email protected].
---
Like what you're reading? Support the ministry of UM News! Your support ensures the latest denominational news, dynamic stories and informative articles will continue to connect our global community. Make a tax-deductible donation at ResourceUMC.org/GiveUMCom.