Catastrophic tornadoes and flooding that occurred in multiple states over the Christmas holidays directly affected some United Methodists and had many others forgoing their time off to join relief efforts.
The First United Methodist Church in Rowlett, Texas, had several families who lost homes in a Dec. 26 tornado, and one tornado-related death. The church building was unharmed and quickly became a key donation center, as well as hosting early response teams from nearby United Methodist churches.
"When you see that Cross and Flame rolling down the street, it's really cool," said the Rev. Jan Davis, pastor of First United Methodist Church in Rowlett. "I thank God the Methodists are here."
Trouble struck first on Dec. 23, when the building of Lutts United Methodist Church in Lutts, Tennessee, about 100 miles southwest of Nashville, was destroyed by an EF-3 tornado.
Angela Overstreet, the Tennessee Conference's disaster response coordinator, said she contacted the United Methodist Committee on Relief's warehouse in Decatur, Alabama, at noon Christmas Eve. The staff sent three truckloads of supplies by 6:30 p.m., including a Christmas tree. Church members put the tree in the Lutts firehouse.
The supplies included health kits, tarps, tape, markers, nails, safety glasses, gloves and flashlights — "all the things you don't process but you'll need," Overstreet said.
"The connection works."
On the following Sunday, United Methodists led a community prayer service at the firehouse, and in the ensuing days, church relief teams from the Tennessee Conference cleared roadways, damaged homes and the church site.
Relief teams salvaged a few pews, Bibles, hymnals, a table and a piece of the altar that says "In Remembrance of Me" from the Lutts church, Overstreet said. Members of St. Mark's United Methodist Church in Murfreesboro, Tennessee, helped Lutts' pastor, the Rev. Tommy Flood, cut out part of the church's original floor to include in its future altar.
Nashville Area Bishop Bill McAlilly and his wife, Lynn, visited Lutts on Dec. 31 to thank volunteers and offer support.
"We are strengthened by the prayers, presence, witness and gifts of the church," he said. "While the physical building known as Lutts United Methodist Church has been leveled, the church is very present ministering to the needs of the community."
McAlilly will return to Lutts on Sunday, Jan. 10, to preach at the local firehouse. The congregation plans to continue holding worship services in the firehouse until it can rebuild.
Grief and relief
The day-after-Christmas tornado that hit Rowlett, Texas, also clobbered the nearby city of Garland. The same storm system damaged other areas of North Texas.
The North Texas Conference reported that five of its churches, including First United Methodist of Rowlett and First United Methodist of Garland, had members whose homes were destroyed or damaged.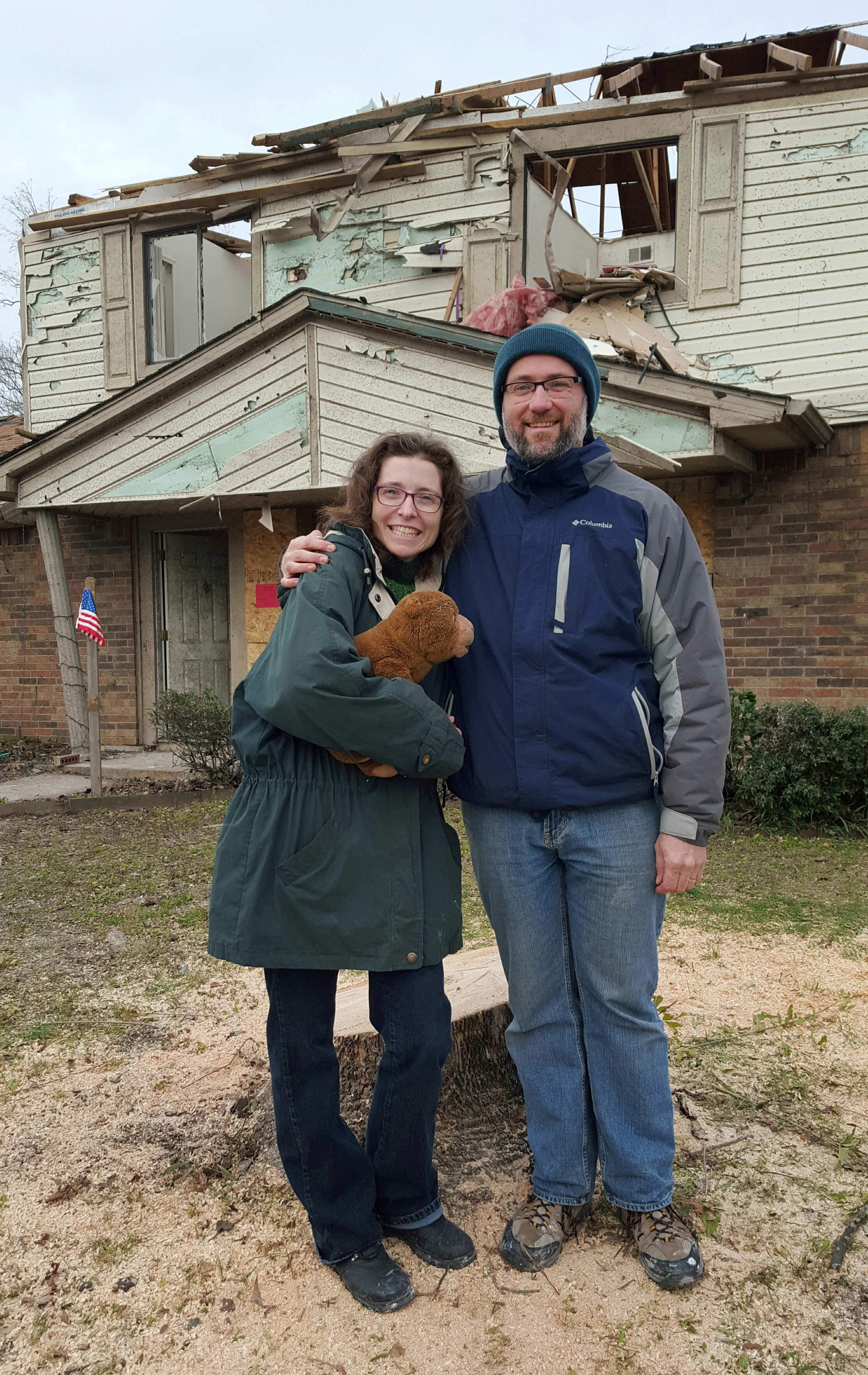 The Rowlett church mourned the death of member Grady Stanley, 95 and a survivor of the World War II Bataan Death march. Stanley, and his wife of 64 years, Jo Ann, were at home when the tornado swept through, knocking down much of the structure around them.
They rode out the blast in a bathroom shower, and then with their son took shelter in a car, finally getting rescued hours later. But Stanley died on Jan. 2.
"He would not have passed away this week if it had not been for the stress of the storm," said Davis.
Among those who attend the Rowlett church and had their homes destroyed was the Rev. Natalya Cherry, a Susquehanna Conference elder who is studying for a doctoral degree at Southern Methodist Church in Dallas.
She and her husband, Paul, an elementary school teacher, were out of town with their 8-year-old son Gregory when the tornado hit. Cherry said Gregory's main concern was the fate of his stuffed toy Bo Bear, which they could not initially find in the rubble.
Eventually neighbor Rick Sarrell, also a member at the Rowlett church, heard about the missing treasure and summoned Natalya Cherry over to his yard.
"Sitting right there on the very edge of the patio is Bo Bear, kind of looking at me like, `What took you so long?'" Cherry said. "I dropped to my knees, clutched that bear so tightly, and thanked God. It's a silly thing but the return of Bo Bear was a huge relief."
Early assistance
One day after the tornado, volunteers gathered at University Park United Methodist Church in Dallas to make 13,000 sandwiches for first responders. First United Methodist of Garland's relief effort, led by the Rev. J. Clay Womack — associate pastor — also was quick off the bat.
"We have a team of retired men called God's Old Geezers, and the day after the storm they were out with their chain saws, helping neighbors," said the Rev. Valarie Englert, pastor of First Garland, which had four families whose houses suffered significant damage.
UMCOR, early response reams from various churches and the Central Texas Conference were all part of early efforts to help people affected by the North Texas storms.
The North Texas Conference is raising relief funds, and planned to do Early Response Team training on Jan. 9 at the Garland church.
North Texas Conference Bishop Michael McKee visited volunteers clearing away debris on Jan. 3, and earlier he promised United Methodists would be part of the recovery for as long as it took.
"This is a marathon," McKee said.
Davis devoted part of her Jan. 3 sermon at First Rowlett to the strong local response to the tornado. Her church's Family Life Center quickly filled with donations.
"I have seen the glory of God, I have seen the light of God, and it is here this week in Rowlett, Texas," Davis said.
Help via flood buckets
Heavy rains that began Christmas day in the Midwest and caused flooding of the Mississippi River have resulted in 25 deaths in Illinois and Missouri, according to news reports.
DONATE TO UMCOR
You can donate to the United Methodist Committee on Relief's disaster response fund online. The Advance number is #901670. 
Manchester United Methodist Church, near St. Louis, has taken a lead role in responding to area flooding. From Dec. 30 through New Year's Day, the church served as a Red Cross emergency shelter as well as a mobile Missouri Humane Society shelter for pets.
Now the church is helping people clean up. More than 75 Manchester church and community members are distributing some 1,300 cleaning buckets that the church received from UMCOR and individual churches. The church's emergency response team also expects to help muck out area homes.
Manchester is just one of the state's United Methodist churches gearing up to help. Dan Steska, the Missouri Conference disaster relief coordinator, reports that the conference plans to deliver 2,000 more cleaning buckets in the next three days.
There have been no reports of damage to church buildings or parsonages in the Missouri Conference, but some church members' homes likely have been harmed, said Fred Koenig, the conference's editor of publications.
Flooding in Galesburg, Illinois, prompted Galesburg First United Methodist Church to open its doors to anyone needing a place to stay, a cup of coffee or a place to charge electronic devices, said Paul Black, director of communication ministries for the Illinois Great Rivers Conference.
The Midwest Mission Distribution Center, an UMCOR affiliate in Chatham, Illinois, has delivered 1,656 flood buckets (also known as cleaning buckets), with requests expected for many more.
The Great Plains Conference is assessing flood damage in Baxter, Kansas. The conference also plans to send an early response team to Texas. The Oklahoma Conference reported that its Egan Camp and Retreat Center, near Tahlequah, Oklahoma, had flooding after Christmas as well.
Hodges, a United Methodist News Service writer, lives in Dallas, and Hahn lives in Nashville, Tenn. Contact them at (615) 742-5470 or [email protected]
---
Like what you're reading? Support the ministry of UM News! Your support ensures the latest denominational news, dynamic stories and informative articles will continue to connect our global community. Make a tax-deductible donation at ResourceUMC.org/GiveUMCom.