Twelve months after the Abuja Area 1 United Methodist Church in Nigeria met federal regulations on construction, the church is facing yet another stiff penalty which includes demolition if the next stage is not completed on time.
"One thing we need is money," said the Rev. Karabi Dahiru Moodi, assistant pastor of the church. He noted that progress on the project has been slow due to the lack of funds.
"The church has 700 to 1,000 members, but most of them are young and have meager incomes, ranging from $50 to $70 a month," he said.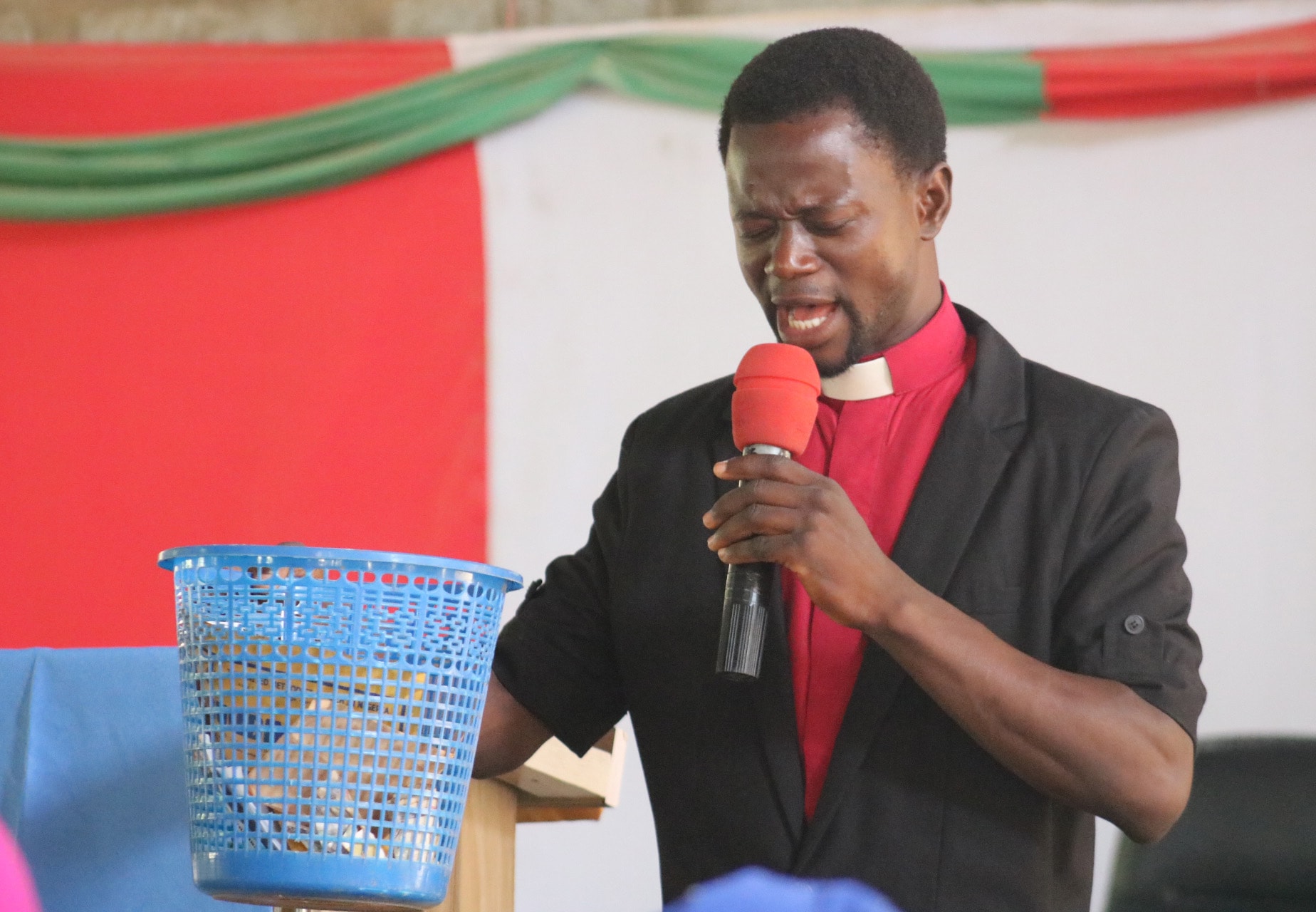 The Rev. Karabi Moodi, associate pastor at Abuja Area 1 United Methodist Church, prays over the Sunday offering on June 2, 2019. Photo by E Julu Swen, UM News.
Bishop John Wesley Yohanna, episcopal leader of the Nigeria Area, said the location of the church makes it crucial to the conference.
"We are hoping they will not demolish the building and that God will help us with funds needed," said Yohanna.
Farouk Salisu, lay leader of Abuja District, said of the Abuja Area 1 United Methodist Church will serve the global church because of its location once completed.
"Other church agencies can use some of the offices in this structure since it is in the capital of Nigeria," he added. "Once we complete the entire structural frame, the imposition of fines will be abolished by the federal government."
Estimated at over 100 million naira or US $278,130 in 2009, the project has spent more money then was projected. The church still needs over 200 million naira or US $556,289 to complete.
"The church has the capacity for funding the ministries of the Northern Nigeria Annual Conference once it is completed," said Akafta Waziri, chairman of the administrative board. He indicated that the building has over 50 offices that can be used to generate funds for the conference.
Yohanna pointed out that the church and its entire membership are counting on their friends in the connection to work out a solution. He said there are four other churches in the Federal Capital Territory, but the location of Abuja Area 1 United Methodist Church makes it important.
Started in 2009, the Abuja 1 United Methodist Church, also known as Done Peter Dabale Memorial United Methodist Church, is the church major presence in the Nigerian capital. "Completing this church will put The United Methodist Church on equal footing with other church and religious institutions within Abuja," Salisu concluded.
Swen is a communicator in Liberia.
News media contact: Vicki Brown, Nashville, Tennessee, (615) 742-5470 or [email protected]. To read more United Methodist news, subscribe to the free Daily or Weekly Digests.