---
Key Points:
Pickett Chapel in Lebanon, Tennessee, is a nearly 200-year-old structure built by slaves as a Methodist church.
A local Black history group now owns the chapel and it is being restored to be a museum and event venue.
A plaque recognizing the building's historic importance was dedicated Feb. 18 in a ceremony during Black History Month.
---
Among the dusty artifacts haphazardly stowed against a wall of the interior of Pickett Chapel is a large sign making a bold statement: "This Place Matters."
It stands out even among other fascinating keepsakes in the 40-by-60-foot building, like the coal stoves once used to heat the building and a segregation-era plaque pointing the way to separate water fountains for Blacks and whites. Up a precarious flight of steps is the balcony where Black worshippers once were allowed to sit while white church members got to be downstairs.
"It's in bad shape, and it's been in worse shape," said the Rev. Ryan Bennett, lead pastor of Lebanon First United Methodist Church, a congregation that traces its origin to Pickett Chapel, which was built nearly 200 years ago by slaves and possibly some freedmen.
"The first time I stepped foot in here, the first image I got was God asking Ezekiel (Ezekiel 37:1-5), 'Can these dry bones live?' And Ezekiel said, 'Only you know that.'
"I believe that God will breathe life into these bones and it will live again and it will provide life for our community again as well," Bennett continued.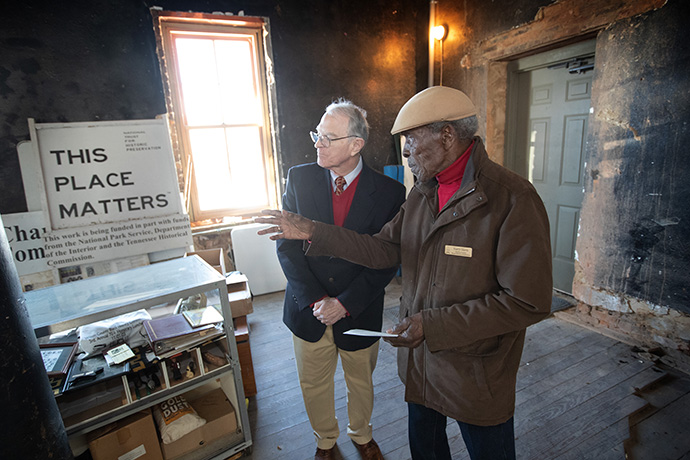 A symbolic milestone in the effort was reached Feb. 18 when some 25 people — including church, county and city officials and the top executive of the United Methodist Commission on Archives and History — gathered on a sunny day during Black History Month to witness the unveiling of a new plaque recognizing Pickett Chapel's status as part of the National Register of Historic Places. The listing happened in 1977 but the plaque is new, funded by the William G. Pomeroy Foundation.
The unveiling was followed by a presentation nearby at The Capitol Theatre that told the story of Pickett Chapel.
"Honoring heritage and telling our stories is incredibly vital to reminding us not only what our mission is, but what our mission should be," said Ashley Boggan, who oversees Archives and History.
"A thing that we all hold in common that brings us back to our common heritage is the properties that we've shared and the faiths that have been nurtured," she said. "Within those properties, the hymns that have been sung and the sermons that have hopefully been heard.
"So spending money and time honoring spaces like this is vitally important to remembering our common heritage and remembering that while we may not always be united, we do have that."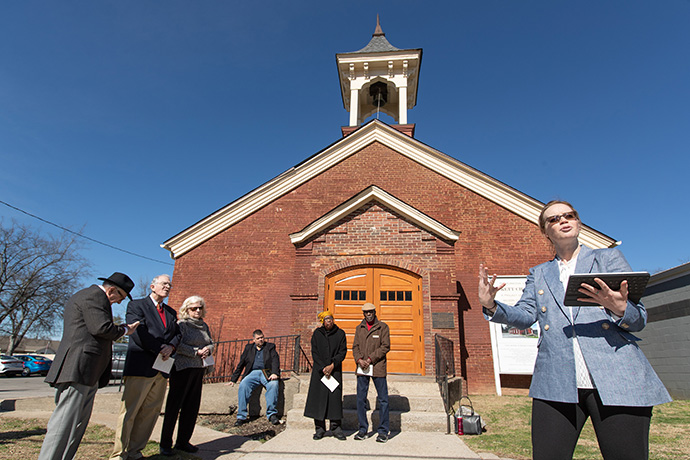 The Wilson County Black History Committee has spent about $200,000 so far to stabilize the building, said Mary Harris, president and chair of the board of the organization. The committee bought Pickett Chapel in 2007 for $65,500, with her and some other members mortgaging their homes to raise some of the cash, she said.
"My husband (Harry) thought I had lost my mind, but he agreed," Mary Harris said. The couple are members of Pickett-Rucker United Methodist Church, the Black congregation derived from the Pickett Chapel-era congregation. They were also married on the grounds of Pickett Chapel.
"My district superintendent and bishop seem to have an interest at this time, so hopefully there might be some funds that can help us get closer to finishing."
To wire the building for electricity, finish the improvements and set up the seating area and museum exhibits will take about an additional $300,000, she said.
"We want it as a community venue for small wedding receptions and ceremonies and workshops and plays," she said. "We want to put things in place for all to enjoy."
If enough donations and grants come in, Harris thinks she could have it up and running in a year.
"We have a National Trust for Historic Preservation grant pending for $100,000," she added. "Hopefully that comes through and we can get a lot done."
According to the Pickett Chapel website, the gothic revival building, first known as simply "the Methodist church," was built and opened in 1827 in Lebanon, about 30 miles east of Nashville. The church, then all white, had been organized in 1812.
"It was built by enslaved people," said the Rev. Vincent Harris, a United Methodist district superintendent in the Texas Conference and son of Harry and Mary Harris. He was not able to travel to Lebanon for the plaque unveiling.
"They actually hewed the stones and the wood for that building," Vincent Harris added.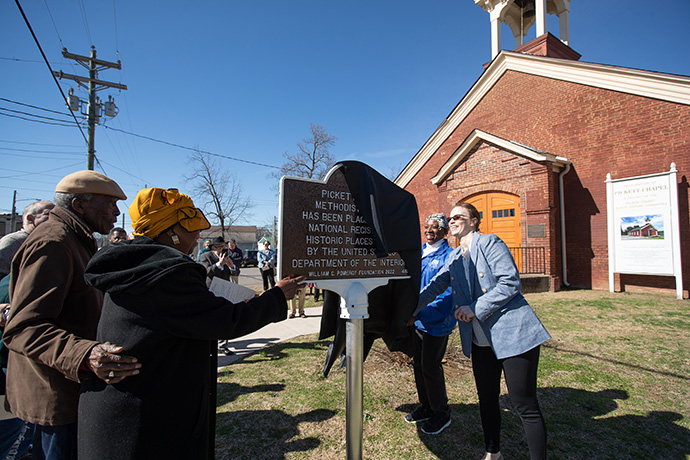 The church was initially named Seay's Chapel after John Seay, who donated the property for it. After it was finished, Blacks and whites both worshipped there, in separate areas in the building.
The white congregation moved to a new building a block away in 1856. Ten years later, the church was sold to 30 freed slaves and renamed Pickett Chapel Methodist Episcopal Church after brothers Calvin and James Pickett, both Methodist preachers, who arranged the purchase.
Pickett Chapel played a role in the civil rights movement in the 1960s as one of the few, if not only, buildings in Lebanon that allowed meetings and training in non-violent resistance.
Subscribe to our
e-newsletter
Like what you're reading and want to see more? Sign up for our free daily and weekly digests of important news and events in the life of The United Methodist Church.
The Black congregation worshipped at the chapel for more than a century before moving to a larger building nearby in 1973. The white and Black churches — Lebanon First United Methodist Church and Pickett-Rucker United Methodist Church, respectively — are still active in Lebanon.
After the Black congregation left, Pickett Chapel was purchased by a couple who planned to house a county history museum there. That didn't happen, but Richard and Virginia Lawler did achieve the building's listing on the National Register of Historic Places. In the 1980s and '90s, Pickett Chapel was used by community theater groups.
By the turn of the century, the vacant building was in bad shape. In 2007, the Wilson County Black History Committee purchased it and began restoration efforts, with assistance from Middle Tennessee State University and the Tennessee Historical Commission.
The proposed museum at Pickett Chapel would span from the 1500s through the election of President Obama, the first Black president.
"It's for this community," Mary Harris said, "and we're hopeful that it will happen."
The churches that evolved out of Pickett Chapel are each half a mile way, in opposite directions.
"I believe that if the white church starts walking toward the Black church and the Black church starts walking toward the white church, physically and metaphorically, and we meet right here in the middle, God will bring revival in our midst and strengthen our community," Bennett said.
"This is a place of unity."
Patterson is a UM News reporter in Nashville, Tennessee. Contact him at 615-742-5470 or [email protected] To read more United Methodist news, subscribe to the free Daily or Weekly Digests.
---
Like what you're reading? Support the ministry of UM News! Your support ensures the latest denominational news, dynamic stories and informative articles will continue to connect our global community. Make a tax-deductible donation at ResourceUMC.org/GiveUMCom.