Shouts of the popular chorus, "He has made me glad. He has made me glad. I will rejoice for he has made me glad...," thundered through huge speakers during the unveiling of the new Wesley United Methodist Church in Pujehun, southern Sierra Leone. It is the first United Methodist church to be built in the Muslim-dominated Pujehun District.
The Freetown-based United Methodist Gospel Band burst into songs of joy and praise after the ribbon-cutting ceremony that officially opened the church on Dec. 11. A march through the streets of Pujehun, supported by two brass bands, preceded the dedication of the $80,000 sanctuary, which brought together hundreds of United Methodists and guests from across the country.
"For a church to infiltrate the heartland of a Muslim community, the occasion deserves a brass band march-past," said Paul Minah, a senior government official and invitee.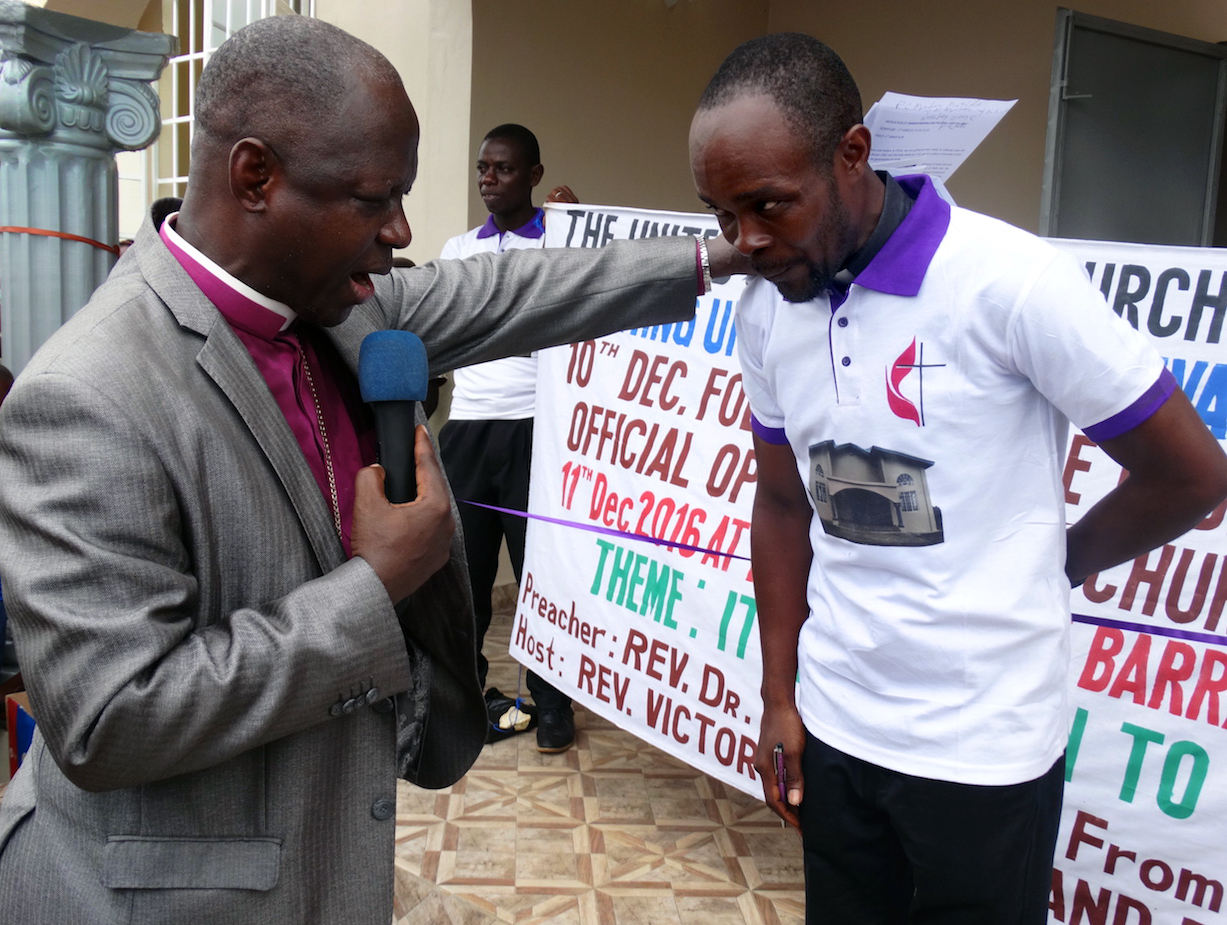 Preaching at the dedication service, Bishop John Yambasu, who leads the Sierra Leone Episcopal Area, appealed to church members.
"We have built this church, but it takes peace and unity to keep the church. If you don't have peace, members, your church will fall apart; if you are not together, the church will scatter; if you do not respect your pastor, the church will scatter," he said. "Live in peace and harmony with one another because the Bible tells us that God is not a God of confusion but a God of order. God dwells where there is peace and order. When you have peace and unity, there is nothing you can ask God that He will not provide."
Christian evangelism in this part of the country can be challenging, said the Rev. Victor Kainboy, pastor in charge at the new church, in an interview with United Methodist News Service.
Kainboy was assigned to Pujehun in 2014 when the conference resolved to open a new mission area. The congregation has been worshipping in a makeshift structure where the average church attendance has grown to 60. He said there was a potential for further growth in the city and the district as a whole.
Asked how he has been able to reach out so successfully in just two years, Kainboy quoted Saint Paul: "To the Jews I became a Jew; to the Gentiles I became a Gentile."
"When I first arrived in Pujehun two years ago, I started visiting people in their homes and selling my vision to them. Some of them I invited to my church and prayed with," he said.
"I have also been sharing gifts as I shared the good news of Jesus Christ with them. Gifts do not have to be expensive or mighty. But they have their own special way of connecting us to people. Gifts show love, concern and also boost self-esteem. And I believe they carry more power when they come from a pastor to, for instance, a family, after a visit and prayer session — just imagine that."
Kainboy's strategy also involved preaching in other denominational churches when invited to do so. He said some of the members of his church are United Methodists in the district who have been worshipping in other churches before but who now feel good to attend their own denominational church. Others are people who have never been to church.
"We have also been engaged in sharing the concerns of the people in the community so that their problems become our problems," Kainboy said. "More young people are coming to the church. The young people want to be seen; they want to be heard; they want people to appreciate their talents. So, when once I see a young person with a potential, I interact with them and invite them to my church. I don't ask them whether they are Muslims or Christians."
Young Muslims have been coming to the church and about four have stayed permanently.
"Once they come, the next stage is involving them in the activities of the church. And some of them have appreciated us for recognizing them. We involve them in music, games. The young people are interested in these things. I give them opportunity to play instruments. They sing and we clap for them and they feel good. I do not pose to be their pastor, but I see them as my brothers and sisters," Kainboy said. 
Kainboy also is a chaplain in the government hospital in Pujehun.
"Because of my role as chaplain and the way I'm encouraging the things young people are interested in, all the nurses in the hospital — mainly young folks — are now members of my church," he said.
There is a very strong interfaith collaboration in Pujehun. Jointly, Muslims and Christians support the health ministry to disseminate health messages.
"During health campaigns like immunization or (the) malaria fight, we mobilize and sensitize people, dismiss denials and urge participation because the people of this country believe in their religious leaders. For instance, during Ebola, people lost confidence in the health sector. But when we reinforced the health messages, the people believed and they participated. Hence, Ebola was short-lived in Pujehun. During immunization programs, the mothers come out with their children when they see us participating because our presence gives them confidence," Kainboy said. 
Jusu is a communicator for The United Methodist Church in Sierra Leone. News media contact: Vicki Brown at (615) 742-5470 or [email protected]
---
Like what you're reading? Support the ministry of UM News! Your support ensures the latest denominational news, dynamic stories and informative articles will continue to connect our global community. Make a tax-deductible donation at ResourceUMC.org/GiveUMCom.