In a journey that took almost 24 hours, Bill Carr braved lashing rain, unforgiving wind and a tree branch-strewn interstate to deliver a truckload of requested relief supplies to people in hurricane-ravaged Mississippi.
Carr, the disaster relief coordinator for the Memphis Annual (regional) Conference, made the trip Aug. 29 - while Hurricane Isaac still was pummeling the state - at the request of the Rev. Wayne Napier, his Mississippi Conference counterpart.
It was an example of The United Methodist Church's connection in action. They were acting in their official capacity as trained disaster relief coordinators.
"While this was a pre-arranged trip, we would never encourage any of our disaster responders to drive into the storm," said the Rev. Tom Hazelwood, the executive in charge of U.S. disaster response for the United Methodist Committee on Relief, the denomination's relief agency.
"This was a pre-arranged delivery of specified supplies that were needed," he added. "That's very different from someone saying, 'Let's get in a car and go.'"
Now, Napier said, the Memphis supplies are filling a desperate need with the failure of the Tangipahoa River dam in Mississippi's Percy Quin State Park. Residents along the river around Kentwood, La., near the Mississippi border, were given 90 minutes to evacuate. The Louisiana Emergency Management Agency told CNN waters were expected to rise to 17 feet.
"God is gooooood. What Bill did yesterday was exactly what we need right now," Napier said by email. "Everything he brought wound up being exactly where we need it in light of this dam failure. Sometimes our little minds work."
Carr, back home in Paducah, Ky., said he simply did what his faith required of him.
"I don't want any accolades; I don't want any 'attaboys,'" he said. "It's just part of the job, and that job is (being) everyday Christian. In my heart, that's what you're supposed to do. When a brother needs, you just supply those needs."
Carr also stressed that he was invited and trained to do what he did. He has served as his conference's disaster relief coordinator since November 2007. Before that, he had 35 years of experience as a firefighter/paramedic.
"Don't just freelance," he said.
Making the voyage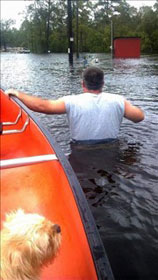 A man wades through flood waters in Mississippi. A web-only photo by Robert Sharp.
Long before the storm made landfall, Carr was in contact with Napier, a longtime friend, to see what he required.
"I told him to call me with what he needed, and he did," Carr said. "He had cleaned out his supplies, and his shelves were bare."
Napier asked Carr to deliver bottled water, hand sanitizer and meals ready to eat - some of which Carr picked up from the United Methodist Neighborhood Centers in Memphis, some of which he bought. Carr also loaned four generators of his own.
Carr said he left his home in Kentucky at about 3 a.m. CT Aug. 29 and did not make it back until about 2:15 a.m. today, Aug. 30. The Memphis Conference encompasses western Tennessee and western Kentucky.
He drove on at a time when state and local officials were warning residents who were riding out the storm to stay indoors.
Along the way, he said no person tried to stop him. But, he said he encountered plenty of obstacles in the form of toppled trees blocking Interstate 55, the state's main north-south corridor.
Fortunately, he had along a chainsaw he was trained to use. "You literally had to have a saw to cut your way through I-55 going and coming."
He made stops in Gallman, Miss., south of state capital Jackson, where he delivered the supplies to a United Methodist warehouse in Camp Wesley Pines, a Mississippi Conference youth camp and retreat center that is serving as a shelter.
He next went to Gulfport, Miss., on the coast, but the storm-battered warehouse there was in no shape to take in the supplies. So, Carr drove back to Gallman on his return trip to drop off his remaining supplies.
"It's more windy coming back than it was going down," Carr told the Memphis Conference office in a call at about 4:30 p.m. CT Aug. 29.
He also noted that the state already was experiencing flooding 100 miles inland from the coast because of the storm surge. He could see water rising in creeks and fields as he drove.
"This is going to be a big storm," he told United Methodist News Service.
Intensifying need
Fifty-two people from the Mississippi Gulf Coast and New Orleans have taken refuge at Camp Wesley Pines, and they are already using the Memphis Conference donations, said Joe Davis, the camp's programming director.
"We lost power during the night, so we are already handing out the bottled water right now," he said.
Later today, the camp will house 46 Entergy employees who will be working to restore power across the region.
Napier said he expects need for aid to grow as Isaac slowly wends a sodden path inland.
At present, meteorologists forecast much of the Midwestern United States, including the Memphis area, will experience heavy rain and could possibly experience tornadoes because of Isaac.
"Pray, assemble cleaning buckets, prepare to help," Napier said. "This work will be widespread and dirty."
The United Methodist Committee on Relief, the denomination's relief agency, already is collecting funds to distribute to the conferences affected by the storm.
"We as United Methodists need to step up and help our brothers who are hurting through UMCOR or your local disaster funds," Carr said.
But, he also sounded a word of caution.
"Do not give things that they don't ask for," he quickly added. "A lot of people give stuff we don't want anymore. That's the wrong attitude. Just give what people are asking for."
*Hahn is a multimedia reporter for United Methodist News Service
News media contact: Heather Hahn (615) 742-5470 or [email protected].
---
Like what you're reading? Support the ministry of UM News! Your support ensures the latest denominational news, dynamic stories and informative articles will continue to connect our global community. Make a tax-deductible donation at ResourceUMC.org/GiveUMCom.