When the Rev. Allen Buck, an ordained elder in the Oklahoma Conference, first heard about Wilshire United Methodist Native American Fellowship in Portland, it was on a list to be closed. It was the last identifiable Native ministry in the Oregon-Idaho Conference.
"The fellowship was just barely hanging on with 12 to 15 people in worship every week. There wasn't any money for a full-time pastor, and it had been struggling for more than a decade," said Buck.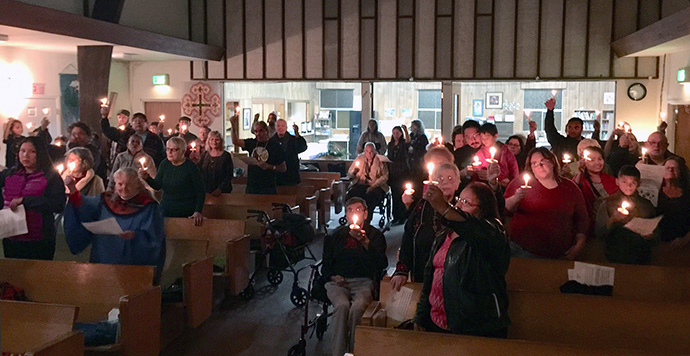 The conference received a Native American Fellowship Grant to launch the ministry in 2005 in partnership with the predominantly white Wilshire United Methodist Church. After years of struggle, the Oregon-Idaho Conference Committee on Native American Ministries asked Bishop Elaine J.W. Stanovsky, episcopal leader of the Greater Northwest Area, to help the Fellowship. 
Stanovsky had worked with Native American communities in the Rocky Mountain Conference. In 2014, she led her conference on an Act of Repentance experience that included a trip to the site of the Sand Creek Massacre to heal relationships with Cheyenne and Arapaho people.
In early 2017, the bishop and conference staff members visited Wilshire Native American Fellowship with the assumption that it was time to shut it down.
"After our meeting with the Fellowship, we reflected that this was the last thread of relationship between the conference and Native communities," Stanovsky said. "We couldn't close it."
Portland has the ninth largest urban Indian population in the United States, according to the 2000 U.S. Census. There are an estimated 58,135 Native Americans in the area, representing 380 tribal affiliations.
Erin Martin, district superintendent of the Columbia District, which includes Portland, said they were unsure of what to do next to support the ministry. Then, she got a call that changed everything. 
"It felt like providence," recalled Martin. "We had been praying for the Native American Fellowship and felt like everything hinged on having a Native pastor." 
Buck, a member of the Cherokee Nation of Oklahoma with a successful track record for building new church starts in the Oklahoma Conference, reached out to Martin looking for opportunities to relocate. He had worked in partnership with the Oklahoma Indian Missionary Conference but had never led a Native church.
"I thought I would put it out there that I wanted to continue to do congregational development and I was encouraged to focus on the west," Buck said.
Martin invited Buck and his wife to visit the Oregon-Idaho Conference.
"It felt like a good fit because the need was so great in the Native community and the conference was willing to take risks and support congregation development," he said.
He and his family moved to Portland in July of 2017. In a little more than six months, the membership of the Fellowship has already doubled.
"Many Natives here are dealing with the side effects of intergenerational trauma. Poverty, incarceration, addiction, abuse all stem from a traumatic history, which included the impact of boarding schools, cultural genocide and Native peoples' removal from their land and identity," said Buck. "There is a lot of healing that needs to be done."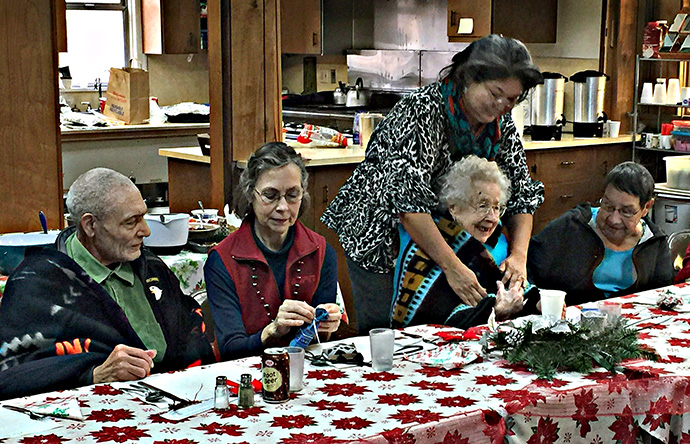 Fellowship members and Buck have been working on the core values of the ministry, emphasizing "connectedness," love, spirituality and tradition. Sunday worship incorporates Native hymns and music followed by a potluck every week.  

"Allen has become a catalyst for ministry here," said Lowell Greathouse, Mission and Ministry coordinator for the Oregon-Idaho Conference. "The congregation really did a lot of the ground work in crafting the vision for the church. Allen brings a layer of authenticity to all of it that is important."
The Fellowship has opened its doors to different Native organizations throughout the week such as the Cherokee Nation and the Red Lodge Group, which helps Native women get back on their feet after incarceration. The church provides a meeting space for some of the groups and works alongside others in ministry.
"I think the growth will continue once we put out there what we are becoming," Buck said.
He said building congregations requires a slow growth model where you find those who are passionate about people and invest in them.
"Native people understand what it takes to be in relationship with others. We are family oriented, respect our elders, and believe in being in service to others," he said.
In addition to pastoring the Fellowship, Buck has taken on the role of a coach for other new church starts in the conference.
"We have dedicated new energy to new church starts in the conference and we are happy to have Rev. Buck's experience to support other pastors in that work," Martin said.
The Wilshire Native Fellowship is currently working to complete its visioning process.
One of the new ministries at the top of its list is Mending Broken Hearts, a culturally-based healing program to help with grief, loss and intergenerational trauma, especially for Native peoples from the United States and Canada. The plan is to start small groups and invite Native people in the area to participate in discussions using the Mending Broken Hearts curriculum.
 "As a full-time pastor, Allen brings a spirit of cohesion into the church," said Ed Edmo, who along with his wife, Carol, has been a member at Wilshire United Methodist Church for 16 years.
"We feel very hopeful having him here," said Carol Edmo. "Oklahoma cannot have him back."
Ginny Underwood is a freelance writer and communication consultant with ties to the Oklahoma Indian Missionary Conference. She is a member of the Comanche Nation of Oklahoma.