NOTE: This is the first of periodic stories following an incoming freshman and a first-time university president through their first school year at a United Methodist-related university.
The first day of school can be an exciting - and stressful - experience for a student at any level. But the same goes for the school's president.
Robert Manuel arrived on the University of Indianapolis campus in July 2012, ready to start his first semester at the helm of a higher education institution. He said his biggest surprise so far is how few surprises he's had.
"The way the university was portrayed to me in the interview process is exactly what I'm experiencing," he said.
Manuel, 44, comes to the United Methodist-related school after various positions at Le Moyne College in Syracuse, N.Y., New York University and Georgetown University in Washington.
On Aug. 22, Manuel helped dozens of other volunteers for Freshman Move-in Day. Well, "helped" may be too strong a word.
"I got on the golf cart, so I didn't actually walk, and they wouldn't let me pick up any boxes. Y'know, I could carry a box, but I'm much better at tactics and strategy," he joked.
Perhaps he didn't spend too much time toting boxes, but he did take the opportunity to speak to as many incoming students as possible. Even leading a student population of 5,500, Manuel feels it's important to forge relationships and eliminate the gap between student and school president.
"The higher up I go in my career, the more important it's been to be with students and understand how they're living," Manuel said. "The size of this institution appealed to me because I think I can continue to manage relationships with students and understand how they experience our life here."
'Why would I go anywhere else?'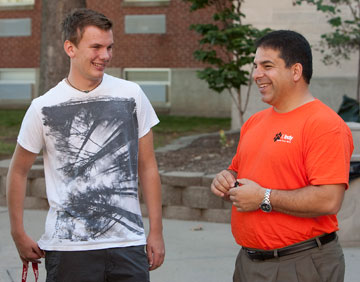 University of Indianapolis freshman Andy Wegg shares a laugh with school president Robert Manuel during the school's Freshman Move-in Day.
One student Manuel found a few minutes to speak with is Andy Wegg, an 18-year-old freshman from Winchester, Ind.
Wegg, who plans to major in musical performance, came to University of Indianapolis - UIndy for short - after having a difficult time applying at a larger state school.
One night, stressed out, he prayed for God to lead him to the right school. The next day, a representative from UIndy came to his high school to meet with seniors.
Because he is United Methodist, Wegg found the school's ties to his denomination appealing. He got further help from the church in the form of scholarships - one funded by U.S. Sen. Richard Lugar, a United Methodist, and a United Methodist Youth Leader scholarship for community service.
Wegg, who has a passion for community service, said the school's motto - "Education for Service" - speaks to him, and he lists a number of service projects he's participated in, from helping at Vacation Bible School to mission trips.
"Every time I visited here, I thought, 'Why would I go anywhere else when I know these people make me happy and treat me right? Why am I trying so hard to get into a big state school when they don't treat me as well?'"
The road ahead
Both Manuel and Wegg are excited by what lies ahead, although Manuel admitted with a laugh that his goal is "a bit wonky."
University of Indianapolis freshman Andy Wegg looks around his dorm room.
"My goal is to understand how the faculty will see their work in 20 years, how the students see their own relevance to their communities in 20 years &ellipsis; and pull the threads together to make a common vision for the place," Manuel said. "To see a model implemented is one of the higher privileges of a job like this."
Wegg has a wealth of possibilities and opportunities, and he looks forward to exploring all of them.
"At one point I felt called to do some kind of music performance, but let's face it: A lot of people dream of music performance. I don't want to become some kind of pop star. I told God, 'I want to use these talents you blessed me with, and I want to use them somehow in your name,'" he said.
"I'm walking in the light of God and it's going to be a blind road at some point."
Follow President Manuel at twitter.com/uindyprez.
*Butler is editor of young adult content at United Methodist Communications.
News media contact: Joey Butler, Nashville, Tenn., (615) 742-5470 or [email protected].
---
Like what you're reading? Support the ministry of UM News! Your support ensures the latest denominational news, dynamic stories and informative articles will continue to connect our global community. Make a tax-deductible donation at ResourceUMC.org/GiveUMCom.