(This is the first part in a four-day series telling the behind-the-scenes story of United Methodist mission workers trapped in the rubble of the Haiti earthquake. Today, day one of a three-part narrative begins with life-changing tests of faith.)
Afternoon, Jan. 14, Port-au-Prince, Haiti
The moments of silence grow more precious.
The six men and women are trapped amid jutting pieces of twisted steel and concrete chunks in the darkness under the rubble of the Hotel Montana. They make peace with their fate.
The Rev. Clinton Rabb no longer attempts to hide his pain. He and the Rev. Sam Dixon, two United Methodist mission leaders, both over 6 feet tall with a combined weight of more than 500 pounds, lie side by side, their feet pinned under a concrete beam. Beside them, the Rev. James Gulley, his limbs free, tries to offer comfort.
The three share 40 square feet of space with two other colleagues, Rick Santos and Ann Varghese of IMA World Heath, a humanitarian group. They have no food or water. They are captive beneath a 3-foot-high ceiling of concrete debris.
On the other side of a wall, a sixth colleague, Sarla Chand, a United Methodist who works with IMA World Heath, sits bloodied and bruised. She can hear and speak to her friends, but she can find no opening wide enough to be comforted by their touch.
The six came to Haiti to find ways to provide medical care to this poverty-stricken Caribbean nation. Now, as days pass into nights with little prospect of rescue, some have begun talking of their own deaths and preparing messages for loved ones.
When they pray together, however, two requests have remained constant from the moment the earthquake struck Jan. 12.
Death & Resurrection in Haiti
This series tells the dramatic stories of the mission workers trapped by the devastating quake that hit Haiti on Jan. 12, 2010.
Other articles in the series
"God, find a way out for us."
And one other prayer of the faithful:
"Take care of the people of Haiti."
Morning, Jan. 12, Hawthorne, N.Y.
His friends describe Rabb as part United Methodist circuit rider, part Wesleyan scholar, part Indiana Jones and part "MacGyver," the laid-back television action hero.
The world traveler is always as eager to develop house churches in Cambodia and Laos or preside at baptisms in Russian prisons as he is to jump on and ride a Genghis Khan warhorse in Mongolia, even if that means falling off and breaking a few ribs.
Rabb, director of mission volunteers for the United Methodist Board of Global Ministries, fell ill during a trip to Cuba the week before the scheduled Haiti mission. He mostly stayed in bed the weekend through the late morning of Jan. 11 with a cold and a high temperature. But he never considered canceling the trip to Haiti.
His last words to his wife this morning before he leaves from his New York home for the airport are, "How do I look?" She replies, "You look good." The Rev. Suzanne Field Rabb cannot tell if her husband hears her yell "Godspeed" before the cab pulls away.
Rabb catches a flight and arrives in Port-au-Prince in time for an evening dinner with five colleagues at the Hotel Montana.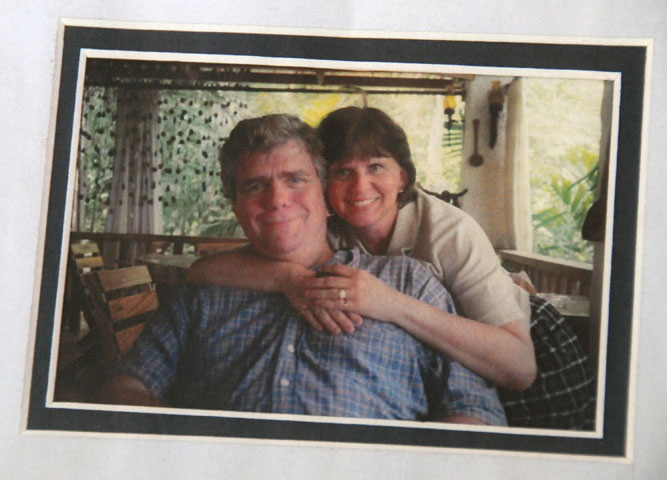 A framed photo of the Revs. Clinton and Suzanne Field Rabb rests on a coffee table at their home in Hawthorne, N.Y. A UMNS photo courtesy of the Rabb family.
The aid workers meet at the Hotel Montana to discuss ways The United Methodist Church and IMA World Health can cooperate to improve health care in Haiti, and in particular strengthen United Methodist clinics in need of supplies and personnel. The dinner also is a much-anticipated reunion for Rabb and Chand, who have not seen each other since they worked together at the United Methodist Board of Global Ministries in 2003.
Striding into the lobby of the Hotel Montana, the mountainous Rabb goes over to Chand, who is more than a foot shorter, and gives her a bear hug.
The six aid workers embrace and greet one another in the lobby of the luxury hotel. With its well-tended gardens surrounding the hotel's signature century-old mahogany tree, this is a refuge on a hill where the distant bright lights of the city provide a sparkling view from the rooftop restaurant.
Just before 5 p.m., the laughter of good friends accompanies Rabb, Dixon, Varghese, Santos and Gulley as they walk along the white marble floor past the registration desk. Chand, a couple of steps behind, finishes sending a message on her Blackberry.
They never make it to the restaurant.
A few miles away in Petit-Goâve, Jean Arnwine, another church-related mission worker, fits glasses on the last of some 130 men, women and children being cared for at a United Methodist eye clinic. This is the second day of her first volunteer mission trip to Haiti, and she is already making plans to return in 2011.
She had asked to join the volunteer team a year earlier, and there was no one Dr. Gary Fish of Texas Retina Associates wanted more than Arnwine to be with him in Haiti. She was an efficient, compassionate person with patients at home, and her grace under pressure was ideal for the chaos of a field clinic in Haiti.
Three seconds later, all of their lives-and the lives of hundreds of thousands of others-will be changed by a natural disaster that challenges the world to respond to the suffering of innocents.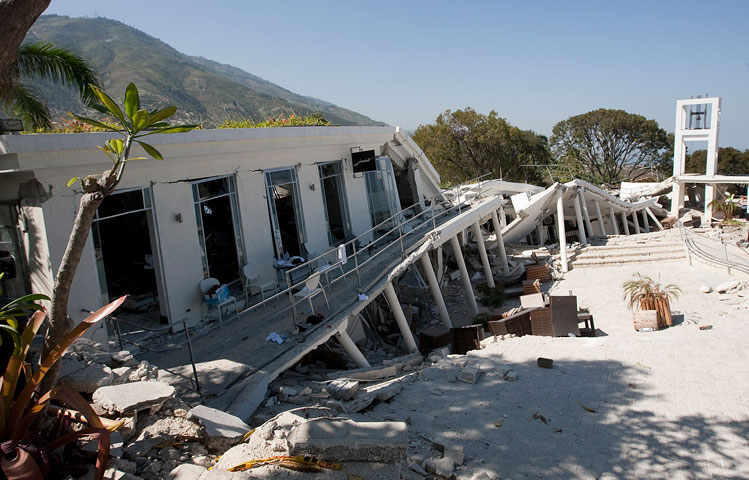 Finally, the stories of the estimated 230,000 people who died in the Haiti earthquake can be told amid the tears of the survivors who stay by their side.
Just before 5 p.m., Jan. 12, Port-au-Prince
"It's an earthquake," Gulley cries out, as the earth moves beneath his feet in the Hotel Montana.
Within seconds, the ceiling and the rest of the hotel come crashing down on Gulley and his five colleagues.
The floor gives way, and they plunge into darkness. The dust from the collapsing debris is so thick it is difficult to breathe.
Dixon says, "My legs are broken." Then Rabb tells them, "My legs are broken, too."
Chand, who had been a couple of steps behind, is hit on the head and thrown forward on her face, ending up alone on the other side of a wall of concrete.
"I may have some broken ribs, but I think I'm OK," she calls out.
They have only a few sticks of gum and a Tootsie Pop for food. A bag with bottled water and energy bars that Chand had with her is crushed under the rubble dividing her from her colleagues.
Rabb and Dixon have serious injuries, and five of the six are sprawled on their sides in a 5-foot-by-8-foot cell, an unstable ceiling of concrete only three feet above them.
But they are all alive. The reception desk created a barrier that prevented them from being crushed. Cooler air filtering in from under the beam alleviates the initial fear they would not have enough oxygen.
Gulley powers up his laptop computer, hoping for another miracle. There is no outside connection.
And the wait begins.
Resources
---
Like what you're reading? Support the ministry of UM News! Your support ensures the latest denominational news, dynamic stories and informative articles will continue to connect our global community. Make a tax-deductible donation at ResourceUMC.org/GiveUMCom.