When I was 11, my parents left my brothers and me at home in St. Petersburg, Fla., in the care of a babysitter, while they attended the 1968 Olympics in Mexico City.
They brought back an official Olympic rings lapel pin and wonderful stories that made me determined to go to an Olympic games one day.
Forty-four years later, I'm on my way to London, having secured tickets for basketball and BMX bike competitions through the United Kingdom's 2012 Olympic ticket lottery. And this time, my British husband and teenage son are going with me.
It turns out many British Methodists are just as excited as I am about the London 2012 Summer Olympic Games.
All along the length and breadth of the United Kingdom, Methodists have been running in the official Olympic torch relay, serving up perfect cups of properly brewed tea to visitors, and presenting official arts events for the year-long "Cultural Olympiad" - a major international festival of arts and culture.
Among those selected to carry the Olympic torch in the North of England was Tom Clayton, a 26-year-old Methodist. The 70-day torch relay, which began May 19, has taken the Olympic flame to communities throughout Britain, providing opportunities for those not living in the capital to feel part of the mostly London-centered Olympic and Paralympic Games.
Torchbearers ranged in age from 12 to 100 and were nominated by local groups and individuals across the country. Each torchbearer runs a 300-meter leg of the relay.
British Methodist torchbearer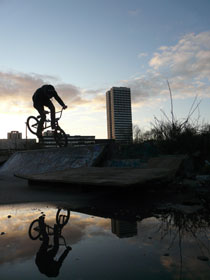 Photographer Mike Jeffries captures an athlete in an extreme bike competition, part of "Playtoon," an Olympics-related cultural event sponsored by The Holy Biscuit.
Clayton was nominated by his pastor, the Rev. Sue Pegg, at St. John's Methodist Church in Market Weighton, East Yorkshire, for his work with local children in the church's Boys Brigade. Similar to the Boy Scouts and Girl Scouts, Boys Brigade is a church-related group that now involves both boys and girls aged 5 to 18.
Four years ago, Clayton's father - a long-time Boys Brigade leader - died unexpectedly. Although only 22 and living more than a three-hour roundtrip drive away, his son took over responsibility for the group.
Membership has now tripled to 70 under Clayton's leadership, and he continues the long commute each week in addition to his full-time job as a teacher. Pegg said Clayton not only has saved the group but also has helped to save the church as well. She credited the rise in church attendance from 20 to as high as 120 on a Sunday morning in large part to his efforts.
When the torch relay came through my community in June, I managed to get my family out the door on a cool early morning to watch. A beaming young woman named Sasha Carter, both a medical student and a star trampoline athlete, ran her leg of the relay to the cheers of schoolchildren and adults waving Union Jack flags. I have to admit getting a genuine and unexpected lump in my throat as she passed by.
We were among the Methodists who joined with other Christians across Britain in welcoming relay runners and the crowds with hospitality stands, prayers marathons, music and other events.
'Great Cream Tea Challenge'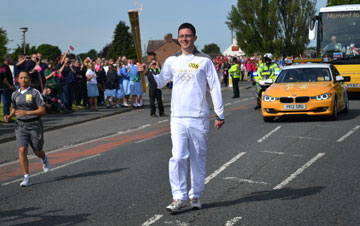 Olympic torchbearer Tom Clayton was nominated for the privileged task by his pastor, the Rev. Sue Pegg, at St. John's Methodist Church in Shieldfield, England. Photo by Mel Pegg.
In Cornwall, where the torch first entered the United Kingdom on its journey from Greece, Methodists took part in a massive regionwide Great Cream Tea Challenge. Cream teas are a Cornish speciality of homemade scones, served with local clotted cream, strawberry jam and butter, accompanied by a "proper cup of tea."
In one day, 10,000 free traditional "cream teas" and prayers were served up to all those who came out to watch the relay.
Cornish Methodists from Escall Chapel in Penzance even organized an open-top "Praise Bus," which has accompanied the torch for the rest of its 10-week journey around the country. The Praise Bus picked up a variety of Christian musicians and bands along the way.
The bus was to arrive in London just in time to join a nationwide three minutes of bell ringing at 8:12 a.m. July 27 to welcome the start of the games.
In the Northumbrian town of Shieldfield, Methodists partnered with a former local biscuit (cookie) factory to produce four of the "exceptional 2,700 projects" chosen for the official yearlong Cultural Olympiad festival.
These projects were created in a community center and exhibition space called "The Holy Biscuit" (formerly Shieldfield Methodist Church) and involved able-bodied and disabled children and young people creating drama, dance, photography and other visual arts about themselves, their history, their culture and their communities. Under the title of "Outside/In," the four projects were presented from May to mid-July.
In Weymouth, on England's south coast, Methodists have been preparing for the Olympic sailing competitions just off shore. Weymouth Bay Methodist Church has become a "hub" in a local campaign called "Refresh" as churches run cafes, conduct open-air worship services, offer concerts, and even set up Bedouin hospitality tents so that those arriving to watch the sailing find "hospitality and a blessing of the gentle healing presence of God, like an Oasis, where there is refreshment."
Inside the Olympic sites around London and surrounding areas, Methodists are also among those serving as "Games Pastors" and involved in many other activities and special events.
There can be no doubt that British Methodists have caught hold of the "once in a lifetime" opportunity the Olympics have opened up and run with it (pun intended) enthusiastically, prayerfully, generously and creatively.
And now, I'm off to continue my own 2012 family Olympic experience. Of course I plan to bring home a 2012 Olympic rings pin so that one day, God willing, I can pass it on, along with several once-in-a-lifetime-stories, to a grandchild.
*LaCamera, a United Methodist pastor, is a healthcare chaplain and journalist who, during the past 25 years, has covered stories in areas of conflict such as Northern Ireland, Bosnia and sub-Sahara Africa.
News media contact: Linda Bloom, New York, (646) 369-3759 or [email protected].
---
Like what you're reading? Support the ministry of UM News! Your support ensures the latest denominational news, dynamic stories and informative articles will continue to connect our global community. Make a tax-deductible donation at ResourceUMC.org/GiveUMCom.