There's never been a better Methodist wordsmith than Charles Wesley, who famously wrote: "Let us unite the two so long divided, knowledge and vital piety."
The enduring Wesleyan Christian commitment to uniting faith and education is vividly on display this week here in Puebla, Mexico, through the once-every-three-years conference of the International Association of Methodist-related Schools, Colleges and Universities.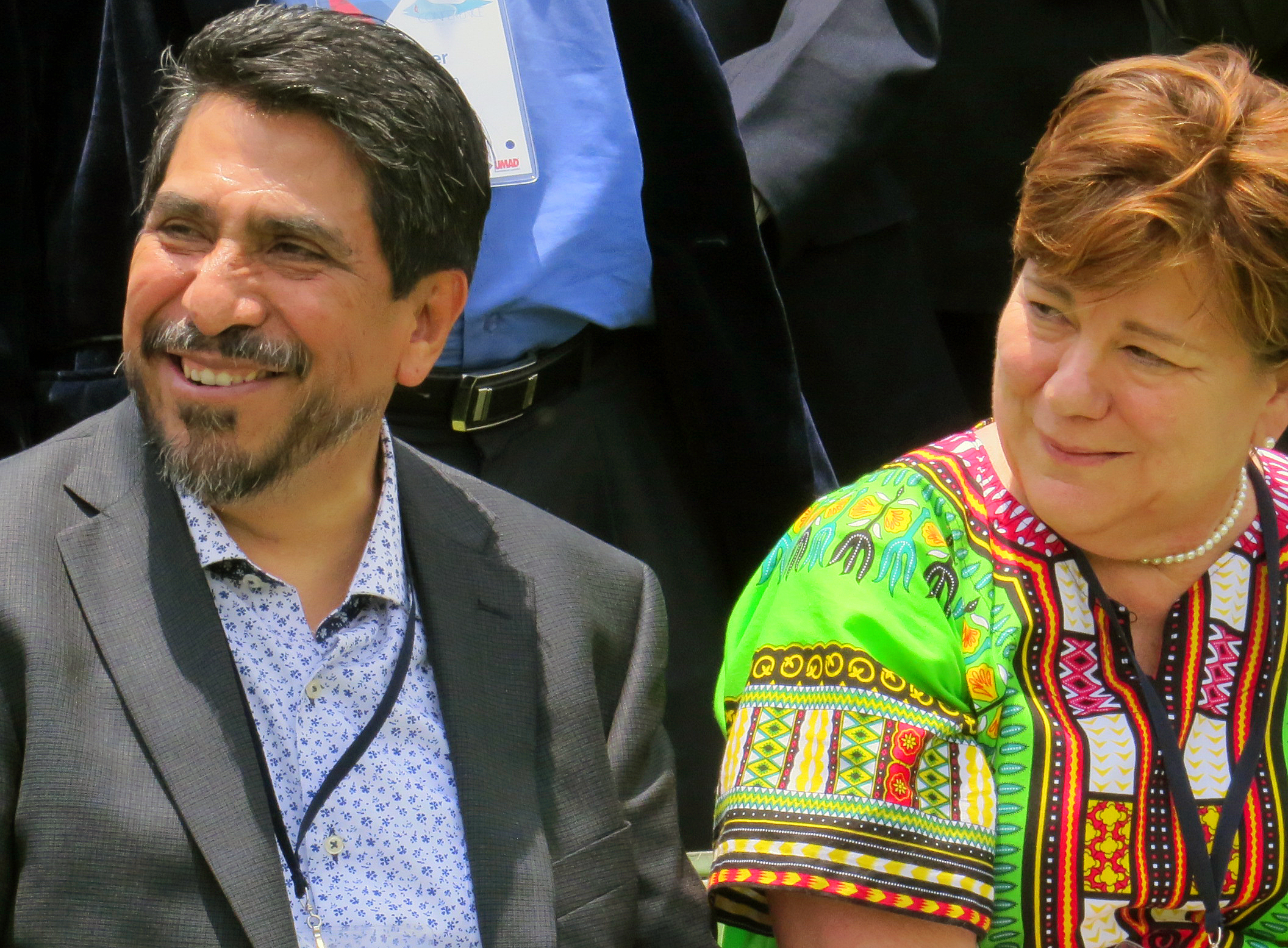 Some 300 representatives from Methodist denominations and educational institutions worldwide are gathered on the campus of Universidad Madero, a Methodist school, for what has become a major recurring pan-Methodist event.
"It brings together people all over the world who are passionate about Methodist education," said the Rev. Kim Cape, top executive of the United Methodist Board of Higher Education and Ministry. "We support each other, we learn from each other, we develop partnerships among the schools."
The Rev. Wilton Odongo came from Kenya, hoping to learn how to develop the United Methodist Bible College in Uganda, where he teaches part time. The Rev. Juan de Dios Peña, president of the Methodist Church in El Salvador, came as well, eager to make contacts and share his excitement about the recent start of the first Methodist children's school in his country.
Three years ago, the Rev. Jane Leach, principal of Wesley House Cambridge, in England, went to the IAMSCU meeting in Hiroshima, Japan. Leach said that trip resulted in important new collaborations with the United Methodist Board of Higher Education and Ministry, and with Africa University, the United Methodist school in Zimbabwe.
Because of that, Leach made sure she was in Puebla — a richly historic, mountain-rimmed city of 3 million in central Mexico —when IAMSCU met again.
IAMSCU leaders remembered
Two longtime leaders of IAMSCU, Amir de Souza Maia and Ted Brown, were remembered at the conference in Puebla.
Maia, a noted Brazilian Methodist educator, died in 2015. He was one of the founders of IAMSCU, and remained deeply involved in its work for years.
IAMSCU has created an award in his honor, and his son, Filipe Maia, a professor at Pacific School of Religion, has been among the presenters at the Puebla conference.
Brown, longtime president of Martin Methodist College, died unexpectedly May 20. He was a past president of IAMSCU, and was scheduled to attend the Puebla conference.
Both men were recognized during the conference's opening ceremony as indispensable to IAMSCU's development and the broader work of building connections between Methodist schools worldwide.
"There's any awful lot of opportunity to make partnerships and discover what synergies there are," the British Methodist clergywoman said.
United Methodist Bishop James Swanson is an IAMSCU board member and another repeat visitor to its big conference. The Mississippi Conference episcopal leader notes that he "stumbled into" global Methodist education work but has come to believe that today's multicultural reality compels church leaders to broaden perspectives and expand relationships well beyond their own groups.
"If you're not a part of that, you can't be a person of influence in a world that you should care deeply about, being a person redeemed by Jesus Christ," Swanson said.
IAMSCU was founded in 1991 at the World Methodist Conference in Singapore. Twenty groups joined in that beginning. Today, IAMSCU claims 1,042 education institutional affiliates, in more than 80 countries.
The United Methodist Board of Higher Education has been a key partner from the beginning, and does much of the organizing and resourcing for the IAMSCU conference
"We're kind of the glue," Cape said.
IAMSCU's Hiroshima meeting focused on peace, reconciliation and human rights. The related theme in Puebla is "Tearing Down Walls: a Pathway to Peace, Healing and Humanity."
It was chosen before the refugee crisis gripping the Middle East and Europe dominated the news, and before President Donald Trump won election promising to build a wall across the U.S.-Mexico border.
Marcio de Moraes said "God was at work" in leading IAMSCU to a theme that would become timely.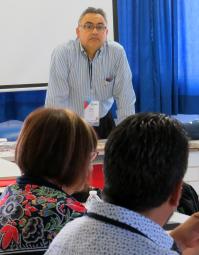 "Unfortunately, we have many walls in the world," said de Moraes, IAMSCU president and dean at Methodist University in São Paulo, Brazil. "We can help to establish new relationships, without walls."
The conference's May 28 opening ceremony celebrated IAMSCU's diversity, including a region-by-region procession by participants in academic regalia, many of them carrying national flags.
"We've come from ʻA,' Angola, to ʻZ,' Zimbabwe," said the Rev. Amos Nascimento, the executive for global education and new initiatives at the Board of Higher Education and Ministry.
Even before the opening ceremony, many participants spent a day attending pre-conference seminars on such subjects as education in the Wesleyan tradition, social justice and international development and peace, reconciliation and conflict resolution.
This is the academic side of an IAMSCU conference, and the Rev. Heecheon Jeon, a district superintendent in The United Methodist Church's Iowa Conference, gave a presentation titled "Liberating Education for the Marginalized: John Wesley and Paulo Freire."
Freire had parallels with Methodism's founder. This, Jeon believes, is particularly seen in Wesley's small group emphasis.
"Everyone could have the opportunity to be leaders. Even the marginalized could be leaders," he said.
IAMSCU builds in time for sight-seeing, and for worship. Attendees packed El Buen Pastor, a Methodist church in Puebla, for a May 28 service where de Moraes preached and Swanson gave the benediction. A day earlier, many from the conference visited a Puebla museum for a guided tour on the Baroque influence on Mexican churches and art, and on famed local pottery known as Talavera.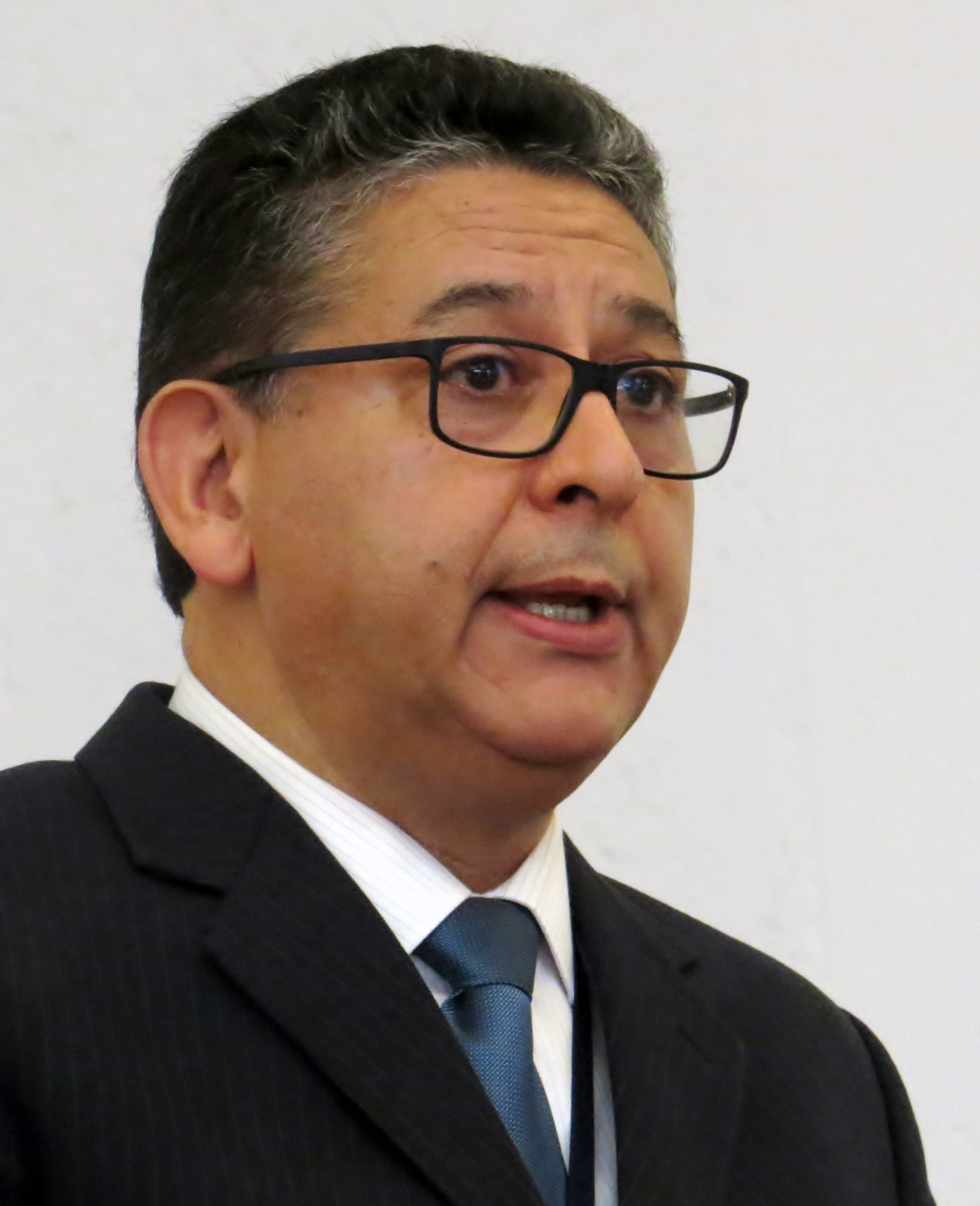 But — as seen in the constant exchange of business cards and the many side meetings and huddled conversations — networking and brainstorming tend to dominate an IAMSCU event.
For example, leaders of Methodist-related theological schools in Latin America have been talking here about how they might work together. They got advice from the Rev. Sam McBratney, president of the Methodist-related Theological Schools in Europe, which has been formally organized for years.
McBratney and Nascimento happened to be riding together on a bus from their hotel to the conference, and Nascimento realized McBratney might be a good informal consultant for the Latin Americans.
"I love the serendipity of that," McBratney said.
McBratney was glad to help the Latin Americans, and he's now thinking that the few, under-resourced Methodists in Portugal might benefit from Portuguese-language theological materials already available in Brazil.
"These sorts of gatherings are always important for what happens in the fringes," McBratney said. "The real work gets done over coffee."
Hodges, a United Methodist News Service writer, lives in Dallas. Contact him at (615) 742-5470 or [email protected]. To read more United Methodist news, subscribe to the free Daily or Weekly Digests.
---
Like what you're reading? Support the ministry of UM News! Your support ensures the latest denominational news, dynamic stories and informative articles will continue to connect our global community. Make a tax-deductible donation at ResourceUMC.org/GiveUMCom.