Editor's note: United Methodist Communications, the global communications agency of The United Methodist Church, is publicizing a message of caring and hope in Boston area media. The denomination also is asking people around the globe to leave prayers for those affected by the attacks in Boston on their Facebook page at facebook.com/unitedmethodistchurch.
Evil struck Monday, but by Tuesday it was clear evil did not have the last word.
United Methodists in Boston and around the globe testified to the ways they saw God in action after two explosions shattered the peace of the Boston Marathon, claiming at least three lives and leaving more than 170 injured.
"In our world, evil is alive and well," said the Rev. Jim Kinder. "The reality is that that one act of evil ... began an onslaught of just the hands and feet of people doing the work of God, right here loving people and caring for people."
The pastor at Christ United Methodist Church in Mobile, Ala., completed the Boston Marathon about an hour before the bombs detonated. It was his first time at the event, which drew participants from 96 countries.
"As soon as I got out of the shower, my phone was lit up with people texting and calling me," he said. "In fact, my senior pastor, (the Rev.) Jeff Spiller, was the first person to text me and asked if I was all right."
He said he could see God at work in the faith community reaching out to check that he was safe. He also witnessed God among the people of Boston.
After the attack, he said, people at the race could not get back to their checked bags, so locals downtown helped people find cabs and even offered strangers places to stay.
"The people of Boston have been incredible," he said. "You walk around in your race jacket, and everybody is really going out of their way."
United Methodist response
Boston Area Bishop Sudarshana Devadhar, who leads the New England Annual (regional) Conference, said in a letter to the conference that the "outpouring of love and support from friends and colleagues in our United Methodist connection has been overwhelming and wonderful."
Even before the bombings, United Methodists around the Boston area were cheering and volunteering along the marathon route.
Union United Methodist Church - about a 10-minute walk from the finish line - opened its sanctuary Monday afternoon to those needing warmth, comfort and prayer, said the church's lead pastor, the Rev. Jay Williams.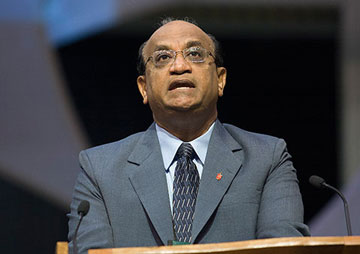 Bishop Sudarshana Devadhar addresses the 2008 United Methodist General Conference in Fort Worth, Texas. Devadhar said in a letter to the New England Annual (regional) Conference following the bombing at the Boston Marathon that the outpouring of love and support from friends and colleagues in our United Methodist connection has been overwhelming and wonderful. UMNS file photos by Mike DuBose.
"Although most of the runners/spectators had left the area, we did receive a handful of folk," he said. "We are in process of coordinating our long-term response now."
Janjay Innis, a student at United Methodist Boston University School of Theology and ministry associate at Union, said the students at the seminary wore running shoes to class on Tuesday as a sign of solidarity with the marathoners. The students also plan to hold a prayer vigil Tuesday night.
Innis plans to join thousands of students from the Boston area universities who will run five miles on Friday to honor those who because of the attacks could not complete the race.
Devadhar noted that on Tuesday night and in the coming days, United Methodist churches around Massachusetts will - like Union - be opening their sanctuaries and offering prayer services.
The bishop told United Methodist News Service that one of the best things people can do to help right now is: "pray, pray, pray."
He urged United Methodists to take comfort in the words of Isaiah 58:9: "Then you will call, and the Lord will answer; you will cry for help, and he will say: Here am I."
Forgiveness and fear
But Devadhar and others acknowledged that people still have questions about how such a tragedy could occur and how people can forgive those responsible.
Germany Area Bishop Rosemarie Wenner, the president of the United Methodist Council of Bishops, issued a statement calling for prayer for God's presence "with the victims, their families, and those who seek to heal the wounded and bring order to chaos." She also called for prayers for the perpetrators.
Ecumenical responses
Ecumenical organizations in the United States and worldwide have issued statements in response to the tragedy.
"Even though we are aghast because of this brutal act of violence, as followers of the crucified and risen Lord Jesus Christ, we do not satisfy our desire for revenge," she said.
It is natural for people to feel fear after these acts of violence, said the Rev. Rebekah Miles, a United Methodist elder and professor of ethics and practical theology at Southern Methodist University's Perkins School of Theology in Dallas.
"But sometimes it's a fear that is exaggerated," she said. Miles knows from experience. When she was 9, she and her family witnessed a terrorist attack during a 1970 trip to the Old City of Jerusalem. Her family was about a block away from the bombing. "I think love is always the response to fear."
Miles said she sees the presence of God's love in the people who ran to help immediately after the explosions. It's worth remembering, she said, that no matter how many people were involved in planning the attack, far more rushed in to provide aid.
Kinder said he also saw God in the sense of community that's followed the tragedy.
"When disaster happens, we just hang up our labels and we come together," Kinder said. "I think that is the work of God in us. It doesn't matter if you are white, black ... Jewish, Christian. That's the Spirit of God that he created in us."
*Hahn is a multimedia news reporter for United Methodist News Service.
News media contact: Heather Hahn, Nashville, Tenn., (615) 742-5470 or [email protected].
---
Like what you're reading? Support the ministry of UM News! Your support ensures the latest denominational news, dynamic stories and informative articles will continue to connect our global community. Make a tax-deductible donation at ResourceUMC.org/GiveUMCom.