May is Mental Health Awareness Month in the United States. Just as Jesus healed people struggling with mental, emotional and physical ailments, United Methodists reach out to their sisters and brothers who seek healing. In this series, United Methodist News Service shares stories of individuals and congregations tackling the challenges of mental health through a variety of ministries.
When he lost his job, "Mark" entered a period of depression. For so long, his career had determined his self worth. Without a job, he didn't know who he was or even if he had any value. With the depression came doubts about his faith, and even thoughts of suicide.
Mark was fortunate because he lived in Vinton County, Ohio, where rural churches and clergy work together to address mental health issues. This Appalachian region of southeastern Ohio is home to about 13,000 people. Vinton County churches collaborate with congregations in three adjoining counties to offer healing and hope in an area that suffers from some of the highest incidences of depression and domestic violence in the state. The effort is called HALO, which stands for Having A Loving Outreach.
Through HALO, volunteers invite individuals, both within and outside of the church, to connect with resources and help. Working cooperatively with local social services and county court systems, HALO volunteers offer a viable alternative to costly mental health services for those who don't require a clinical setting. They provide free caring ministries for those who need support during crises such as divorce, death, domestic violence, disease or depression.
Key laity receive training to become a first line of support. Often, listening ears or helping hands can assist people through a crisis. When volunteers cannot handle a problem, they refer people to the professional services provided by one of three state-certified counselors or a nationally certified counselor. All services are pro-bono. Since HALO's inception, more than 250 people have received its services, and less than 25 percent have required medical or mental health professional services.
Through the intervention of Christian volunteers, "Mark" came to experience God's loving presence, even as he began to rebuild his life and seek new employment.
Mental health options lacking
While HALO serves a rural clientele, many mental health issues are not area-specific. Bipolar disorder can affect anyone - rural, urban or suburban. You'll find people with addiction issues out on the farm and in major metropolitan areas.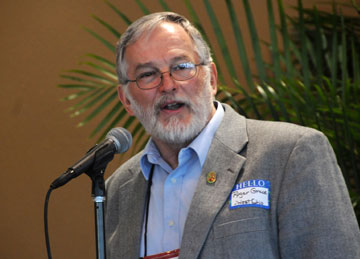 During the 2012 General Conference, The Rev. Roger Grace speaks about issues facing rural churches.
A UMNS photo by John C. Goodwin.
"The rural United States today is a contrast between beauty and desecration, isolation and industrialization, wealth and poverty, power and oppression, freedom and exploitation, abundance and hunger, individualism and dependence." (United Methodist Book of Resolutions 2012, page 464)
And amid these contrasts in rural America, mental health services often come up short, especially in four areas.
Access to services:In many rural communities, mental health providers are scarce. In one remote community in the Dakotas, the only secure place for people threatening suicide was the jail, where their safely could be monitored.
Stigma: Even when mental health services do exist, often the people who most need services refuse to seek help because of the stigma often associated with mental health problems.
Lack of trust: Many who live in rural communities across the United States have a lack of trust in medical doctors generally, and mental health professionals in particular.
Lack of anonymity: If there are only three health-care professionals in a county, everyone knows if a friend or neighbor goes to see one. Therefore, many do not seek the help they need.
When anonymity is hard to come by, people often call upon pastors. As such, clergy must be aware of support groups that meet in and around their communities, and they must be ready to refer people to local hospital emergency rooms. Pastors also need to have strong support groups for themselves, as isolation, depression and other concerns may weigh heavy on them in their ministry.
Resources are available
An estimated 20,000 of the denomination's 33,500 U.S. churches are rural. Rural congregations also are part of the United Methodist global landscape.
Those who live and serve churches in rural, town and country settings have a great opportunity to transform the corner of the world in which they live. Being aware of the challenges, needs and opportunities in mental health services can, and does, make a difference in the lives of God's people.
Here are some suggestions for clergy and church leaders:
Learn locations and costs of mental health services in your community.
Build relationships with mental health providers.
Identify and build relationships with various support groups such as Alcoholics Anonymous, Al-Anon family groups, and Narcotics Anonymous.
Refer. Unless you are a credentialed, licensed counselor, don't try to be one.
Learn what additional resources such as emergency rooms are available in your community and use them.
Address mental health and mental illness issues in sermons when appropriate.
Provide a listening ear. Many issues can be resolved without professional intervention if a caring person is available to talk.
Recruit and train caring laypersons to be available to listen when needs arise.
For information about HALO programs, resources and training materials, contact the Rev. Walt Goble by email or at First United Methodist Church, McArthur, Ohio, 740-596-2749; 740-591-6070 (cell); or 740-698-2341 (Albany United Methodist Church).
This story was first puiblished on May 22, 2013.
*Grace is president of United Methodist Rural Advocates. He lives in Columbus, Ohio.
News media contact: Barbara Dunlap-Berg, Nashville, Tenn. (615) 742-5470 or [email protected].
---
Like what you're reading? Support the ministry of UM News! Your support ensures the latest denominational news, dynamic stories and informative articles will continue to connect our global community. Make a tax-deductible donation at ResourceUMC.org/GiveUMCom.