May is Mental Health Awareness Month in the United States. Just as Jesus healed people struggling with mental, emotional and physical ailments, United Methodists reach out to their sisters and brothers who seek healing. In this series, United Methodist News Service shares stories of individuals and congregations tackling the challenges of mental health through a variety of ministries.
At 23, Dan Magrini was a brilliant student, had lots of friends, a supportive, caring family and was starting college at the school of his choice in a field he loved, creative writing.
He had struggled with migraines that started around the sixth grade. When the migraines got worse in high school, his mother took him to a neurologist and he started receiving treatment that made them manageable.
He was also diagnosed with depression and bipolar disorder but was seeing therapists and specialists that "he just clicked with," said his mother, the Rev. Cheryl Magrini, a United Methodist deacon who also suffers from migraines and bipolar disorder.
In his sophomore year, he told his parents he needed a semester off from the University of Iowa - a mental health break - and moved home. He started seeing two doctors he trusted, Dr. Corey Goldstein and Dr. Chad Owens at Rush Presbyterian Hospital, and began medication that seemed to change his life. He was also part of an outpatient program for young adults with mood disorders that met daily.
His suicide on June 6, 2011, was a shock to his family, friends and his doctors.
"He was starting to turn around; he made new friends and was planning to return to college. We saw none of this coming," his mother said. "The next weekend (after his death) we were going to look for apartments in Iowa.
"My husband says that just shows the insidiousness ... it is horrific. That deep depression is always there. That is what is so difficult for people to understand. There is no cure. Even when a person is feeling better, when life is on track, it's still there."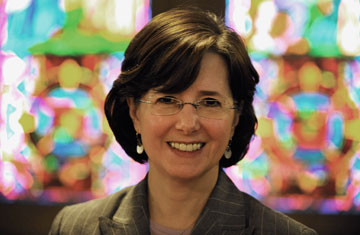 New ministry
Since her son's death, Magrini is working to educate people on the causes of depression and bipolar disorder and to fight the stigma, fear and misunderstanding often associated with a diagnosis of a mental illnesses.
Her family, husband Pete and son John, started a chapter of Depression and Bipolar Support Alliance which meets at First United Methodist at Chicago Temple. In 2011, Bishop Hee-Soo Jung affirmed her appointment as president of the DBSA Chicago Loop chapter. She is also a peer-to-peer certified specialist of the national DBSA organization and has a doctorate degree in Christian education and congregational development from United Methodist Garrett-Evangelical Seminary.
The 2012 United Methodist General Conference, the denomination's top lawmaking body, approved a resolution stating God's love for people with mental disabilities.
"A large part of the ministry of our Lord focused on persons with mental disabilities," the Book of Resolutions 2012 (Paragraph 3301) states. "Such persons are children of God and, therefore, our brothers and sisters within God's family. The full and equal rights of persons with mental disabilities are enshrined in the Social Principles of The United Methodist Church."
Seed planting
On May 3-4, Magrini will be leading a pilot program offering two days of intensive training in mental health ministries for the Northern Illinois Annual (regional) Conference. The workshop will offer training for Mental Health First Aid and the Caring Congregations Ministry.
The Caring Congregations Ministry was developed by the founder of Mental Health Ministries, the Rev. Susan Gregg-Schroder of San Diego. She developed Caring Congregations in consultation with the Rev. Cynthia Abrams, director of Alcohol, Other Addictions & Health Care at the United Board of Church and Society.
Mental Health First Aid USA is managed, operated and disseminated by three organizations: the National Council for Community Behavioral Health Care, the Maryland Department of Health & Mental Hygiene, and the Missouri Dept. of Mental Health.
Magrini hopes this pilot program will be "seed planting" for other United Methodist conferences and churches.
The United Methodist Boards of Church and Society and Global Ministries have created a new resource for local congregations to observe Mental Health Awareness Month in May. The bulletin insert, "Faith & Mental Health - Creating Caring & Sharing Communities," is available free as a download.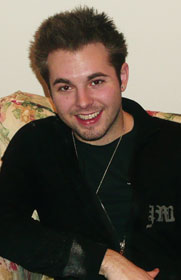 Watch for signs
The Magrini family has taken on a mission of educating and awareness around mood disorders, particularly bipolar disorder, with young adults.
The family was featured in three broadcasts by the Greater Chicago Broadcast Ministries "Different Drummers" television program.
Magrini wants young people and their parents to know "there is no shame in going to see a psychologist."
Parents play such an important role, she said.
It is often hard to detect signs of bipolar disorder in teens because they are naturally going through so many changes.
She said her son Dan had many friends, was always smiling and was a straight-A student. Some of the troubling signs she detected in him were reluctance to go to school and sudden failing grades. But through it all, he was always willing and wanted to get help, she said.
Magrini said her faith is helping her cope and learn to be happy again.
"Parents, don't feel like you failed because you are doing the best a parent can do. But you need to be on top of this, do everything you can to get your (child) to cooperate."
*Gilbert is a multimedia reporter for the young adult content team at United Methodist Communications, Nashville, Tenn.
This story was first published on May 1, 2013.
News media contact: Kathy L. Gilbert, Nashville, Tenn., (615) 742-5470 or [email protected].
---
Like what you're reading? Support the ministry of UM News! Your support ensures the latest denominational news, dynamic stories and informative articles will continue to connect our global community. Make a tax-deductible donation at ResourceUMC.org/GiveUMCom.