Note: This is the second of a six-part series on Meharry Medical College and the work it is doing to end health disparities.
Nkiruka Emeagwali is the right age, race and gender to be in the bull's-eye for HIV/AIDS.
African-American women are 15 times more likely to become infected with HIV. It is not known why that disparity exists, but it is the primary reason Emeagwali is dedicating her life's work to finding a cure.
Emeagwali is a graduate of the Meharry Medical College and is working toward a Ph.D. with a focus on HIV/AIDS research.
"My parents are Nigerian. I was born in New York. It is a problem in Third World countries, particularly in Africa," she said. "During my tenure in the medical field it was deemed the No. 1 killer of black females in my age range. That was pretty alarming. I just felt interested in getting actively involved in trying to find a solution."
Meharry, a historically black United Methodist-related institution in Nashville, Tenn., was an ideal choice for her because the school has a dedicated and talented team of researchers working on the issue, she said
The Center for AIDS Health Disparities Research at Meharry Medical College is funded by the National Institutes of Health. The center's principal goal is to eliminate factors responsible for the disproportionate cases of HIV/AIDS among minority populations in the United States.
More than 20 million people have died of AIDS since its discovery 30 years ago. About 50 percent of those with the disease in the United States are black and about 65 percent of all women infected are black.
Meharry is participating in National Black HIV/AIDS Awareness Day Feb. 7 and holds HIV/AIDS testing on its campus on World AIDS Day.
Dr. Donald J. Alcendor prepares a slide with a sample
of diseased brain tissue at Meharry Medical College in
Nashville, Tenn. Alcendor is a professor at the Center
for AIDS Health Disparities Research at Meharry.
The center is tackling the problem from three areas of focus: biology, behavior, community.
Looking at the biology of HIV/AIDS
Dr. Donald J. Alcendor, one of the HIV/AIDS researchers at Meharry, has been working on a link between the disease and bacterial vaginosis. Black women produce more of the bacteria than other ethnic groups, he explained.
Alcendor is assistant professor in the Center for AIDS Health Disparities Research and an HIV/AIDS investigator. He also has a joint appointment in cancer biology at Vanderbilt University.
"We think a combination of these unusual bacteria populations that take over the normal good bacteria in the vaginal environment and are replaced with abnormal bacteria can support transmission of HIV across the vaginal epithelial that is our hypothesis."
To test that hypothesis Alcendor is recreating "sex in a Petri dish" by combining vaginal and seminal fluid with and without bacterial vaginosis.
Dr. Fernando Villalta is serving as the interim director of the center. Villalta took a leading role in helping to establish the center at Meharry six years ago. Other professors working on research on HIV/AIDS include Dr. Waldemar Popik, Dr. Bindong Liu, and Dr. Xinhong Dong.
Alcendor is working on research to find a cure for AIDS but he is also on a mission to make sure everyone knows the facts about how HIV/AIDS spreads.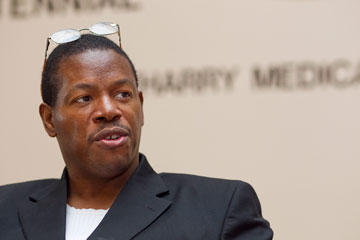 Dr. Donald J. Alcendor is assistant professor in the
Center for AIDS Health Disparities Research at Meharry
Medical College in Nashville, Tenn.
Sending warnings about risky behavior
Alcendor is troubled by a recent report that young African-American males in Tennessee, ages 15 to 24, had a 32 percent increase in new HIV cases from 2005 to 2009.
"Facts about HIV and HIV awareness are well rooted now; to see those kinds of statistics is hard to bear," he said.
The Center for AIDS Health Disparities Research is looking at motivations behind risky behavior-unprotected sex, sex with numerous partners or strangers and sharing of needles for drug use-that make people more vulnerable to the risk of infection.
Teams from Meharry visit high schools in the Nashville area to lecture about the dangers of contracting and spreading the disease. The message they want to get across is "be tested."
On World AIDS Day, Dec. 1, Meharry conducted free HIV testing for the Nashville community. The testing was a collaboration between the college and Project SAVED!, a community outreach program of churches and faith leaders.
Power of community involvement
Project SAVED! was created in October 2009 with a grant from the Centers for Disease Control and Prevention. The purpose of the project is to enlist faith leaders, students and teachers from historically black colleges and universities, health-care providers and community members dedicated to reducing HIV/AIDS.
"We start with people where they are and build on their knowledge about HIV/AIDS," said Ross Fleming III, program coordinator for the project. It starts with the basics, HIV 101, and addresses stigma attached to the disease.
Faith leaders have been important throughout history in civil rights and informing their communities about diseases, Fleming said.
"Faith leaders are in contact with thousands of people every week; they are the people that can get the word out. People will listen to them."
Speaking about HIV from the pulpit can be difficult, Fleming said, but once they have all the facts it becomes easier.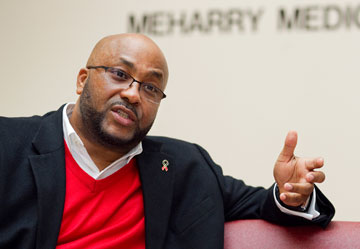 Ross Fleming III is program coordinator for Project SAVED!
(Strengthening Access via Empowerment and Diligence) at
the Center for AIDS Health Disparities Research at Meharry
Medical College in Nashville, Tenn.  
All denominations and faith groups are involved in the project, which is focused on 13 states: Alabama, Arkansas, Georgia, North Carolina, South Carolina, Kentucky, Louisiana, Mississippi, Florida, Texas, Oklahoma, Tennessee and New Mexico.
As a member of Gordon United Methodist Church in Nashville, Fleming said he especially wants United Methodist churches involved.
"People have to know their HIV status," he said. "If you don't know your status you may be spreading the disease. Once you do know, if you are negative, you know how to prevent yourself from getting the disease. If you are positive, you can get treatment."
A recent survey from Kaiser found three of five people know someone who has HIV or has died of AIDS, and one of five Americans has HIV.
"If more African-American men get involved, we could reduce the numbers. We are 13 percent of the population and 46 percent of black women are getting infected," he said. "They are getting the infection from heterosexual men, so where are those men?"
Saving the next generation
Alcendor has a message for parents and other caregivers: "If a teenager is sexually active, it is not the end of the world, but it is the end of abstinence-only conversation."
"The reality is that people are coming into the church pregnant, not married, and I think that needs to be talked about more openly to people at a younger age," Emeagwali said. "Pastors need to be more willing to have those candid discussions with the congregation. It is literally killing the next generation."
United Methodists are actively involved in the AIDS/HIV global crisis. The United Methodist Global AIDS Fund is working toward an HIV/AIDS free world through education, prevention, care and treatment programs for people living with the disease. By donating $20 a month or more to the fund until the year 2020, you can help put a stop to HIV/AIDS in our world.
*Gilbert is a multimedia reporter for the young adult content team at United Methodist Communications, Nashville, Tenn.
News media contact: Kathy L. Gilbert, Nashville, Tenn., (615) 742-5470 or [email protected].
---
Like what you're reading? Support the ministry of UM News! Your support ensures the latest denominational news, dynamic stories and informative articles will continue to connect our global community. Make a tax-deductible donation at ResourceUMC.org/GiveUMCom.