{lv_east_congo_health}
In a matter of seconds, an examination room at Irambo United Methodist Health Clinic is overwhelmed.
Gael Nonge, a 7-year-old girl in a red polka-dot dress, critically ill with malaria, lies on her side, frail arm extended over the edge of the bed. A thin IV line is inserted, the fluid drip bag draped over a rusty nail that is holding up the bag and a malaria treatment poster.
Suddenly, the door swings wide and Margelittle Enanga, an elderly woman with bloody gauze on her head and a wrapped wrist, is ushered into the same bed. Moaning, her body inches away from the child, doctors rush to see to her wounds.
The little girl's mother slowly pushes her way into the crowded room to sit on the bed next to her frightened daughter.
Dr. Damas Lushima, the only doctor at the clinic, said patients seeking medical care often overwhelm the small clinic. Typically, they treat malaria, HIV/AIDs, typhoid and tuberculosis and run a busy maternity ward, he said.
The clinic has seven beds and serves a population of 15,000.
"We operate on about 25 people per month with things like appendicitis," Lushima said. "We have more than 300 patients a month."
Just down the hall, a woman waiting to give birth was quietly writhing with labor pains. Moments before, another woman had delivered her baby in the same bed. Now, that new mother was sitting across the hall, breastfeeding her infant.
Lushima said the maternity ward was full. No private beds here. Some beds hold up to three or more people with various ailments. Infants are in bed with adults and older children with contagious illnesses.
"One more person and they will have to find a place on the floor," he said.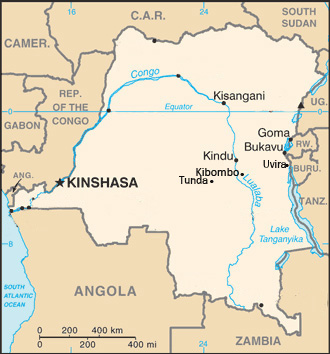 This clinic, part of the United Methodist healthcare system in the East Congo Conference, receives support and financial assistance from the denomination's international campaign Imagine No Malaria and the United Methodist Board of Global Ministries.
The support helps, but it's not enough, Lushima said. "We need more money and more doctors."
Many seeking limited resources
Dr. Claude Watukalus is the supervisor for all the United Methodist health clinics and hospitals in the East Congo Conference. He is also one of the two doctors at United Methodist Hospital Nyamianda in Uvira.
According to the United Methodist Board of Global Ministries, when the East Congo Conference was established in 2012, there were General Hospital of Reference in Maniema Province, known as Tunda Hospital; a Technical Medical Institute for teaching medical students in the town of Tunda, and six health centers: Likeri, Kibombo, Minembe, Lokole, Lubao and the Ongelo Health Post. In Kivu Annual Conference, there was one clinic, the Uvira Clinic. And in the Oriental and Equateur Conference, there was the Mangobo Health Center.
Watukalus said three of the clinics are not operating. A new clinic is under construction in Goma.
"The vision is to enlarge; the challenge is money," Watukalus said. He is trying to start a foundation to add more equipment and beds as well as an X-ray room at the Uvira Hospital.
"We have 34 workers, three doctors, 26 nurses, six administrative workers (in the conference)," he said. Uvira hospital has 44 beds and serves a population of 25,000.
"This hospital has been here for 30 years; it was closed during the war and reopened in 2007," Watukalus said. During the war, everything was stolen, he adds.
Watukalus sits in his dark office crammed to the ceiling with filing cabinets, books and papers. Light filters in from a window behind his desk. He is shuffling Polaroid pictures of some of the recent surgeries.
"One woman gave birth to a baby missing most of his skull," he said, turning up the photo of the newborn.
On his fingers, he counts off all the hospital's departments: pediatric, surgery, internal medicine, women's health, maternity, X-ray, laboratory and chemistry (pharmacy).
When he prepares for surgery, he has to change clothes in his office. Leaning over a small sink in the operating room, water supplied from a large container hooked to a spigot, he demonstrates how they wash their hands before operating.
"It is a problem to sterilize equipment before surgery. There is no power resuscitation pump or machine, no anesthesia," he said.
He also said there is no dental care available.
"This hospital has a good reputation because of its relationship to The United Methodist Church," he said.
"The church can help us expand. We need scholarships for training young people as doctors, nurses and specialists."
Mangobo Health Center
Rain soaked the sunny yellow clinic that was overflowing with mothers trying to hush crying babies unhappy with the being weighed and stuck with needles for vaccinations.
Dr. Charles Shako Shuku said the United Methodist Board of Global Ministries and Imagine No Malaria has given grants to the clinic located in Kisangani.
"We have more patients than mattresses," Shuku said.
The open-air kitchen in between the two rows of hospital rooms is busy with family members cooking meals for their sick loved ones.
Doctors often perform surgeries in a small operating room, just a few feet away from charcoal-fueled cooking pots.
In the daytime and in good weather, the single window in the room supplies light. At night they use "torches or cellphone lights," Shuku said.
A small pharmacy at the clinic is mainly stocked with Quinine for treatment of malaria.
There are no blood transfusions, no refrigeration for storing medicine and no anesthesia.
If a person is beyond the help the clinic can offer, the medical personnel carry the sick person to the state general hospital 1 kilometer (little more than half a mile) away, Shuku said. "They are carried by hand or on bicycles," he explained.
Goma clinic
Men are standing on thin rails two stories high, mixing stucco for the walls of the new Goma health clinic in Karisimbi. It will serve 4,000 including Habyarimana, who lives next door to the clinic and has eight children.
"I am very happy. I used to have to go far away for medical care. This is a great benefit for our lives," he said.
Philippe Kituka Lolonga, communicator with the Kivu Conference, is overseeing the construction of the clinic. He said the population in the village is growing everyday. The free clinic will have city power. It will be staffed by one doctor and eight nurses and will include treatment rooms, a pharmacy, laboratory and toilets.
Funding for this clinic also came from Imagine No Malaria.
The clinic is in an area of Goma that was covered with lava from the 2002 eruption of Mount Nyirangongo, an active volcano. More than 15 percent of Goma was destroyed, and 120,000 people were left homeless. People have rebuilt their homes and business on top of lava rocks.
Vaccination day
Majengo Health Center, a few kilometers from the Goma clinic, was bursting with mothers and babies drawn there by vaccination day. The clinic serves 5,000 families.
Marie Kyah Ngee, the head nurse, said the clinic has received donations from The United Methodist Board of Global Ministries and even had a visit from Bishop Gabriel Unda a few years ago. "He came to see the delivery room," she said.
One of the mothers here praised the clinic.
"I was sick with malaria, and I was treated here, even though I had no money to pay. I could have died. I got treatment, and I am safe today," Lydia Kahambu said, as she bounced her 3-month-old child on her hip.
Healthy looking — and at the moment, smiling — little Flaura Numbere was there for a vaccination.
Gilbert is a multimedia news reporter for United Methodist News Service. Contact her at (615) 742-5470 or [email protected].
---
Like what you're reading? Support the ministry of UM News! Your support ensures the latest denominational news, dynamic stories and informative articles will continue to connect our global community. Make a tax-deductible donation at ResourceUMC.org/GiveUMCom.