Eager young people. Growing numbers of new constituents. Passion and energy for the work of Christ in the world.
These items are high on the list of United Methodist leaders seeking to usher the denomination into a new era.
The Hispanic/Latino community has all of these, and awareness of that fueled a spirit of excitement as members of the denomination's MARCHA caucus began casting a vision this month for their group and The United Methodist Church.
"The church has a responsibility to reach the Hispanic community," said Bishop Elías Galván, executive director of Methodists Associated Representing the Cause of Hispanic Americans. "With the growth of the Hispanic community, I think MARCHA can play a significant role."
The Hispanic/Latino population is expected to more than double from 53.3 million to 128.8 million by 2060, according to the U.S. Census Bureau. The United Methodist Church, with more than 12 million members, has 72,811 Hispanic/Latino lay members, served by 664 clergy in more than 400 churches.
MARCHA focused its annual meeting Aug. 7-10 on an "appreciative inquiry" process that involved assessing the strengths of the Hispanic/Latino church, dreaming about the future and brainstorming around three areas: advocacy, engaging young people and communications.
The group's board of directors will refine the results and develop a strategic plan, which will be presented to the United Methodist Commission on Religion and Race in December. "This strategic document will hopefully bring into a more clear reality the work of MARCHA, which began as a movement in the early 1970s," said President Raúl Alegría. The group needs to continue its advocacy while also identifying other priorities, he said.
Hispanic, Latin America groups reaffirm ties
Leaders of The United Methodist Church's Hispanic/Latino caucus have renewed their longstanding ties with Methodists in Latin America with the signing of a new covenant.
The Aug. 7 signing renews an agreement that entered into 25 years ago with the Council of Evangelical Methodist Churches of Latin America and the Caribbean, or CIEMAL.
When MARCHA was organized in 1971, it began working to build closer contact with the autonomous Methodist churches in Latin America, said Bishop Elías Galván, MARCHA executive director. The Latin American churches wanted to share resources and obtain curriculum. At the same time, CIEMAL wanted a closer relationship with Hispanic churches in The United Methodist Church.
The agreement notes that the organizations share a faith and Wesleyan heritage, as well as cultural and missionary influences. It underscores the importance of proclaiming the word of God and being in solidarity with the poor, with an emphasis on addressing the need for bread, education, justice and human dignity. The groups' message should be directed to the value of human life as a gift from God, the agreement says.
The agreement also reaffirms the importance of the prophetic role of the church and its responsibility to denounce powers that oppress and create unjust situations. It calls on MARCHA to help the churches in the United States understand their responsibility for being prophetic to their own government and to focus attention on how unjust relationships affect economic and political life in Latin America and the Caribbean.
MARCHA and CIEMAL agree to share concerns, do joint programs of training and human promotion, and provide opportunities to participate in assemblies and training events that each produces. At the 2012 General Conference in Tampa, Fla., MARCHA did a briefing for the CIEMAL church representatives to help them navigate the assembly.
Galván also said the Hispanic United Methodist bishops have been active in creating a stronger relationship between CIEMAL and the United Methodist Council of Bishops.
Issues such as immigration reform and addressing domestic violence are important, as well as embracing the denomination's Four Areas of Focus - leadership development, church growth, ministry with people in poverty and global health - and improving the lives of people in The United Methodist Church, he said.
A bridge culture
The Hispanic/Latino church has much to offer the denomination, MARCHA members said.
"I truly believe that our church has the potential to embrace and welcome the Hispanic/Latino community as one of the bridge cultures that can help The United Methodist Church move forward and grow," Alegría said. Many first- and second-generation Hispanic/Latinos are unaware of The United Methodist Church's ability to embrace them as a people and a culture, and in the language group they represent, he said.
However, the denomination must make adjustments and find ways to welcome Hispanic/Latino participation and leadership.
"Is there an openness in The United Methodist Church to accommodate the diversity Hispanics bring in culture, language and styles of worship?" Galván asked.
For example, can the denomination simplify its processes for entering ministry, since the education requirements are difficult for Hispanics to reach? "We are serving a population that is primarily poor, (with) low levels of education," the bishop said. "There is a long ways to go."
As education levels increase, Hispanics will be able to reach those requirements, he said. "We feel the future is bright, but we also need for the church to be open to different ways of doing ministry (today)."
Since 1984, the denomination has had four Hispanic/Latino bishops, two of whom are retired, and it has a limited number of Hispanic/Latino district superintendents, Alegría noted. If the church wants new leadership to come forward, it must provide models in the offices to which people can aspire, he said.
The church is siloed, and it has many systems that Hispanic/Latinos must navigate, said Abel Vega Jr., a MARCHA board member representing the Rio Grande Conference. "The challenge for The United Methodist Church is to be a partner with MARCHA to help unpack" the cultural navigation issues, he said.
'We need each other'
Hispanic/Latinos are fragmented from the Body of Christ within The United Methodist Church, said the Rev. Lorenza Andrade Smith, a San Antonio-based pastor who serves in ministry with the homeless. Hispanic/Latinos want to be united and have the same access and opportunities as others in the denomination, she said. Communications is necessary for that to happen. "If we are not visible through communications, it is as if we do not exist."
Communicating about who MARCHA is and raising awareness of opportunities for young people to get involved are outcomes that Dorlimar Lebron Malave of New York wanted from the planning process. "That is how we can really make change. ... We will be so much stronger if we can come together."
Hispanic/Latino pastors have the experience, wisdom and theological framework for working in different areas, and they have a contribution to make to the church, said the Rev. Rosanna Panizo, of the North Carolina Conference. "We have worked with poor communities, and that is one of our focuses as a denomination." In her state, she said, six out of 10 children in poverty are Latino.
As women and men, Hispanic/Latinos have stories to share - stories that are painful and at times beautiful experiences of deep spirituality, Panizo said. Hispanic/Latino clergy have a practical theology that can inform the church in its mission, she said.
"We need each other across the cultures," said the Rev. Lyda Pierce, a MARCHA board member and coordinator of Hispanic ministries in the Pacific Northwest Conference. United Methodists have an opportunity to create new kinds of culture together, she said, and to gain a better understanding of who God is and what Jesus came to announce.
Young people make voices heard
At 20, Alex Soto has more church leadership experience than many older adults.
Elected vice president of his church youth at age 12, he has moved into other positions since then locally and jurisdictionally. "I got into leadership really young," says Soto, of Waukegan, Ill.
Soto's voice and those of other young adults were prominent at MARCHA's recent meeting.
One of three priorities identified by the group: Engaging young people.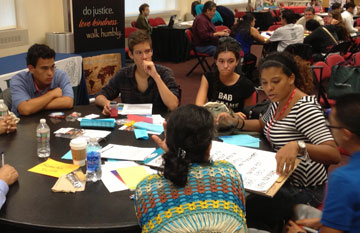 The Rev. Lydia Muñoz of the Eastern Pennsylvania Conference said MARCHA always has focused on involving young people. Most of the members at the meeting, like her, joined as young people, she said. "I came to love The United Methodist Church through this caucus."
Soto, a board member, said MARCHA enables him to meet people from different regions, hear about challenges they are facing and take what he learns back to his regional caucus in Wisconsin and his home church, Union Grove (Wis.) United Methodist Church. "I am one vessel to take in everything I can from MARCHA and bring it home."
The young people raised awareness at this gathering, he said. "What excited me the most ... was we all thought the same thing." They all want to throw the doors open, he said.
His dream for MARCHA is greater youth involvement and control, he said. "If the youth were given the opportunity, they would just blow this place away."
Yolanda M. Santiago Correa, 19, of Arecibo, Puerto Rico, also wants to see more youth involvement and growth. The group can help integrate the many generations of the church and tear down the wall that separates youth from adults, she said.
The young people want "to make the older generations understand that we are Methodist and we will not forget our roots, but the church has to change," she said.
Young people need to help renew the mindset of the church, she said, "so that the older generations can understand where we are coming from ... and we can slowly walk with the adult generations to a new church that is more renewed, filled with the Spirit and prepared to deal with the world that we are living in right now."
*Tanton is executive director of content for United Methodist Communications and United Methodist News Service.
News media contact: Tim Tanton, Nashville, Tenn., (615) 742-5470 or [email protected].
---
Like what you're reading? Support the ministry of UM News! Your support ensures the latest denominational news, dynamic stories and informative articles will continue to connect our global community. Make a tax-deductible donation at ResourceUMC.org/GiveUMCom.