It was 9 a.m. Tuesday, July 31, 2012. From my bedroom, I heard a thud in the sitting room.
I rushed out of the bedroom to find Phileas Jusu Jr., my 9-year-old son, convulsing. He was violently wriggling on the floor, hitting chairs, tables and everything within reach; his eyes turned grey as he struggled to breathe. With all my strength, I yelled, "Junior! Junior! Junior! Can you hear me?" He did not respond.
Almost weeping, I snatched him from the floor and rushed him outside. Immediately, neighbors surrounded me, attempting to rescue the situation in different ways.
Pastor Sony, my neighbor, rained prayers as he seized the boy from my grip. "Father God, take control! I come against every demonic attack on this boy's life in Jesus' name."
Lebbie, Gandi and other neighbors quickly gathered my family and drove us to King Harman Road Hospital in western Freetown. At the hospital, Junior was diagnosed with acute malaria and immediately admitted.
Junior, as he is commonly known at home, had arrived the previous day from a weeklong United Methodist Children's Camp in Kenema, eastern Sierra Leone. He complained of a headache; I felt his head and it was warm.
The next morning, I gave him some malaria tablets - as is usually done in our heavily malaria-prone country - and observed him for a while. He eventually dozed off on the couch, giving me the impression that he was getting better. Though I had dressed to go to work, I decided to stay home for a few hours to observe his condition.
I came out two times to observe him and began to feel that the fever was gone for good since he seemed to be fast asleep. I eventually fell asleep myself before being suddenly awakened by his fall.
'He'll make it in Jesus' name'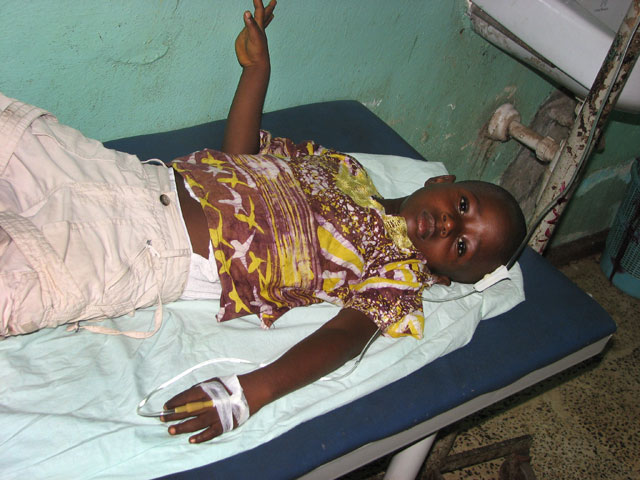 I am a member of the Imagine No Malaria team of the United Methodist's arm to fight malaria in my annual conference. My job requires extensive travel, most times into very remote parts of the country as we provide education, treatment and health facilities for needy communities. But occasionally, my work is interrupted as family, too, is affected by the disease.
In 2010, Peter, my younger son, was hit by malaria when I was in the thick of a nationwide malaria campaign in Bo, southern Sierra Leone. At that time, I had to balance my job and attending to an ill son. When Junior was stricken, I was supposed to meet other colleagues to finish plans to travel to Mondema, a remote village in the Kenema District. The United Methodist Health Center there has been in disuse for more than 15 years since the Sierra Leone civil war ended, but the annual conference health board is in the process of reopening the facility to deal with the high rate of malaria and maternal mortality rate in the community.
I called the office to inform my colleagues about the emergency. They sympathized with my situation, and the meeting went on without me.
At the hospital, one of the nurses gave me a prescription for Junior's treatment with the urge that I must buy the medication immediately. I rushed to the hospital pharmacy to get the prescribed drugs. Several thoughts raced through my mind: What if he doesn't make it? What will my life be without the boy? But another thought quickly erased all of that: He'll make it in Jesus' name!
As a news writer, I have experienced parents and relatives of malaria-infected patients in the past telling me their stories of how excruciating it feels when loved ones are infected or die of the illness. But it is totally a different feeling to be the one going through the experience. This particular incidence has helped me to understand better the emotion of the people I have met in the fields in my role as a church communicator and a member of my conference's team to fight the disease.
As Junior was being discharged from the hospital, Peter began showing symptoms of malaria infection. He had refused food for the whole day and sat resting his head on the table. It was already getting dark, but I wanted to do all I could to avoid the Junior experience, so I rushed Peter to a nearby health center. I resolve that no more will my children attend a camp in the provinces if no malaria preventive care is taken.
Better understanding
The doctor told me 20 hours after Junior was admitted that if we had not acted quickly, it would have been fatal. As my children recovered, I reflected more on families in remote communities that are less fortunate. After all, I live less than two kilometers (about 1.2 miles) from the hospital. While my children regain their health, dozens of other children are dying in communities that are not blessed with similar resources. I also recalled the indescribable devastation I felt as I watched my son wriggle on the floor.
I am now writing a project that will fund a bed-net supply to the United Methodist Children's ministry. If approved, the ministry will use the nets at every year's camp and will keep them at the end of program to be used the next year. This way, malaria infection at each year's camp will be considerably minimized.
Join the fight
Imagine No Malaria: A world of people unified in the fight against a needless killer.
We eventually made the journey to Mondema the following week to assess the health center renovation needs and sketch out the cost involved.
We noticed that a makeshift government health center had recently been opened in the village, but local staff said that regular supply of basic drugs to the health center remains a challenge. On the day of our arrival, there was no anti-malaria drug in the center - they ran out the month before our arrival. Reopening the United Methodist health center can improve on the provision of health services in the community.
Upon my return, I discovered that Junior was still weak and emaciated as a result of the heavy dose of drugs administered to him to save his life. I am troubled by his look, but I now have a more informed reality of the devastation malaria can mean to a family directly affected by the disease.
*Jusu is a communicator for The United Methodist Church in Sierra Leone.
News media contact: Joey Butler, Nashville, Tenn., (615) 742-5470 or [email protected].
---
Like what you're reading? Support the ministry of UM News! Your support ensures the latest denominational news, dynamic stories and informative articles will continue to connect our global community. Make a tax-deductible donation at ResourceUMC.org/GiveUMCom.