The Rev. Joseph Lowery preaches at Cascade United Methodist Church in Atlanta on Feb. 13th, the day and place of the launching of his first book, "Singing the Lord's Song in a Strange Land." Photo by Kathy L. Gilbert, UM News.
As he celebrates his 90th birthday, civil rights icon the Rev. Joseph Lowery said his thoughts are occupied by the blessings he has had over the past nine decades.
"I got to see so much, got to experience so much," he said. "In 1965, for example, when we got the Voting Rights Act passed, we used to talk about whether we would live to see a black president. Martin and I decided we wouldn't — that there would be one — but we wouldn't live to see it.
"Martin didn't, but God has blessed me to not only live to see it, but (also) to be in the inauguration of our first African-American president."
In an interview with United Methodist News Service, Lowery talked about his faith, dreams and blessings. He turned 90 on Oct. 6, and there will be a birthday celebration Oct. 9 at the Atlanta Symphony Hall featuring performances from Stevie Wonder, Jennifer Holliday, Cicely Tyson and others.
In the beginning
When the Montgomery Bus Boycott began, Lowery was a pastor at Warren Street United Methodist Church in Mobile, Ala., serving as president of the Interdenominational Ministerial Alliance. He met the Rev. Martin Luther King Jr., in the mid-1950s when they both spoke at a meeting in Montgomery.
In his book, "Singing the Lord's Song in a Strange Land," Lowery said the two developed a friendship that lasted until King was shot on April 4, 1968.
King in Montgomery, Lowery in Mobile and Fred Shuttlesworth, leader of the Alabama Christian Movement for Human Rights in Birmingham, met regularly to "communicate, cooperate and commiserate." Those meetings were the beginning of the Southern Christian Leadership Conference. Shuttlesworth, 89, died Oct. 5.
"We were no longer content to just preach about making heaven our home, but felt called to make our homes here heavenly," he writes.
Lowery served as president and chief executive officer of the SCLC from 1977 to 1998.
King named Lowery chair of the delegation delivering the demands of the Selma-to-Montgomery March to Gov. George Wallace in 1965. Wallace ordered troopers to beat the marchers in what came to be known as Bloody Sunday. In 1995, as Lowery led the 30th anniversary re-enactment of that day, Wallace apologized to him.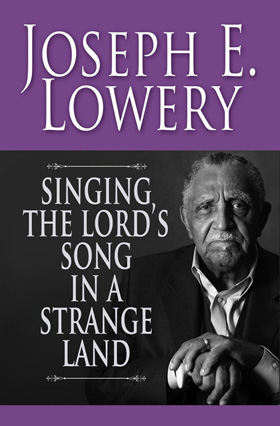 Cover of "Singing the Lord's Song in a Strange Land" by the Rev. Joseph Lowery. Book cover courtesy of Abingdon Press.
Lowery gave the benediction at the inauguration of President Barack Obama on Jan. 20, 2009.
Lowery served as delegate to three Methodist General Conferences, the denomination's top lawmaking body, in 1964, 1966 and 1968. In a historic session in 1966, he was elected to serve as presiding officer of the 1966 Annual (regional) Conference in Birmingham.
In 2009, he received the Presidential Medal of Freedom, the nation's highest honor for a civilian. Lowery said he was especially honored to be in President Obama's "first class" of award recipients.
In 2011, Abingdon Press published "Singing the Lord's Song in a Strange Land." The Joseph E. Lowery Institute for Justice and Human Rights is at Clark Atlanta University, one of the denomination's 11 historically black universities. The mission of the institute is to teach the principles that underlie nonviolent advocacy.
As he approaches his 90th birthday, Lowery continues to speak out for justice.
**************************
Q: How has your faith shaped the nine tumultuous decades of life you have lived?
A: Without my faith, I would have been lost at sea. It is my faith in a loving God that has sustained me through all these years. God promised to stay with me and deliver me from evil, trials and tribulations. God gave me the strength – if I couldn't avoid them – to endure them. I have always felt, in the most dangerous of situations, that God has always been with me, that faith has been a source of strength.
We humans always call on God in the eye of trial even if we don't think about it when things are running smoothly. My faith has served me well in that it has reminded me when there were moments of peril that God was with me. His rod and his staff would comfort me. I am grateful for that; I am a child of faith.
Q: What brought you to The United Methodist Church?
A: Jesus – who do you think? I grew up in the church. I lived in Huntsville, Ala. The back of my house faced a vacant lot that extended to the next street, and the church was on that street. So I walked through two vacant lots – fields, really – to get to the church. The church has always been a part of my life. My mother was active; my father was active; so I guess the Lord through my parents nurtured me into the church.
Read more, watch video
Q: Are you proud of The United Methodist Church for its voice on justice among other things?
A: In terms of the general church at the denominational level, I think the church has been a leader, vanguard in the struggle for improving human relations, for seeking justice. At the local level, that is a different question. At the national level and international level, I think The United Methodist Church has served the Lord.
Q: President Barack Obama quoted you in the Sept. 24 address to the Congressional Black Caucus from remarks he heard you give in 2007 at the annual commemoration of Bloody Sunday in Selma. In those remarks, you talked about "good crazy" and "bad crazy." What did you think when you heard him refer to those words?
A: I was sitting behind the stage (at the Congressional Black Caucus) waiting to go on and get my award. I am considering whether to send him a bill or not.
When I first preached that, he was present. I heard he was going to speak at Brown's Chapel. I had not heard him in that context; I heard him speak in Boston, but I never heard him speak at Selma. Speaking in Boston and speaking in Selma for an African-American politician or preacher are two different things, and I wanted to hear him in Selma.
When I walked in, the bishop who was presiding called me up to the pulpit and had me say a word before the senator (Obama) spoke. I said I came over here because I heard there were some crazy people talking about a black president, and I decided I wanted to check him out. I went on to talk about bad cholesterol and good cholesterol, and I said it was the same thing with crazy. That was the first time I had made those remarks, and he was sitting there. So he remembered.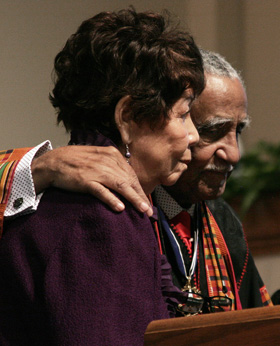 Evelyn and Joseph Lowery, married for 60 years, have been honored for their years of dedication to civil rights. Photo by Kathy L. Gilbert, UM News.
Q: How is your health? How are you feeling?
A: I am proud of the fact that I am going to be 90 on Thursday (Oct. 6); I looked at the alternative and didn't find it very attractive. I had a stroke in 2010 that left my right foot and right leg a little disabled, but beyond that, I am doing very well. The Lord is good. I have cut back on my schedule – my wife doesn't think I have, but I have. I don't travel as much, although in the last month I have been to Washington twice and Indiana once. Doesn't sound like I have cut down much, but I have. Other than going back to Washington for the celebration of King's monument, I have not accepted another engagement for the rest of the year.
Q: What is your opinion of the country at the moment?
A: I am sad. We just came through a beautiful period with Barack's election. I stood on the Capitol steps for the inauguration and heard Martin's voice while I was up there, summoning the nation to climb up out of the pits of color and race to the higher ground of content of character. And here we are, a couple of years later, trying to turn back the clock.
I am saddened by the fact that there are people in the country who would see the country suffer in order to achieve their goal of making Barack a one-term president. They were caught with their mouths open when he was elected; I don't think they expected it to happen. But they are determined now it is not going to repeat. I am saddened that much of that is not on the recession, not on the deficit, not on the lack of jobs – it is on race. I don't care what they say; it is on race. It is sad when I thought we had turned the page.
Q: Are you hopeful the country will pull out of the recession and elect Obama to another term in office?
A: I am hoping that we are going to come to ourselves like the prodigal son came to himself. I am hoping the nation will come to itself before the election and say I am not going to risk economic tragedy for my nation for the sake of a political goal and they will recognize Obama is the best thing to fight this economic recession.
**************************
Lowery said he is looking forward to the celebration at the symphony hall and is grateful for his 90 years of life.
"There is so much I would not have experienced if I had gone on earlier," he said. "I am just blessed. That is what occupies my thoughts more than anything else."
*Gilbert is a news writer for United Methodoist News Service. Contact her at (615) 742-5470 or [email protected]. To read more United Methodist news, subscribe to the free Daily or Weekly Digests.
---
Like what you're reading? Support the ministry of UM News! Your support ensures the latest denominational news, dynamic stories and informative articles will continue to connect our global community. Make a tax-deductible donation at ResourceUMC.org/GiveUMCom.