For 10 hot summer weeks in 1964, more than 700 student volunteers from across the United States joined hands with African Americans in Mississippi. Together, they helped shatter the foundation of white supremacy and change American history.
Among that courageous group were many young United Methodist men and women who are now leaders both in the church and in the world.
Even some of those who did not go to Mississippi had their lives transformed and said the historic struggle set a course for the rest of their lives.
United Methodist News Service collected reflections from church, political and educational leaders.
Hear what some of them had to say: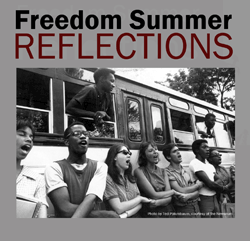 The Rev. Fred Morris was a United Methodist missionary candidate from Stony Point, New York, in 1963. He and other missionary candidates were preparing to go to Brazil. First, they chartered a bus and headed to the March on Washington, where they heard Dr. Martin Luther King Jr. speak.
"I happened to be standing about 40 feet from the lectern from which the speeches of the day were made," Morris recalled. "Dr. King's 'I have a dream' speech touched me as it did millions of other who heard it in person or on TV. His dream has inspired me in my ministry from that day to this."
Morris worked in Brazil with Catholic Archbishop Dom Helder Camara in Recife, in the impoverished northeastern region of that country. He was tortured and detained by the military because of his close ties to Camara. In 2008, Morris received compensation and a formal request for forgiveness for his torture.
He recently was appointed to a new faith community in North Hills, a community in Los Angeles. There, he is working with people from Central America.
Retired bishop
Retired Bishop C. Joseph Sprague was a seminary student at The Methodist Theological School in Ohio when he was asked to join a small delegation heading to Mississippi in 1964.
"Across the years, when at times [I was] demonized for active involvement in controversial justice movements, colleagues have asked, 'How did you get the way you are? Why do you do the things you do?'
"My stammering response, always incomplete, invariably includes a reference to Freedom Summer, 1964 and the dream of the Kingdom, present and coming, which was made visible by those gallant voices and gorgeous faces I was privileged to hear and see 50 long years ago."
Lifelong involvement in justice issues
The Rev. Phyllis Tyler, a retired ordained elder from the California Pacific Annual (regional) Conference, said her mission and passion — honed early in her life by the United Methodist parents who adopted her — led to a lifelong involvement in justice issues.
"My Selma-Montgomery march with Dr. King was part of the birth of my passion for justice and respect. The summer of 1964 incubated my heart and soul for getting in 'holy trouble' all my life," she said.
The Rev. George D. McClain said Freedom Summer "was the shock treatment beginning of my real-world theological education."
McClain is director emeritus, Methodist Federation for Social Action, and an adjunct faculty at New York Theological Seminary, The College of New Jersey.
"In Mississippi, I learned more deeply what 'church' is: gathering to pray and sing, to hear the Word and renew one's hope, to nurse one's wounds from the struggle, and to again take up the cross for a new reality."
Freedom schools
Schools led by the young volunteers who helped African-American children in Mississippi close the gap in their education caused by segregated schools were one big part of Freedom Summer.
Dorothy V. Smith, dean, College of General Studies, Dillard University in New Orleans, attended a Freedom School at St. Paul's C.M.E. Church in McComb, Mississippi.
"Freedom School was like no other school I had attended," she remembered.
"I did not receive grades on any work, but I worked as hard as I had worked in regular school. That summer opened a whole new arena of learning and life for me. When I returned to regular school after Freedom School, I was more determined than ever to become a teacher who taught black students about our history."
Smith teaches history classes and uses her experience from that summer.
"Today, as I prepare lecturers for my history classes at Dillard University, I often journey in memory to my regular school and to Freedom School, each time saying thanks to my teachers for allowing me to become what I wanted to become."
Read more reflections at Freedom Summer.
Gilbert is a multimedia reporter for United Methodist News Service. Contact her at (615)742-5470 or [email protected].
---
Like what you're reading? Support the ministry of UM News! Your support ensures the latest denominational news, dynamic stories and informative articles will continue to connect our global community. Make a tax-deductible donation at ResourceUMC.org/GiveUMCom.