The usually busy and chaotic streets were virtually empty, creating an eerie ghost city. Friday was Day One of the nationwide three-day lockdown – a desperate effort to stop the deadly Ebola virus from spreading.
But inside homes, people crowded around the trained teams of health workers, community volunteers, and volunteers from non-government organizations moved from house to house with bars of soap, stickers and handbills to inform people about the hemorrhagic virus that has killed more than 2,600 people in West Africa— more than 500 in Sierra Leone—since the outbreak began.
In all, 7,136 teams of four mobilized for the Sept. 19-21 lockdown that has ground the country to a halt.
The campaign began slowly due to logistical issues. Steven Ngaujah, the Emergency Operations Center coordinator, said the first priority was to reach out to distant districts and communities or those with bad road networks.
The second day of the lockdown was also mostly uneventful, although some volunteer teams complained they didn't have enough stickers to put on houses they visited, or enough soap. On Sunday, published reports said the volunteers identified dozens of new infections, but also said there were food shortages.
Objectives of the house-to-house campaign, which ends Sunday evening, are fivefold:
Reach 1.5 million households across Sierra Leone with accurate information about Ebola
Increase community acceptance of those affected by Ebola, especially children
Promote hand-washing with soap (1.5 million bars of soap will be distributed)
Rebuild public confidence and trust in the health system
Install neighborhood watch structures at the community level.
In a television and radio address Sept. 18, President Ernest Bai Koroma referred to the lockdown as a time for family reflection, prayers and education.
Before his broadcast, the president met with a cross-section of religious leaders, appealing to them to ask their members not to defy the lockdown. He called the meeting after receiving a tip that religious leaders of the two main faith groups in the country – Christians and Muslims – were dissatisfied that the government chose to impose the lockdown during the three most important days for worship in the week – Friday for Muslims, Saturday for the Seventh Day Adventists and Sunday for Christians— without consulting them.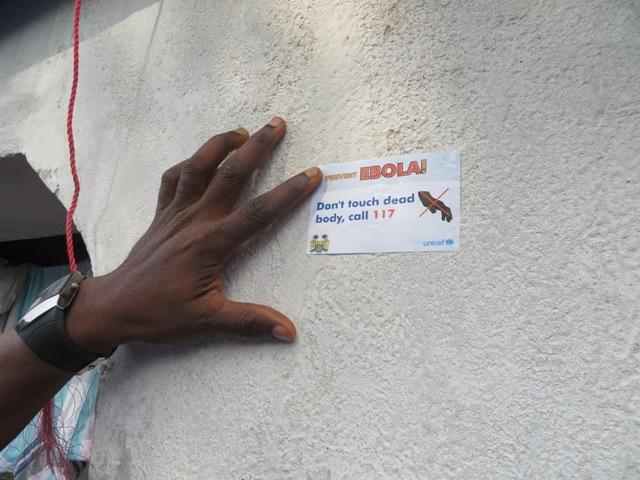 Crisis shopping and theft
Panic buying in Freetown on Thursday may have increased the number of contacts people had with each other, possibly undermining the aim of minimizing body contact with the three-day lockdown.
Huge crowds in the markets rushed for goods and services, standing in line everywhere from bread shops to fuel stations. Many walked long distances as the few vehicles on the roads were not enough to convey all the people to and from the places they had to shop.
Dr. Thomas Yormah, a university lecturer, described his experiences in an e-mail.
 "The desperate efforts by some of our compatriots to prepare for the three days stay-at-home . . . left me a sore victim – as all three of my phones got pinched," Yormah wrote. He also said he heard a violent knock on the driver's side of his car and knew someone was trying to steal from the car.
As he turned to rebuke the man knocking on his car, he saw him grabbing his phones. "Under normal circumstances I would have grabbed the fellow's hand and prevented him from getting away with the phones, but at a time the Ebola virus is spreading like wildfire, one doesn't go around grabbing the hands of strangers – especially of fellows living around the Frederick/ Sithorpe/Regent Street drug joint."
Household visits
The government hope is that people staying at home will both ensure that teams reach every household with information to counter the flood of misinformation about Ebola and how it spreads, as well as minimize chances people can become infected by reducing their contacts with others.
The teams will find out what the families in each household know about Ebola and provide correct information, answer any questions and try to dispel rumors. They will explain what to do if a family member gets sick during the outbreak, including the need to go to a health facility early, call the emergency 117 number, or call the district health number.
A sticker will be placed on each home a team visits to signify a team has been there, and the teams will also distribute printed materials about Ebola.
Emergency referral teams
Teams will not enter homes to look for sick persons or dead bodies. Teams will stop by a compound and enter homes only where they are invited.
If the teams encounter sick people or bodies, they will refer the information to the surveillance contact, referral or burial teams of the Ministry of Health and Sanitation. If they do not respond, family members should call 117.
But published reports from Sierra Leone warned that the lack of a large-scale treatment center meant many had to wait in holding centers for transports to facilities several hours away – if an ambulance could be found the carry them. The outbreak is worst in Sierra Leone, Liberia, and Guinea. In Guinea, a team of eight health care workers trying to raise awareness about Ebola was killed by villagers this week.
Families are advised to call district emergency referral teams for non-Ebola-related life-threatening emergencies, such as pregnant women going into labor or situations involving diabetes, high blood pressure, or injuries from an accident.
*Jusu is director of communications for The United Methodist Church in Sierra Leone. 
News media contact: Vicki Brown at (615) 742-5470 or [email protected] 
---
Like what you're reading? Support the ministry of UM News! Your support ensures the latest denominational news, dynamic stories and informative articles will continue to connect our global community. Make a tax-deductible donation at ResourceUMC.org/GiveUMCom.