When the National Network of Korean United Methodist Women connected with the Oklahoma Indian Missionary Conference, few anticipated the spirit of generosity that would result.
Wondering how COVID-19 had affected the conference and how the network might help, Sung-Ok Lee, UMW connectional officer, approached the Rev. David Wilson, assistant to the bishop. The Oklahoma Indian Missionary Conference includes 81 Indian United Methodist churches representing more than 45 tribes in Oklahoma, Kansas and Texas.
"I shared the need of basic necessities of winter items that included socks, stocking caps, scarves, cloth masks, sanitizer and water bottles," Wilson said. "(Lee) shared the information with the network, and within a few weeks, the items began to arrive at our office in Oklahoma City. We received boxes of these items, along with an order of 6,000 cloth masks, donated by the Chang Corporation through this network."
Among the contributions was a check for $8,000, used to purchase gift cards and other items for children.
According to the Centers for Disease Control and Prevention, Native Americans in the United States have the highest rate of chronic disease among all ethnic groups in the country. "This means," Wilson said, "that more indigenous people are at higher risk for severe outcomes when it comes to COVID-19. In addition, Native people are 1.4 times more likely to catch COVID-19 than their white counterparts."
Wilson and his colleagues have personally witnessed the devastation of COVID-19 within their communities. "We have lost dozens of tribal church members of all ages since last year," he said.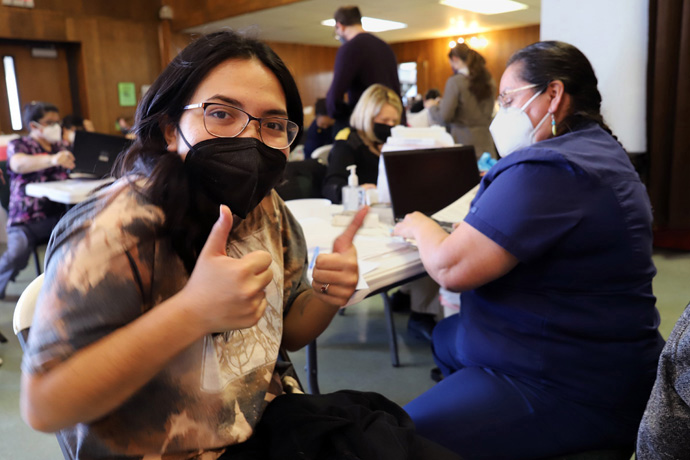 The Rev. Donna Pewo, a local pastor and the conference's director of connectional ministries, has seen the loss of grandparents and parents. "Just recently," Pewo said, "two of the children at the Clinton Church and Community Center lost both a mother and father to COVID-19. We were most fortunate to be able to assist these young girls as they ponder their future without parents."
Pewo thanked the National Network of Korean United Methodist Women, whose generosity has offered hope and inspiration.
"It has been a joy to share your gifts with all of the churches in OIMC," she said. "We have been able to take them personally to ministries in Kansas such as the Kahbeah Fellowship on the Kickapoo Reservation in Horton and the Wichita Indian UMC. We have shared with urban ministries such as Tulsa Indian UMC and in places such as the Petarsy UMC in southwest Oklahoma." The Petarsy congregation, she added, comprises mainly Comanche children.
Other recipients have included homeless Native American communities in Oklahoma City. Masks were sent to all 81 churches in the conference, as well as to schools that relate to OIMC congregations.
"Although we are United Methodist," Pewo said, "we work ecumenically, especially with denominations that include Native ministries in Oklahoma. We shared the contributions with the Murrow Indian Children's Home, which is run by the American Baptists. We also shared with the Oaks Mission School, operated by the Evangelical Lutherans."
The Rev. Elizabeth Horton-Ware, Oklahoma City University director of religious life, mobilized university students to package UMW-provided children's masks that were distributed to several OIMC churches and to the White Swan community on the Yankton Sioux Reservation in South Dakota.
"We also purchased gift cards for use in both the Oklahoma City Native Student services program and the Sovereign Community School, a Native American charter school in Oklahoma City," Pewo said. "The list goes on and on."
COVID-19 prevention also has taken center stage as OIMC churches serve as vaccine sites.
"For some areas of Indian Country," Wilson said, "the challenge for the disproportionately affected communities is due to their lack of infrastructure."
As an example, he cited the Four Corners Native American Ministry in Albuquerque, New Mexico. That community lacks access to basic elements of life such as water.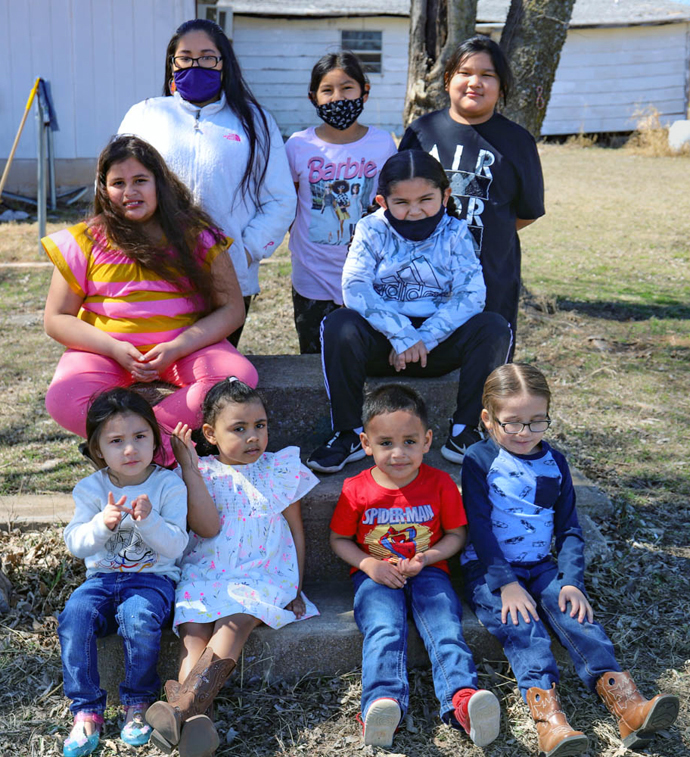 "Many homes are in rural areas," Wilson said. "If they have no wells, they go to centers to draw water. And because many of our families are very intergenerational, there might be three generations in one household. That has spread COVID-19 in many situations."
Working with the Clinton Indian Health Services Unit are the North Oklahoma City Native American Ministry and Mosaic United Methodist Church, Wilson said. Two other United Methodist churches have hosted mobile clinics with the Muscogee Creek Nation: Davis Chapel at Coweta and Concharty near Preston, Oklahoma.
Earlier this month, the Muscogee (Creek) Nation sent two mobile health units, dubbed "Little Caretaker on the Go," to provide COVID-19 vaccinations.
Targeting tribal events and gatherings such as wild onion dinners, the units make scheduled stops at various locations, including Springfield United Methodist Church in Okemah. According to the Rev. Clarence Yarholar, about 100 people were vaccinated at the church.
Because tribal communities are so confined in certain areas, vaccination is critical. "Luckily," Wilson said, "our tribes in Oklahoma have worked hard to get the vaccine out to everyone, and not just to tribal communities. That is some of what we are doing at Mosaic. It reaffirms what we believe about the importance of community.
"Indigenous peoples understand that decisions made in our lives do not just affect one person, but they are made knowing they affect the entire community. We understand our community as the whole world. We care for all and we pray for all people."
He quoted Chief Seattle, a Suquamish leader: "Humankind has not woven the web of life. We are but one thread within it. Whatever we do to the web, we do to ourselves. All things are bound together. All things connect."
Dunlap-Berg is a freelance writer based in Carbondale, Illinois. Underwood is a communications consultant from Yukon, Oklahoma.
---
Like what you're reading? Support the ministry of UM News! Your support ensures the latest denominational news, dynamic stories and informative articles will continue to connect our global community. Make a tax-deductible donation at ResourceUMC.org/GiveUMCom.